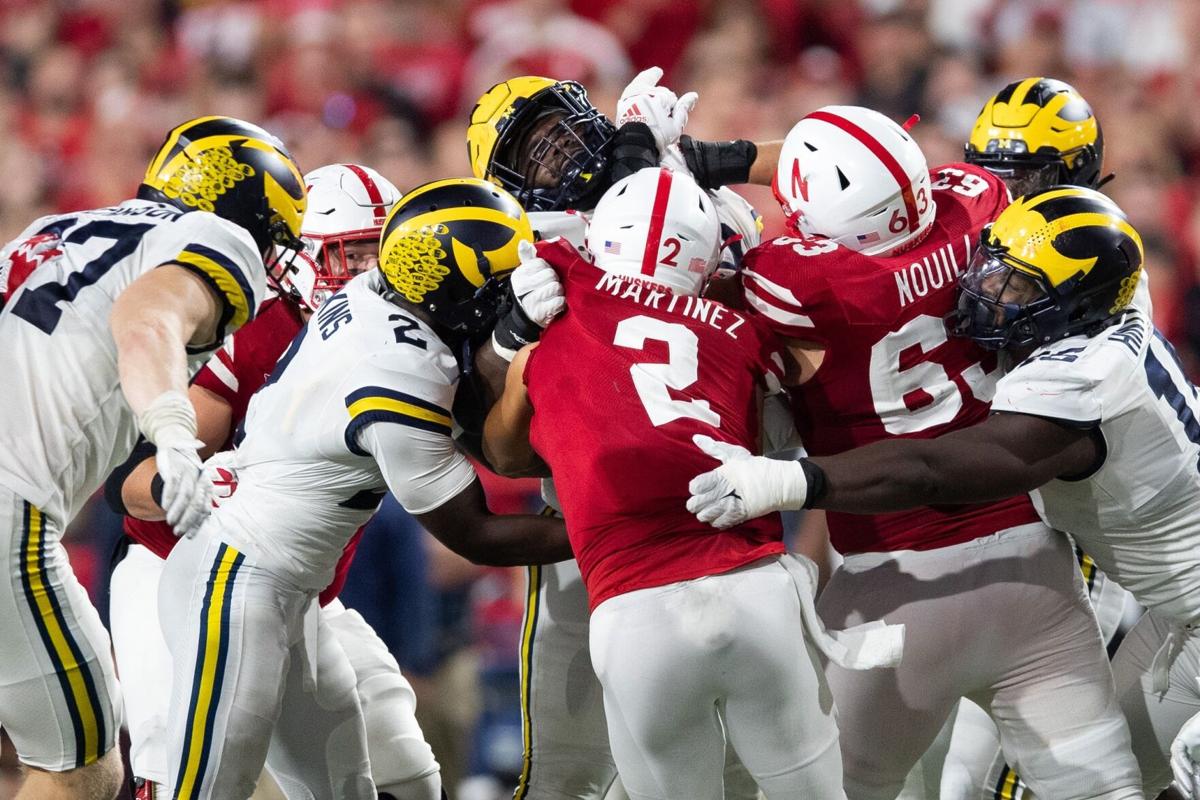 LINCOLN — When Husker hearts break like this, it's hard to have much heat for how Nebraska found a new, painful way to lose a game Saturday night. The only squares left on the bingo card involve 34 laterals, a sentient goal post or a hole opening in the earth.
But of the many things, pro and con, from Michigan's 32-29 Saturday night thriller, we'll focus on Frost's fervent faith in an act rarely seen around these parts.
A successful two-minute drive to win or tie a game.
"We took the field on that drive and I think everybody thought, 'We're going to win this game,'" Frost said of the march that either ended in Adrian Martinez's fumble or the subsequent turnover on downs. "It wasn't 'What's going to go wrong?' or 'Let's make sure they don't have time to go win.' We're going to go win the game."
That didn't happen. A frustrating trend that started with Frost's first game — a loss to Colorado in which NU's hopes were dashed when Martinez's knee got twisted after the whistle — persists today.
The Husker offense under Frost sputters in the clutch.
In 2018, Martinez led a tying drive at Iowa. Thirteen plays, 80 yards. Martinez scored a touchdown and threw a 2-pointer. Though the Hawkeyes won on a field goal, the signal seemed to go up: Watch out for Frost's offense when time runs low.
Until 2019 Colorado, where Nebraska fired blanks on two end-of-regulation drives and an overtime possession in a 34-31 loss. And 2019 Indiana, when a final drive, led by Noah Vedral, fell short at the IU 34. And 2019 Purdue, when NU, down four, got the ball with 1:08 left and couldn't produce a first down. The horror of 2019 Iowa still lingers, the way Nebraska failed to score and also fouled up its time management in a way that left the Hawkeyes a chance to win in regulation. Luke McCaffrey couldn't deliver against Northwestern in 2020. Martinez was sacked and stripped on a final drive in the 2020 Iowa game.
And then, four times this season, Nebraska has had at least one — and in some cases several — drives to either win or tie games in the fourth quarter, and it hasn't happened. The one successful final-minute-to-win-the-game moment the Huskers have had since Frost arrived, 2019 Northwestern, was executed by two players — Vedral and Wan'Dale Robinson — who are no longer here.
Martinez led a spirited second half at Illinois in 2019 that included a winning drive early in the fourth quarter. Ditto at Rutgers in 2020. Yes, on Saturday, the officials could have whistled Martinez down before Michigan plucked the ball from his grasp. You can make arguments on that side of the ledger. Without Martinez, this is quite likely a lost season.
Still — over two offensive coordinators, four offensive lines, five or six lead backs, four quarterbacks and too many receivers to count, Nebraska loses one-score games for, well, many reasons, if we're going to be pedantic and galaxy-brained about butterfly effects and whatnot. But NU especially blows fuses during two-minute drills and overtimes.
The Rewind is inclined to put almost all of the responsibility for these late offensive struggles on Frost's shoulders over any quarterback because that's how it works in college football. Frost and his coaches are in charge of giving Martinez the best offensive lines and the best receiving options.
So why at game's end are the two most talented deep receivers, Zavier Betts and Omar Manning, not on the field? Samori Touré probably is not going to beat Michigan DB Dax Hill. Betts or Manning might.
NU has some crafty passing plays to manufacture yards and touchdowns, but the skill players — minus Manning, Betts and perhaps Touré — aren't necessarily guys who just win against Michigan defensive backs. Martinez's line hardly gave him a chance this season in final drives at Illinois and Oklahoma. No. 2 is playing with a hurt jaw and the knowledge that, almost every week, he'll have to do something spectacular for his offense before it does something for him.
"I love the way Adrian played — Adrian's a warrior — he's my guy, and I trust him back there," said tight end Austin Allen, who added that the press has "no idea" what ailments Martinez may be battling.
So, a hug for Martinez, with a teaspoon of truth: If he hits that short crossing pattern to Levi Falck on the final drive, this might be a different column. Or if he had seen Falck in overtime up the seam at Michigan State. Or vs. Colorado in 2019 he finds a way late, perhaps that season results in eight wins instead of five and the drought doesn't feel quite as endless.
At some point in the short story, you tire of passages that describe the inner workings of the team's plans. Better to see the protagonist, you know, actually win.
The fourth-down concept — the same switch route used in the 2019 Northwestern game — was susceptible to a seven-man blitz without the counter of a slant pattern over the middle. NU snapped the ball with one minute left on the game clock but 23 seconds on the play clock, in part because Frost thought the previous play, a screen pass to Rahmir Johnson for no gain, kept the clock running.
The ABC in-score graphic made it seem as though the clock stopped — the officiating was a total adventure Saturday — but still: Why hurry that play? There are no other plays if you can't convert fourth-and-10, and a first down leaves Nebraska 10 yards from Connor Culp's range if the Huskers do convert.
Why the third-down screen pass? Was it close to busting? Yes. Had NU hit one in the first quarter? Yes. Are running back screens something Nebraska has done well since the goodbye wave of Bill Callahan? No.
Given the architectural beauty of Nebraska's third-quarter TDs — even if one of them was an illegal formation — this may seem like nitpicking. But we've been here before.
After NU's 23-17 loss at Wisconsin in 2016, the Rewind relayed a similar sentiment about Tommy Armstrong, who couldn't lead a field goal drive in regulation or score a touchdown in overtime that night in Madison. The 2016 lament, while legitimate, probably did Armstrong a disfavor: He's the guy who beat Michigan in 2013, Michigan State in 2015 and Oregon in 2016. He had a better supporting cast, and his coach probably had better pass plays, but Armstrong won those games.
Ron Kellogg had the Northwestern Hail Mary. Taylor Martinez had Northwestern and Michigan State in 2012. Tanner Lee had Purdue in 2017. Zac Taylor had Texas A&M in 2006. Harrison Beck of all people had Kansas State 2005. All had better weapons. If Martinez had Stanley Morgan, how many in the past three years would NU win?
My hunch is Martinez's moment is coming. Ohio State? Iowa? Wisconsin?
Somewhere in there, he will finish a game at the gun and do so because he's ready and the supporting cast is good enough.
The larger trend is for Frost to figure out.
I see you
Cornerback Cam Taylor-Britt: Playing his best game this season from a coverage standpoint, Taylor-Britt also had 11 tackles. This needs to be CTB every week.
Michigan's Hill: Just five tackles, but the defensive back had a key interception, blitzed well and covered, too. Great defensive weapon.
Martinez: He has one year left after 2021, and one has to wonder if he'll spend it in the NFL or back at Nebraska. Or perhaps a third destination.
Johnson: He's starting to find his footing — literally — on open-field runs, which is the next step in his development. He's fast, tough and a good receiver, as 105 yards indicated.
Offensive coordinator Matt Lubick: He's helping design some crafty passing plays that don't require Alabama-caliber receivers.
Defensive back Marques Buford: Special teams stud. He'll be asked to play a big role in the defense next year as a true sophomore.
Nebraska punter William Przystup: A 47.5-yard average on four boots.
Running backs coach Ryan Held: Credited by Frost with seeing Michigan quarterback Cade McNamara's knee was down on the second quarter not-a-touchdown play.
Michigan defensive end Aidan Hutchinson: Excellent pass rusher who got his share of hurries and had six tackles. He didn't dominate, though, the way some Big Ten pass rushers have against the Huskers.
Defensive tackle Damion Daniels: Whale of a first half against the run. Hard — nearly impossible — to block when he gets an aggressive first step.
Michigan punter Brad Robbins: Each week, it's like Ray Guy plays Nebraska. Amazing.
McNamara: Smooth operator. Made one bad throw — Deontai Williams' interception — but generally, he ran the offense with poise and accuracy.
Michigan running back Hassan Haskins: The 220-pound freight train jumped the tracks on that 50-yard run. Amazing, after leaping over Marquel Dismuke, that Haskins kept his stride.
Nebraska right tackle Bryce Benhart: The benching improved his performance, it appears. Benhart had to play the bulk of the game after an injury to Teddy Prochazka opened the left tackle spot, to which Turner Corcoran, who had been playing right tackle, returned. Benhart outplayed Corcoran's performance at right tackle.
Six stats
2-13: Nebraska's record against top 10 teams since joining the Big Ten. Both wins, in 2011 and 2015, came over Michigan State. The overall record against ranked teams isn't much better: 6-26. Ouch.
Bo Pelini was 4-10, Mike Riley was 2-6 and Frost is 0-10.
207: Projected combined tackles for inside linebackers Luke Reimer and Nick Henrich over a 12-game regular season. Both have a legitimate chance at 100 tackles, and if the duo get there, they would be the first pair of Huskers to nab 100 tackles since their position coach, Barrett Ruud, did it with Demorrio Williams in 2003.
5.7: Penalties per game, which is NU's second-lowest per game total, so far, since joining the Big Ten. Surprised?
Nebraska has long dealt with penalty problems — especially those that seem to nullify big plays because of poorly executed cut blocks — but Frost's crew has improved the performance. That's worth noting.
8.7: Points per third quarter against FBS teams, 26th nationally. Unlike the first quarter, where NU ranks 98th, the Husker offense, especially the passing game, fires on all cylinders after halftime.
It's clear some of Nebraska's better play-action passes are held for later in the game, when the defense is primed for such a play after watching the boring dive all night. The Huskers' use of misdirection and formation is pretty stellar in the third quarter. Not so much early.
34: Minutes on average Nebraska's next opponent, Minnesota, possesses the ball. Keep away stuff.
Michigan did its share of it Saturday and, for perhaps the first time this season, NU's defense looked a little tired, firing blitzes that didn't work. Even Frost conceded it.
Did that factor into Nebraska's ... casual ... approach to the second-to-last drive?
1: Team with a losing record ranked in the Top 25 of ESPN's Football Power Index. That's Nebraska, which is given a 54.7% chance of reaching six wins.
NU has lost to the Nos. 4, 5 and 14 teams by a single score. It also has its stupidest loss in many years — that yuck job at Illinois Week 1. That's the game NU would love to have back, and can't. Beating the bad teams has been a struggle for Frost, too.
Facebook Feedback
After each game, I ask fans on my Facebook page to post their takes on the game. Selected and edited responses follow.
Jay Hoffman: Nebraska looks like a top 20 team with a 3-4 record. Excellent effort, energy and grit with a fun offense and a true Big Ten defense. The Huskers are good, but not good enough to overcome the end of game turnovers that have been a staple of this Husker squad.
Paul Martin: NU needs to finish. We all know that. But anyone who thinks that we are doomed to an eternity of one-score losses under this regime is mistaken I believe. It doesn't feel like there has been regression at any point this season. Call me naive, but this is best I've felt about Nebraska football in two decades.
Aaron Kuecker: With three minutes left in the game and having all three timeouts, I would have liked more aggressive play calling. Nebraska went from being the aggressor to playing timid hoping for overtime."
Rich Regan: "I'm about tired of hearing how close we are to being great."
Opponent watch
Minnesota is a tricky one.
First, the Gophers are skilled at taking the air out of the ball with their offense, which relies on a steady diet of zone runs and play-action slant passes that matriculates the ball downfield.
Second, Nebraska's offense has had very little success in the past two years at figuring out Minnesota's pass defense and pass rush, which has sacked NU five times. The Huskers don't much care for coach P.J. Fleck, and the feeling is mutual.
If Ohio State wins out, it will be in the College Football Playoff. And right now, I'd bet on that. As a duo, receivers Garrett Wilson and Chris Olave are this year's "pair of LSU/Alabama/Clemson receivers no one can stop." OSU's run defense, quietly, is allowing 3.5 yards per carry.
Forecast
That autumn chill rolls in, and P.J. Fleck awaits.
---