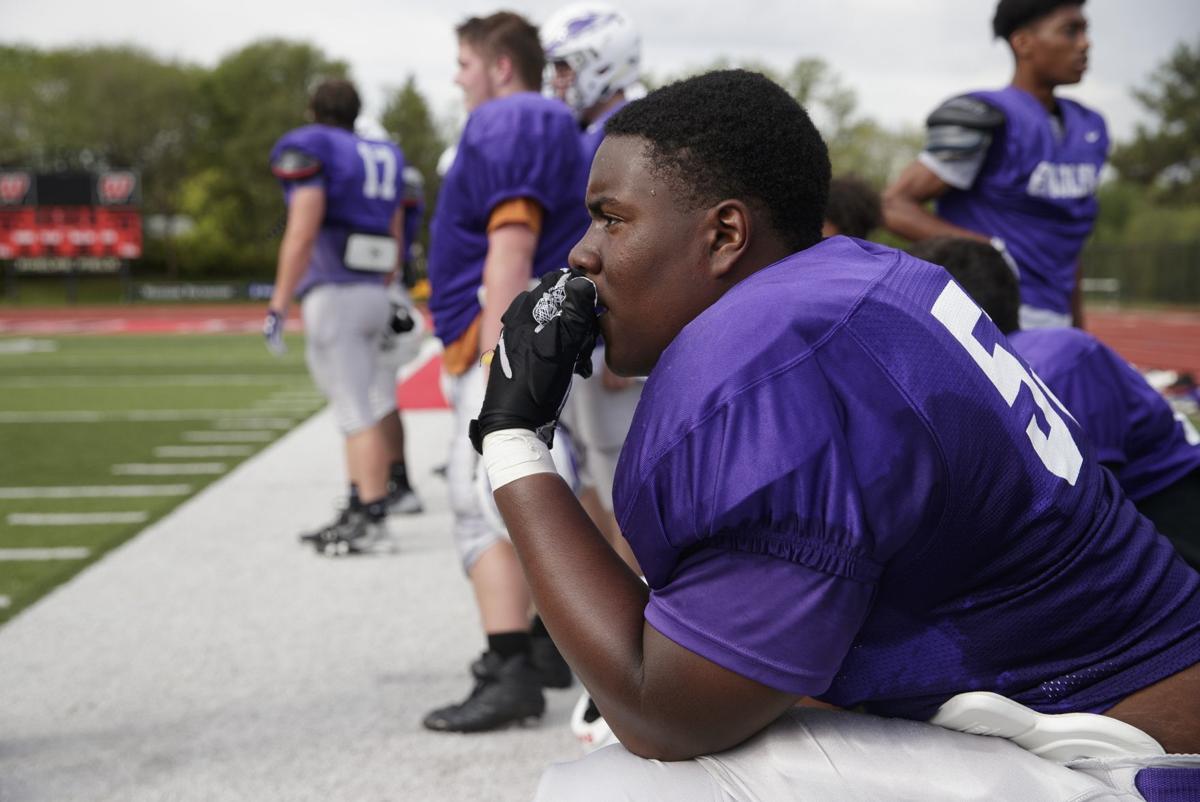 LINCOLN — The state's top-ranked football prospect in the 2022 class is honest and funny.
Ask Omaha Central tackle Deshawn Woods what he thinks of getting all this recruiting material in the mail — which is one way teams have shown extra love as the pandemic has shut down in-person visits — and Woods responds with a comic's timing.
"I mean, I like the mail — but I just don't like the mail," Woods said. "You don't want to throw it away, but you don't want to keep it all because it's a lot. Imagine getting spam mail every day — five pieces of spam mail every day. I keep mine. Yes, because it looks good in the box it's in, but no, it's kind of overwhelming.
"I'll probably get five pieces of mail from the same coach, and I get a piece of mail every day."
Woods doesn't mind phone calls but doesn't love them like he would in-person visits. "So I can see their facial expressions," Woods said.
Just when Woods — and one of the best crops of in-state prospects ever — will get to make those visits is in question. The NCAA's Football Oversight Committee has recommended a dead period until the end of May, and could vote this week to do so. Another option is creating a quiet period starting in mid-April that allows prospects to visit campuses but does not allow coaches to leave campus.
However things might be decided, Woods — who is set to announce a top five this week — and other 2022 in-state prospects are among the most coveted group in the past two decades. Woods, Burke linebacker Devon Jackson, Bellevue West tight ends Micah Riley-Ducker and Kaden Helms, and Columbus linebacker Ernest Hausmann all have double-digit offers.
Nebraska has mostly cleaned up with in-state prospects since the return of coach Scott Frost — 16 offers, 13 signees — but 2022 is going to be NU's biggest challenge yet. Schools from all over the country sense an opportunity.
Take Miami, which has rolled in to offer all four of the metro prospects, including Woods and Jackson, who didn't even play their junior seasons because of the Omaha Public Schools' decision to postpone (and eventually cancel) football for 2020-21.
"Everybody knows who Deshaun Woods is, and he's not going to not be 6-5, 285 with good footwork," Rivals National Director Mike Farrell said in January before Woods and Jackson received their recent run of offers. "And everyone knows who Devon Jackson is. I don't think it'll impact their national recruiting brand."
How about Northwestern coach Pat Fitzgerald, who offers fewer prospects than nearly any coach in the country, personally offering Hausmann? Fitz doesn't do that on a lark.
Well, the players are good. Helms, a 6-foot-5, 222-pound hybrid tight end/receiver, is the fastest riser of the bunch, arguably the highest-rated guy by this time next year. And some prospects, like 2021 cornerback Avante Dickerson (Oregon) and 2020 receiver Xavier Watts (Notre Dame), just want to get out of the state. Part of Arizona State's pitch — Herm Edwards is working Omaha hard — is taking Midwest kids to the Pac-12 to help reshape the identity of the league.
NU has posted four straight losing seasons, too. Prospects take it into account, and schools can use it against the Huskers.
Nebraska can accurately say that in-state kids who sign with the Big Red play a lot of football in Memorial Stadium. Already, five of Frost's in-state scholarship signees — Cam Jurgens, Garrett Nelson, Ethan Piper, Nick Henrich and Zavier Betts — have started at NU. One walk-on, Luke Reimer, has as well. Three more scholarship signees, Chris Hickman, Garrett Snodgrass and Isaac Gifford, have played regularly since arriving in Lincoln. Austin Allen, a 2017 signee, is the team's top tight end. Ben Stille, a 2016 signee, is the team's top defensive lineman.
The personal success stories are there. It'd help if the team won, too.
Betts is perhaps the one to watch. Remember that Nebraska signed him knowing he wasn't yet academically eligible; it was Betts' grades, not his talent, that kept his recruiting quiet. Betts made it, though, then had a strong first season, catching 12 passes for 131 yards in eight games as a first-year freshman. Watts, at Notre Dame, didn't log a catch.
If Betts — and, say, Henrich and Hickman — have big 2021 seasons, that's a nice bit of evidence back to Omaha kids: You can play here and do well here.
How many of the 2022 guys are waiting until after the season? Only Dickerson, in the 2021 bunch, did that.
Jackson, who also has a top five coming out this week, indicated in January that he's willing to do so.
"If I have to make my decision on the last signing day, I will because I'm not going to be one of those guys who commits, decommits, recommits," he said. "I'm not doing all that. Waste of time. To me, that's clout-chasing, in a way — you're doing it for the media and not for yourself."
Sounds like a personality Nebraska would want in its room.
A few more thoughts in the Rewind:
Assistant salary
With news that Iowa State will give Matt Campbell more money to pay his assistants — coupled with NU's decision to stand pat with its staff and offer no raises — Iowa State will likely move ahead of the Huskers in total assistant compensation.
On March 1 — when Mike Dawson gets a raise scheduled last year when he signed his two-year contract — Nebraska will be paying its assistants $4.525 million. Iowa State paid its assistants, according to USA Today, $4,127,500 last year.
The Huskers will likely be in the low 30s nationally in assistant salary pool headed into 2021. Schools like Penn State, Notre Dame and Southern California don't have to report what they pay coaches, but it's likely that all three are equal to or north of Nebraska. It's fair to factor in cost of living — money goes farther in Lincoln than it would a mile from UCLA's campus — but it's a ranking to watch going forward, too.
According to USA Today, at least 32 Big Ten coaches were paid more than NU offensive coordinator Matt Lubick last season. Iowa had four. Michigan State had five. Clemson and Texas A&M had eight.
Youth movement
For one more year, Husker football will be a young team, according to when the players were recruited.
Sixty-three of Nebraska's 89 scholarship players started their NU careers in 2019 or later, with 41 starting their careers in 2020 or later. Even if a few of those are junior college players, they're still relatively new to Nebraska's system. And that relative newness means that coach Frost's "get old, stay old" window starts this season, which itself starts a three-year evaluation window that will say a lot about the Frost era.
Here's the scholarship breakdown:
2016 Class: Three. 2017: Nine (Including walk-ons Damian Jackson and Trent Hixson). 2018: 10. 2019: 22 (including walk-on Reimer). 2020: 21. 2021: 20.
2019 portal addition: One (Travis Vokolek). 2021 portal additions: Three (Markese Stepp, Chris Kolarevic, Samari Toure)
The Huskers have two more scholarships to give out but, as it stands, Frost has not overwhelmingly built the roster through the portal. He has four scholarship players out of 89. NU basketball coach Fred Hoiberg has more than that.
Husker hoops
Speaking of Hoiberg's guys … Ken Pomeroy has kept analytics records of Husker hoops since 2002, and NU's ranking after the win over Penn State — No. 118 — is the sixth-worst in 20 years.
The 2020 team — Hoiberg's first — was worst at No. 162, followed by 2012 (152nd), 2013 (136th), 2003 (138th) and 2015 (121st). That 2003 squad was Barry Collier's third team, the one that lost to Alaska-Fairbanks and finished 3-13 in a Big 12 that sent six of its 12 teams to the NCAA tourney. Two — Kansas and Texas — made the Final Four, and Oklahoma made the Elite Eight.
The 2021 Big Ten, perhaps the best league since KemPom started keeping records, is likely to place eight, nine or 10 teams in the NCAA tournament and get two on the No. 1 seed line, as well.
Now that NU has won, let's see what kind of sweet tooth the team has for winning — especially for winning defense — because it'll foretell, at least a little bit, how Hoiberg regards this specific bunch going into next season. If the Huskers win four or five down the stretch — entirely possible — it creates momentum for this roster. If Penn State is the lone oasis in the desert, perhaps not.
Signee Spotlights: Get to know the players in Nebraska football's 2021 recruiting class
The "Signee Spotlight" provides all the information you need on the newest batch of Huskers, including rankings, evaluations and a look at how they landed at Nebraska.