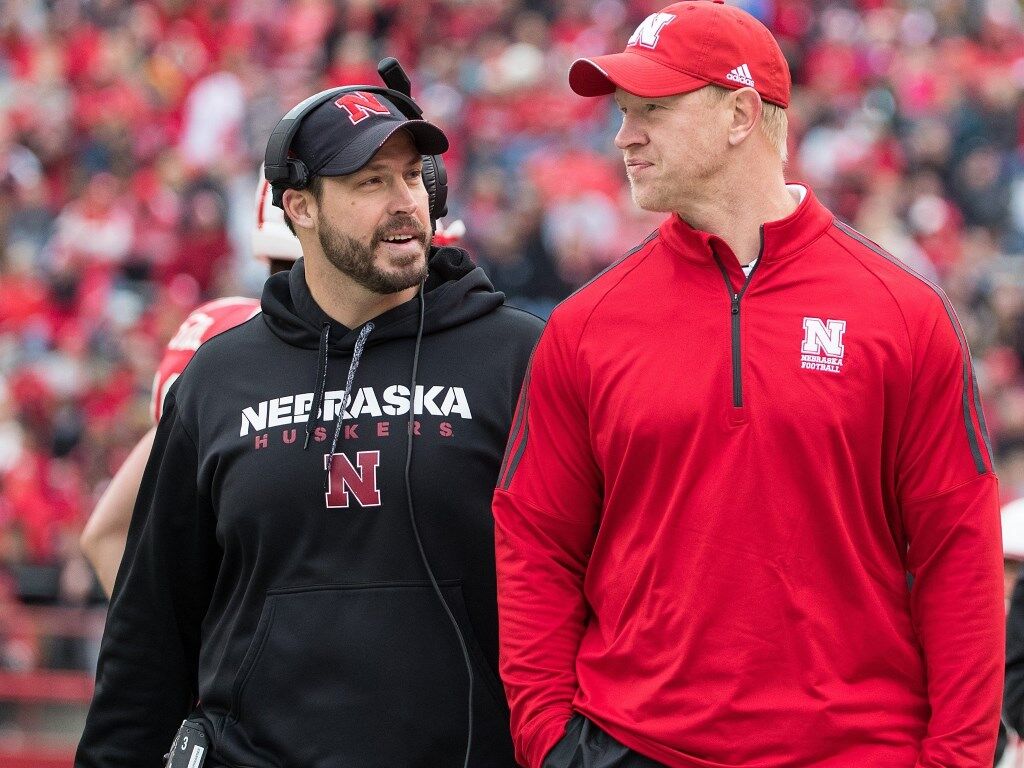 LINCOLN — His hat adjusted slightly to the left, a determined scowl on his face, Scott Frost oozed a certain energy and confidence as he walked off the Kinnick Stadium turf in 2018.
His Huskers had just taken a good Iowa team to the wire when the Hawkeyes won on a last-second field goal. More to the point, Frost had done so with a roster that he deemed physically deficient. The loss, he intimated, could be pinned on developmental failures that predated his arrival.
"Iowa's a bigger, stronger football team," Frost said after the 31-28 loss. NU won four of its last six that season. "That's right now. I never thought I'd see or hear that or say that about a Nebraska football team. That we can fix. We can get bigger, we can get stronger."
Nebraska's present roster, by design of recruiting, is taller, longer and stronger. In 2021, it is also better conditioned. A program that got perhaps a little puffy in 2020 — for understandable coronavirus-related reasons — has trimmed down and leaned out.
Damion Daniels is down 10 pounds. Jordon Riley is down 20. Lots of defensive linemen, including Ty Robinson, are down five pounds.
On offense, several linemen have trimmed up. Plus, Adrian Martinez is down 13 pounds and drawing raves. Nebraska would love to be the explosive offense it was in 2018 — when it had Big Ten defenses on notice the back half of the season — along with a stouter, harder-to-push-around defense.
Zach Duval — paid better than any strength coach in NU history — has delivered Frost a roster capable of winning the Big Ten West. He's done his job. It's on Frost and his assistants to deploy those weapons, and it's on the players to believe that they're good enough — and execute like they believe it.
One focuses on Nebraska's offense, an island of misfit toys and schemes since the 2019 season opener, when fan and player expectations for a 40-point-a-game attack were shattered, quickly, when NU couldn't break South Alabama's egg. The Huskers have operated in fits in the 19 games since then, especially their run game.
In 2015, for example, Nebraska averaged more than 4 yards per carry in nine games, averaging 4.72 per carry for the season.
In 2019, Nebraska averaged 4.48 yards per carry. It cleared the 4 yards per carry barrier in six games. In 2020, that ratio improved to five of eight games. Which is good, but those numbers were juiced by quarterback runs, particularly scrambles by Luke McCaffrey that were initially designed as passes.
There's nothing precisely wrong with a run game being built off the quarterback, so long as the QB doesn't fumble at some point during the game.
Problem is — quarterbacks usually do that. Nebraska quarterbacks in particular.
Which makes running back Markese Stepp's comments last week about why he transferred to Nebraska pretty interesting.
"They made an emphasis on running the ball," Stepp said. "To me, that was, like, the biggest thing. The style of offense, they want to get that (expletive) going downhill ... we're going to keep punching and punching until they get tired and they can't handle it no more."
It's good to see that Nebraska sold Stepp on coming here under such a philosophy. We'll see if the Huskers actually commit to a downhill, running back-rooted run game. It'll take discipline to do it; offensive-minded coaches find it very tempting to mix their quarterback into the running game with some frequency when the traditional power and zone plays lose their punch.
A downhill run game is a down payment on the fourth quarter. Sometimes there are many punts between the first drive of the game and last two in the fourth quarter. Like Joey Knish in "Rounders," a playcaller has to fold a few times and wait for the larger pot. He's coaching for money, after all.
In addition, defenses have caught up to the "plus-one" run game. And Big Ten offenses, noting this, have reflected this development.
In 2011, the top four Big Ten rushing quarterbacks ranked fifth, sixth, ninth and 11th in the league in rushing yards per game. In 2020, the top four ranked fifth, 11th, 16th and 19th. Nos. 5 and 16 were from the same team. Nebraska. In 2019, only Adrian Martinez ranked in the league's top 20.
It's hardly different in the Pac-12, where two quarterbacks ranked in the top 20 in 2019. Or the SEC, where two quarterbacks were in the top 20 last season.
One SEC team that consistently has had high-rushing quarterbacks hired its offensive coordinator from the NFL's Rams last offseason. Kentucky also landed Wan'Dale Robinson and Will Levis precisely because it intends on running the Rams' pro-style offense, which is full of tight ends and shifts and motions and play-action passes. It looks like Wisconsin's offense, to some degree. It looks like much of what Nebraska ran for three years before Frost arrived, too.
And it looks like what NU was doing from 2004 through 2009, when it preferred a pro-style system to an option attack.
As reviled as the shift was at the time, it helped attract the kinds of running backs and wide receivers that later went to the NFL. Keep in mind: Guys like Rex Burkhead, Quincy Enunwa and Kenny Bell committed to an offense that still had Shawn Watson as its coordinator. Running backs like to get handoffs. Receivers like to catch passes. Linemen like to create pockets for QBs and feel a back running right through a hole they created.
Duval, and his crew, have built an offense to do those things. Offensive coordinator Matt Lubick is well-versed in those things, too, and offensive line coach Greg Austin practically begged for a downhill attack. NU also has a quarterback in Martinez who'll do anything to win, but probably wouldn't mind becoming the best passing quarterback he can be.
The Huskers would seem to have the will. The roster, with Duval's help, has created a way.
Can Nebraska show the discipline?
On with the Rewind, the last of the previews. Next week: The seven numbers to watch for a successful season.
Five stats
0: Number of Power Five quarterbacks who averaged more rushing yards per game than Martinez, according to cfbstats.com.
Martinez averaged 74.43 yards per game which, in a normal 12-game schedule, is 893 yards. Only one FBS quarterback — Liberty's Malik Willis — averaged more per game than Martinez in 2020. You go back to 2011 and you'll find seven FBS quarterbacks who averaged more than Martinez. Just four years ago, you'll find eight averaged more. By 2019, four.
84.4%: Of Nebraska's rushing yards in 2015 coming from a position other than quarterback. Wow, right?
NU had four backs — Terrell Newby, Imani Cross, Andy Janovich and Devine Ozigbo — clear more than 200 rushing yards. In 2020, NU got 45.1% of its rushing yards from players outside the quarterback position.
Nine: Combined Big Ten, ACC and Pac-12 teams — including Notre Dame, which caucuses with the ACC — ranked in the Associated Press Top 25 at the end of last season. And that was in a year when Group of Five programs, choosing not to wring their hands the way the Big Ten and Pac-12 did, enjoyed good years in the polls.
If The Athletic's report about an alliance between the ACC, Pac-12 and Big Ten turns out to be something, then that's quite a powerful scheduling setup.
Once: The number of times NU has been ranked in the preseason AP poll (2019) since 2015. The Huskers will not make the cut this week — and may not receive a single vote.
Since 2000, Nebraska has been in the AP preseason polls 12 times: 2000-02; 2006-07; 2009-14; and 2019. Five times the Huskers have been ranked inside the top 10: 2000 (1st); 2001 (4th); 2002 (10th); 2010 (8th); and 2011 (10th).
2011: The last time Ohio State was not ranked in the AP poll. The Buckeyes exited the poll after a 24-6 loss at Miami on Sept. 17, 2011, and OSU didn't return that season. Urban Meyer accepted the job after the 2011 season, had the Buckeyes ranked (at least in the AP) in preseason 2012, and immediately posted an undefeated season.
Opponent watch
Fordham opened its training camp Aug. 6 hoping, coach Joe Conlin said, to "solidify depth on the offensive and defensive lines."
"It takes a village at both of those positions," Conlin said.
Two weeks into his first training camp in Champaign, Illinois, coach Bret Bielema is confident that his team has an advantage in being "an unknown" to Nebraska. "You don't get to be that way in college football very often, and it's something we'll try to take advantage of," Bielema said.
Iowa offensive lineman Kyler Schott will not start the season for the Hawkeyes because he hurt himself on the farm.
"He was home helping bale hay, and I think he's the first guy in 23 years I can remember who got injured baling hay," Iowa coach Kirk Ferentz. "Jumped off a bail and landed on his foot and had a foot injury."
Forecast
A week when we'll want to know how the depth chart looks, but coaches play it close to the vest, including at running back.
---
Video: Nebraska football practice, plus interviews and analysis
Our latest collection of videos has sights and sounds from Husker football practice, interviews with coaches and players, and analysis from World-Herald reporters.