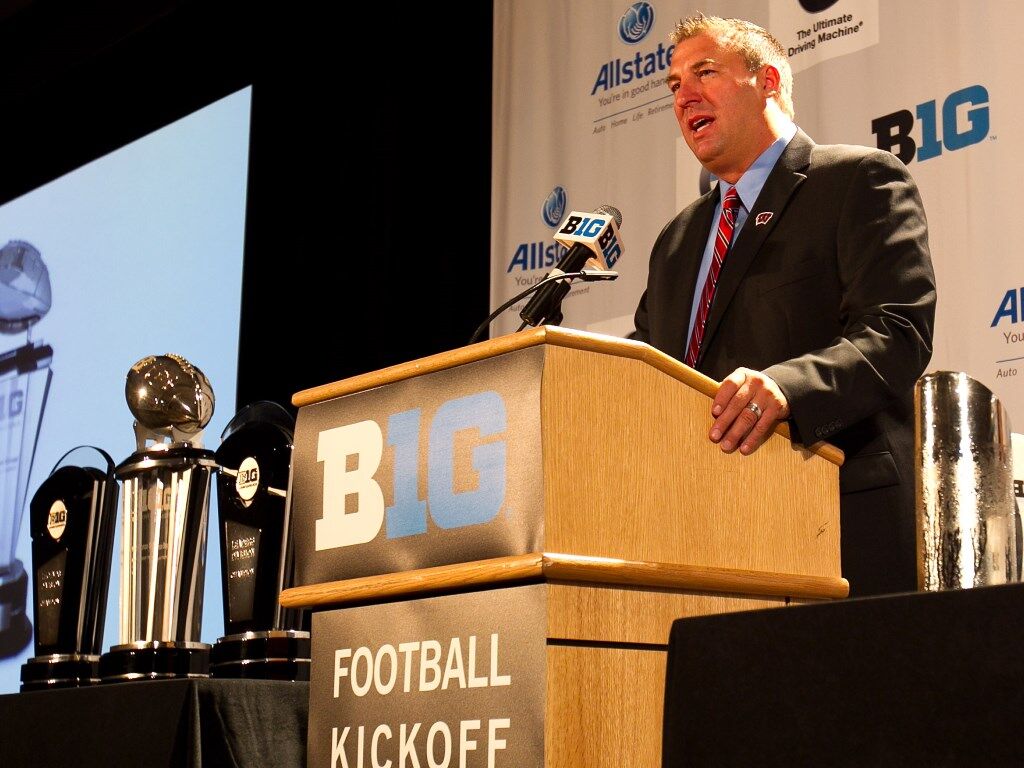 Over the next couple months, The World-Herald will take a closer look at the spring practices for all of Nebraska's opponents in 2021. Here's an update on Illinois.
LINCOLN — Bret Bielema is never shy to talk about football, life, anything. In two weeks since Illinois started spring practice, the Illini's new coach has already conducted six media sessions lasting at least 20 minutes.
Illinois clearly wanted a chattier, more public-friendly coach after the more reserved Lovie Smith. Bielema, armed with a career 97-58 record and 10 bowl games over 12 seasons, is that guy. He'll rile up a fan base and dish just about anything to the press.
He prefers a power football style that fits snugly in the Big Ten and has been a struggle for Nebraska to stop since its very first league game in 2011, when NU traveled to Bielema's Wisconsin and lost 48-17.
Bielema's last game at Wisconsin was another Husker smashing — 70-31 in the Big Ten championship. The Badgers made the Rose Bowl. Bielema left for Arkansas, presumably never to return to the region he'd known all his life.
"I hadn't planned on doing that — didn't expect to do it — but I just felt it was the right thing at the right time," Bielema told reporters Wednesday of his decision to leave Wisconsin.
He'd been asked about the retirement of his former boss, Barry Alvarez, who hired Bielema as his successor. They didn't talk for 18 months after Bielema left, not until Alvarez sent him a note after Arkansas had a couple shutout wins.
"That kind of opened the door," Bielema said. "We've become really close the last two years again."
Now Bielema's back. And his first Big Ten game, fittingly, is Nebraska.
Bielema compiled a strong staff thanks to a $5 million salary pool — same as Nebraska's — for 10 assistants and a strength coach. No Power Five training wheels here — nine had previous major-conference experience.
Ryan Walters, who makes $850,000, had been the defensive coordinator at Missouri before he took the Illinois job. Linebackers coach Andy Buh has been a coordinator at five schools. Offensive coordinator Tony Petersen ran Minnesota's offense in the early 2000s, when the Gophers routinely averaged more than 250 rushing yards and 28 points per game for seven straight seasons. Omaha native Bart Miller, having worked in recent years for Frank Solich and Craig Bohl, is the offensive line coach. Bielema coaxed receivers coach George McDonald away from North Carolina State, where he'd been since 2015.
Job one for Petersen and the offensive coaches is to do what Smith never could — figure out the quarterback position.
The Illini used four in 2020 and 2019, attempting to play pro-style quarterbacks like Brandon Peters and option quarterbacks like Isaiah Williams and Coran Taylor, both of whom need considerable work as passers. That makes Peters the odds-on favorite to win the job.
"He's got God-given NFL-type talent," Petersen told reporters about Peters, who's thrown for 2,313 yards and 21 touchdowns in 16 games with Illinois. "6-4, 220 pounds, he can run pretty well, he's got a strong arm, quick release. We've just got to keep working on him being that natural leader type of guy. But he's getting better every day."
Williams, recruited as a receiver by other programs, is the "total opposite," Petersen said. He'll shape his offense to whichever quarterback wins the job. Williams, from St. Louis, is one of the Illini's few scholarship players from the region.
One of Smith's weaknesses was recruiting his own state, including Chicago. Illinois didn't sign any of the top 25 prospects in the state for the 2021 class. Ditto for 2020. Iowa signed eight, Northwestern eight and Minnesota five over that same period.
"For us to represent the state of Illinois, we've got to represent what Illinois is," Bielema said. "I thought it was very important for me, in my initial 10 hires, to hire coaches who could recruit this state. … I really put a huge emphasis on recruiting 'down state,' on recruiting here in the central Illinois area, down to the south and to the west and to the east. Chicago is always going to get recruited, but I think the central Illinois, down-state kids represent and embody what we are."
To help in-state recruiting, Bielema hired Pat Ryan — a 30-year head coach at Metamora High School who won two state titles — as director of Illinois high school relations.
"He's got this kind of suave, cool-man approach to him that he relates very well to high school players, high school coaches," Bielema said of Ryan. He added Illinois was the "first school in Division I football" to send out official visit invitations for June.
"There are a million churches, a million steeples, but it's the people inside who make the church," Bielema said.
Yep, Bielema's a good salesman. It's always been his gift.
At Nebraska's first Big Ten media days in 2011, he held court with the press as well as any coach in the building. The league lost something upon his departure.
But the Big Ten changed — a lot — in the eight years Bielema was gone. The league is swimming in money, and schools are recruiting more aggressively and effectively as a result. The coaching is first-rate. Just about every school, including Illinois, has a new football building.
Scott Frost has discovered how hard it is to live in the Big Ten West, and Bielema will notice soon enough the division is a total bear.
This spring Bielema's trying to install new schemes and has multiple players moving positions — Marquez Beason from corner to receiver, Caleb Griffin (6-3, 220) from kicker to receiver. Illinois again has good offensive skill players — running backs Chase Brown and Mike Epstein, tight end Daniel Barker, receiver Brian Hightower — and a few veterans on defense like Jake Hansen and Owen Carney. Blake Hayes is one of the nation's best punters.
But it's also one of the least deep teams in the league. Even though Nebraska lost soundly to Illinois last year — 41-23, and it was no fluke — the Huskers will be favored rolling into Champaign this year.
Bielema has his hands full, but he'll do it his way. One of his initiatives is "flip-flop Fridays" before games, since Bielema believes Fridays should be as relaxing as possible. That differs from Frost, whose "Fast Friday" practices are up-tempo and fairly rigorous, designed to get a team's blood flowing.
Why the flip-flops? Bielema figures a player came up with that detail, but he's a firm believer in open-toed footwear, tracing back to a cruise he took as an Iowa assistant to "Jamaica or Barbados" in the mid-1990s.
"I get off (at port) and everybody's kind of just having fun," Bielema said. "Everybody's loose, the sun's going, the beats are poppin' and I look around, everybody's got sandals or no shoes on. 'Man, these people are happy.' Now, there might have been other reasons these people are happy, but at that point in time, I took it that they were wearing sandals.
"I get back and two weeks later I go do a clinic in New Jersey. I fly and I land, everybody was like bristly and not very warm and receptive, and everybody's wearing tight shoes and boots. And everybody's got their feet all tied up. And I thought the world would be a better place if everybody just wore flip-flops."
It's good to have Bielema back.
---