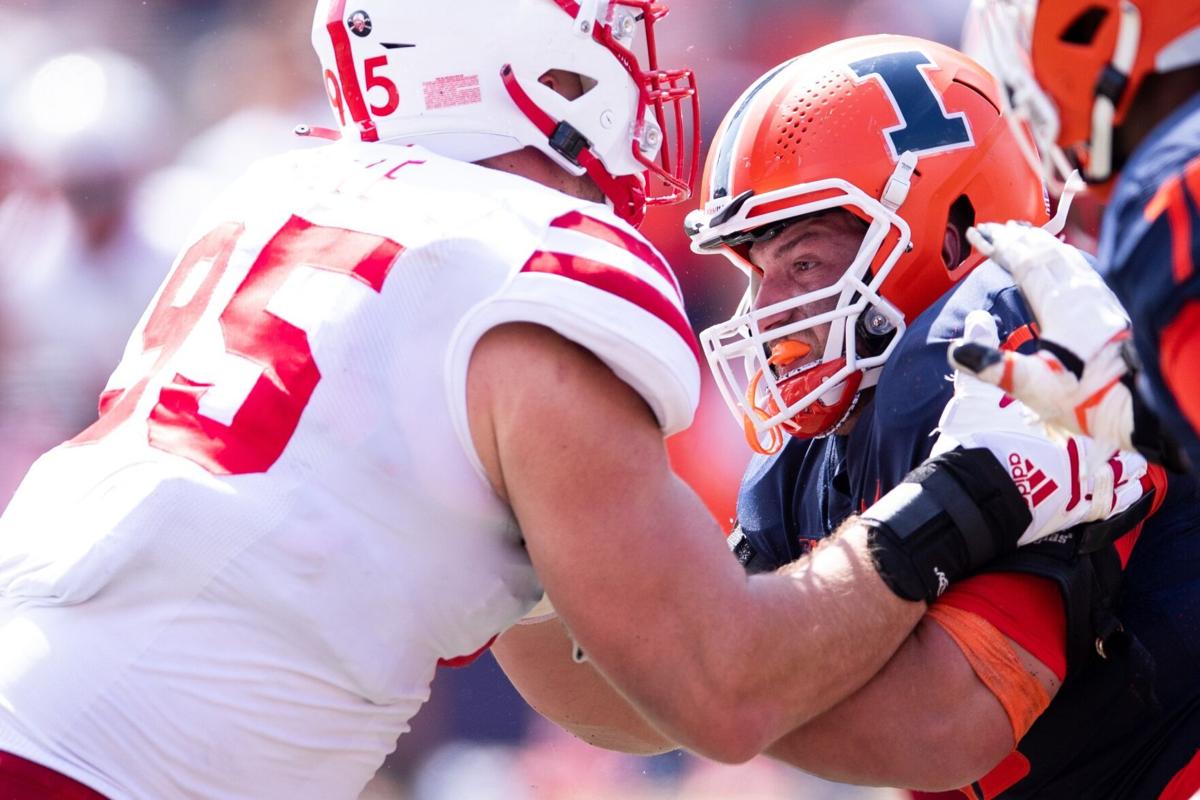 CHAMPAIGN, Ill. — Ben Stille may have been surprised, but as he stood in the muggy heat after another Big Ten loss, the defensive end didn't appear alarmed or terse. What good will rage do? What ails Husker football seems beyond an injection of fire.
"The initial response is anger to the same things happening over and over again — we talk about it and want to fix it — but at the end of the day, anger doesn't exactly fix the problem," Stille said in the wake of the 30-22 defeat at Illinois. "You can have all the passion you want but, at the end of the day, it's got to get fixed, and that's going to take some thought and some other emotions beside anger to get that figured out."
Tear up the preseason script. Write every prediction in pencil. Nebraska worked nine months to fix things, and it wasn't enough. And it may not be enough for the rest of 2021, either.
Even coach Scott Frost said the quiet part out loud about his team committing its usual medley of mistakes.
"I'd have a lot of nickels if I had a nickel for every time we've talked about that stuff," Frost said Saturday. Perhaps 400 million nickels, if his team keeps this up.
Half of Husker Nation must have been saying the serenity prayer Saturday. Fans can't soothe the wounds of a program's psyche.
It started when the first pooch punt off Daniel Cerni's foot looked like he was kicking a 40-pound medicine ball into the sky. It put Nebraska in a field position bind.
Mistake No. 2 was a result of Cam Taylor-Britt trying too hard to make a play. Connor Culp jabbed at an extra point like he was hacking out of Oakmont rough — he missed — and Adrian Martinez's overthrow of Wyatt Liewer in the end zone was costly, too. Then Nebraska got a Bad Break No. 1 on 30 yards of defensive penalties — that led to an Illini touchdown. NU chose to abandon its plan to run the ball downhill — most of Martinez's carries were scrambles — and unraveled like a kite spool.
That's NU's proven identity.
Fans, media and critics keep looking for what it "will be" without realizing the main dish is already here, served fresh on Fox. A 9-9 tie feels more like a deficit. A 16-9 deficit feels like a mountain. Only when the Huskers trailed by 21 — and were on the verge of complete annihilation — did they loosen up enough for a moderate comeback.
"We played our hardest," running back Markese Stepp said. "It's not about the physical stuff. It's more about the mental stuff."
To paraphrase Fiona Apple, Husker football is a fortress face that belies a fort of lace. Straight talk turns into a swerving car with failing brakes. Pressure mounts, conviction wanes, and pretty soon you have Martinez, on the last play of the first half 80 yards from the end zone, trying to start a Cal/Stanford sequence.
The game turned one drive earlier, on Illinois' fumble return for a score. On a third-and-2 pass play.
If you want a tougher offense, a third-and-2 even in the two-minute drill becomes a power run, not four pass-catchers deployed to the left.
Maybe the play should have worked before Martinez coughed up the ball, but it's still surprising four years in how reticent Nebraska can be to trust its own power. If, as assistants said last week, NU spent training camp in "iron sharpens iron" mode, why not sharpen iron? Was it all talk? Or did Nebraska cut-and-pass from its own intentions?
One could tell Martinez worked this offseason on standing firm in the pocket and throwing with traffic around him. Surprisingly, much of NU's offensive line looked overpowered by Illinois' front four. Offensive coordinator Matt Lubick's longer-developing pass plays rarely had time to set up. That was one major concern, allowing five sacks.
Another: the absence of guys who were good enough to play against Iowa — Zavier Betts, Alante Brown — but not good enough Saturday. Were crossing routes too hard to run? Is there a blocking or effort standard in practice they didn't meet?
Erik Chinander's defense doesn't beg these questions.
It didn't play perfectly — the outside linebackers are a little susceptible to being turned and driven away from the play by opposing tackles and tight ends — but you saw how he wanted to play Illinois' run game, and why play-action passes with crossing receivers still give his guys — any defense — some problems. The plan is evident.
Nebraska's offense looks like five assistants and a coach each took a different cab to the stadium and compared notes upon arrival. The fierce criticism lobbied at Shawn Watson and Tim Beck over the years — remember Baylor 2009! — seems unwarranted now watching this. Illinois coach Bret Bielema made a stunning comment after the game that speaks to how opponents view this operation.
"The only guy that really could beat us, we thought, was 2," Bielema said.
You may think Martinez is a liability. In reality, he's the only thing scaring anybody else.
He can rip off 75 yards on a run when all else breaks down. A running back needs help from his line. A receiver or tight end needs a well-thrown pass. When the line takes turns making mistakes, or Oliver Martin gets caught setting a pick for a flag, it sets back the effort.
On good days  — perhaps Fordham? — NU may set a tone, developing curveball plays off the original set and a third wave of stuff off the second. On bad days, it's Martinez, whichever collection of receivers made Lubick's cut for the week and a hope that the team doesn't put itself in second-and-26 twice because of penalties.
"I believe in my heart this team can still have a special season," Frost said. His offensive staff needs to coach like it, and stick to the vision forged before Saturday's game. The current identity is a collection of frayed nerves that deaden after a few mistakes. It's stunning, four years in, that Frost's offense — his calling card — has regressed to such empty calories.
I see you
Illinois punter Blake Hayes: Better at what he did Saturday — six punts, a 45.3-yard average — than everybody else was at what they did. The first punt — a remarkable wedge shot that turned at the last second, inside the 1 — perhaps stuck in Taylor-Britt's head and created the mistake that led to a safety on Hayes' second punt, which was sailing into the end zone.
Bielema: Illinois isn't long on talent, but he might squeeze six wins out of that roster. Heck of a coaching job Saturday, especially from defensive coordinator Ryan Walters, who will be a head coaching candidate as soon as this year.
Martin: After six catches for 103 yards, he's emerged as NU's deep threat. Omar Manning ran shorter routes most of the day.
Kickoff specialist Brendan Franke: Six kickoffs, four touchbacks. The former Gretna goalie did what he was recruited to do. (For one game.)
Nose tackle Damion Daniels: The Huskers will take six tackles and a lot of toughness from Daniels, who fought off blocks and didn't often get taken for a ride.
Right tackle Bryce Benhart: Played the cleanest game of the offensive linemen. Left tackle was a two-man rotation and ... woof.
Inside linebackers Nick Henrich and Luke Reimer: Combined for 19 tackles and a forced fumble. Yes, there's work to clean up, but it's a young duo who, by midseason, should be very good if they stay healthy. Reimer is a little more boom-or-bust, but NU can work with these two, plus two drives of Chris Kolarevic.
Safety Deontai Williams: One of his better games. Saved a touchdown on the long run by Mike Epstein and generally closed down the middle of the field. He had the tackle for loss on a key third down, too. NU's defensive backs didn't otherwise have a sterling day.
Outside linebacker Pheldarius Payne: Did he grab a Blackshirt with his five-tackle, two-sack performance? Can he play the run better? Payne — all of the outside linebackers not named Domann, really — struggled against the run.
Illinois quarterback Art Sitkowski: Poised. He completed 12 of 15 passes as a backup, stayed within the offense and had one key third-down scramble on one of Illinois' two third-quarter touchdowns. He looked like a lot of the quarterbacks Bielema has had.
Illinois running back Mike Epstein: Ran hard, and seems to understand where those zone-scheme plays will pop. He could be in line for a nice year.
Illinois pass rush: Consistently worked over NU's offensive line. Nothing overly fancy, and no Chase Youngs in the bunch. Just good, physical, aggressive pass rushes. Jer'Zahn Newton had one of Illinois' five sacks and two more quarterback hurries.
Seven stats
4.61: Yards per carry on first and second down combined for Nebraska on Saturday. That tally includes Martinez's 75-yard scramble. Remove that run — which came on a pass play — and the average tumbles to 2.26 yards per carry. Saturday's Husker team was the Mike Riley era with a running quarterback.
9: Season-opening losses in the past 50 years. Four of those have occurred since 2015: BYU in 2015; Colorado in 2018; Ohio State in 2020; and Illinois in 2021. NU won every opener from 1986 until 2015. Other Husker season-opening losses in the last 50: Florida State in 1985; Iowa in 1981; Alabama in 1978; Washington State in 1977; and UCLA in Bob Devaney's last year, 1972.
8: Since the start of the Scott Frost era, Nebraska is allowing opponents roughly eights points per third quarter. On Saturday, it was 14 points. The poor third-quarter start cost the Huskers almost any chance at victory.
Third quarters have been a weakness for Erik Chinander defenses especially. The initial scouting job is often excellent — Stille said he couldn't have imagined NU being more prepared — followed by a brief lull in the third quarter when offenses get humming. The Husker pass defense allowed seven of Sitkowski's completions in the third quarter.
50%: Completion rate for Martinez, the fifth-worst rate of his career. The other four were real clunkers — 2020 Northwestern when he was benched, 2019 Ohio State and 2018 Michigan and Michigan State.
Martinez was a more dangerous scrambler Saturday than he was in any of those games, but the relatively common denominator in each? Tight coverage. (Northwestern was perhaps an exception.)
Most QBs lose a little completion rate against tighter coverage and must hit deep balls to compensate for it. Martinez hit three over 20 yards — the Huskers had 18 such plays in eight games last season — but he missed a few more. Martinez completed 2 of 5 in the red zone, which falls in line with his 47.1% career completion rate inside an opponent's 20.
63.6%: Of Illinois' drives resulted in punts or turnovers. Nebraska's D has to juice that much closer to 75% in the next two weeks against Fordham and Buffalo. The Illini had two 75-yard touchdown drives that took up 6:24 and 8:04 on the game clock — 25 plays to go 150 yards. That's a modest 6 yards per play — modest for a touchdown drive at any rate — but the time elapsed was time lost for Nebraska's offense to get in rhythm.
0: Offensive touches for either Betts or Sevion Morrison on Saturday. What's the message there?
69.4%: Of Nebraska's rushing yards were gained by Martinez. Poor recipe. Most of them were on scrambles, too. NU ran none of its usual QB dart plays, subbing in instead a few counters in which Martinez would fake a speed option and reverse course the other way.
Facebook feedback
Each week on my Facebook page, I ask Husker fans for their thoughts from the game, compiling selected and edited thoughts. They were salty on Saturday.
Greg Smith: "It seems like Frost teams struggle with adversity. I just had an awful feeling after the penalties that negated the interception, would definitely lead to a TD."
Dave Clements: "I thought Omar Manning was supposed to be a downfield threat. However, it seemed like he was more often than motioned into a backfield position, ala Wan'Dale Robinson. Which he is not.
Heath Lichty: "Martinez can occasionally run and only seems to be able to throw a 'floater' for a pass. Are none of our other quarterbacks capable of throwing different types of passes that can lead to hitting receivers when open or in stride?"
Brian Parsons: "Please spare me the 'we were surprised by the defensive front' nonsense as an excuse as to why they couldn't run the ball. They had all of halftime to make adjustments and came out with three straight passing plays."
Opponent watch
Oklahoma lost more running backs last week and is down to two scholarship guys in the schooner. With OU's passing firepower, two scholarship backs should be enough, especially as the team opens with Tulane and Western Carolina before playing the Huskers.
Here comes Fordham, a team that liked running the ball so much in its three games this spring that quarterback Tim DeMorat threw an average of 43 times per game. Unless the Rams come in with a wacky triple-option twist for Nebraska, one might expect that NU's pass rush and secondary will get a workout.
Forecast
Can clear skies — a win over Fordham awaits — double as dark skies? Yep. Elsewhere, it's the best opening weekend of football in Big Ten history. Huge, meaningful games involving ranked teams. Enjoy those, even if you hear pundits wagging their tongues at NU.
---
Videos: Nebraska opens season with loss at Illinois
Hear from Scott Frost and Husker players, plus The World-Herald's Sam McKewon and Adam Carriker, following Nebraska's loss at Illinois.