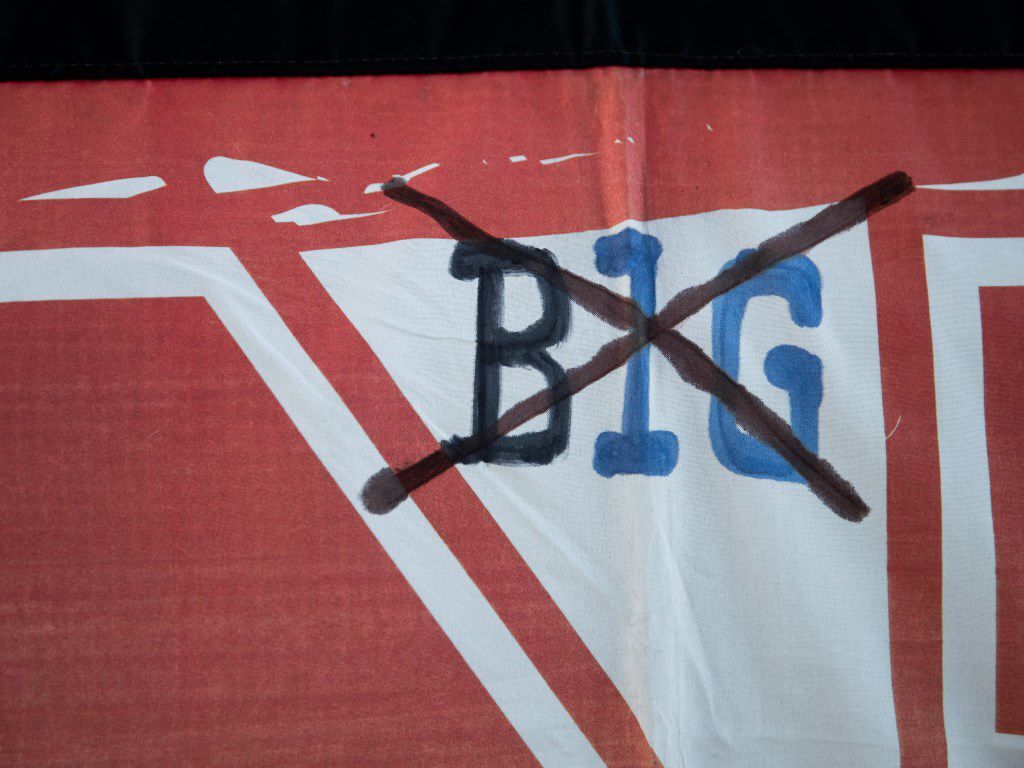 LINCOLN — Anybody who has been married knows that every marriage, sooner or later, hits a rough patch.
Nebraska and the Big Ten, which got engaged in June 2010 and tied the knot one year later, have hit a coronavirus-fueled rough patch before they reached the 10th anniversary.
The latest fissure in the union: The league's Council of Presidents and Chancellors shooting down NU's proposal to fill a gap in its schedule — left by Wisconsin canceling its trip to Huskerville because of COVID-19 cases — with Tennessee-Chattanooga, a team ready, willing and able to play in Memorial Stadium on a moment's notice.
NU hoped to get its players a game for Halloween while also setting a precedent that, should other cancellations crop up, league teams could find a nonconference foe in a jiffy to improve a College Football Playoff résumé or a bowl profile.
The Big Ten, officially silent on the matter Thursday, voted no during an early-morning meeting.
"Ultimately, the Big Ten Conference did not approve our request, and we respect their decision," UNL Chancellor Ronnie Green and Athletic Director Bill Moos said in a joint statement.
While the no stands for every other Big Ten team, too, only Nebraska has been affected to this point. And it's another case of NU and its parent league being on different pages.
It started, in a sense, with literal pages the Huskers produced and presented to the league without knowing, at the time, how much the Big Ten paid attention.
This was in late June, when Nebraska's braintrust — coach Scott Frost, Chief of Staff Gerrod Lambrecht and officials from the University of Nebraska Medical Center — came up with a playbook, of sorts, of how to navigate coaches and players through the early part of the pandemic. Unlike other schools, NU had been proactive and detailed in returning its players to campus, quarantining them in dorms, providing resources as needed and reducing significant outbreaks among student-athletes, since Husker football has not yet shut down practices or workouts because of a rash of cases.
Nebraska presented this playbook to the Big Ten, and heard little back.
"Since this is such a new issue and problem, there's been less cooperation than you would normally expect," Frost said at the time. "It's kind of been a little bit of everybody on their own, figuring this out."
One week later in early July, the Big Ten made one big step that Frost quipped zero league coaches would favor: It embraced a conference-only approach, effectively canceling 42 games the Big Ten had with other conferences. For nearly a month, the Big Ten was in a holding pattern of crafting a Big Ten-only schedule without actually announcing that schedule.
Nebraska and other schools expected that schedule by late July so as to prepare for a Sept. 5 kickoff. The schedule didn't arrive until Aug. 5.
Six days after that, by an 11-3 majority, the league's COP/C voted to postpone football. In a statement, Nebraska's administrators, Moos and Frost suggested NU would continue to look for opponents for the fall. Big Ten Commissioner Kevin Warren, in interviews with national media, put the kibosh on that plan.
One partner in the marriage wanted freedom to explore new options for employment, so to speak. The other partner, the Big Ten, wanted Nebraska to stay within the boundaries set by the league and obey.
Fueling the frustration to some degree was Warren's approach to decision-making, which included creating what Moos called "silos" in which only Warren was in every meeting while the COP/C and athletic directors — whom Moos said were in unanimous support of playing a season — were kept in separate Zoom spheres.
"He has a room full of athletic directors who had, all told, hundreds of years of experience that I think maybe he would have drawn upon more than he did," Moos said Aug. 22.
By Aug. 27, a group of Husker football players, supported by their parents, were suing the Big Ten for answers. The suit drew cheers from some and derision from others, but it did produce an important fact: the 11-3 vote in which Nebraska, Ohio State and Iowa in August lobbied for a brief pause instead of a full-on postponement. The Big Ten's postponement, which effectively halted all operations geared toward playing a season, triggered furloughs at some schools and sport-cutting elsewhere. It also put the league in a ticking-clock position of trying to get football back soon enough to enjoy a little flexibility in the schedule, should it be needed.
By mid-September, the Big Ten was back with a schedule — which wouldn't start until Oct. 24. Padded practices couldn't begin until all of the teams had been delivered a full allotment of antigen tests, though Nebraska had purchased its own tests. And one other thing, too.
No fans in stands outside of player family and friends. Nebraska pushed against that ruling, but lost.
"I know here, at the University of Nebraska, we're very careful in how we protect the players — and would be in this situation, as well," Moos said Sept. 16. "But there's talk about the total overall campus and community and so forth. Some of our venues are different from others. Some of our locations are very different from others."
Three days later, Moos would be even more frustrated when the Big Ten released its schedule. The league chose to work off its original schedule for 2020, using crossover opponents that had been set years in advance. Moos wanted the league to start from scratch.
Then Moos lobbied for division-only games to count toward Big Ten title game eligibility. He lost there, too. After that, he would have preferred NU open its season with an opponent other than Ohio State.
Nope. The Buckeyes and Huskers were set for Oct. 24 in Ohio Stadium.
"For obvious reasons, I was hoping we could dissemble the schedule because of unique circumstances and rebuild it to be fair for each school in the conference," Moos said Sept. 19. "I was outspoken on that, to the point where they heard it from me every day. The rationale was there, I didn't think we needed to follow it. Nebraska is playing five AP preseason Top 25 teams. Ohio State's playing two.
"I'm sure my friend (Ohio State Athletic Director) Gene Smith is smiling today. His friend Bill Moos is not. I've got a good football team with a great football coach that deserves a break here or there to start getting back on track to being a contender in the Big Ten West."
Which brings this marriage story to Wednesday, when Wisconsin canceled its game with the Huskers. The Big Ten deemed it a "no contest," as the Badgers had the discretion based on its number of cases to cancel the game as it paused its workouts for a period of time.
Nebraska worked quickly to present an alternative option for Saturday's game in an opponent, who according to Green and Moos' statement, had even stricter testing controls in place than the league itself.
Because of the Big Ten's original answer in August about nonconference games, NU was, inevitably, taking a long shot. After all, one side of the marriage had already set the terms of the relationship.
The terms hadn't changed. The league said no. Nebraska accepted the decision.
But the marriage between league and school remains in a rocky patch.
---
The 2020 Nebraska football schedule