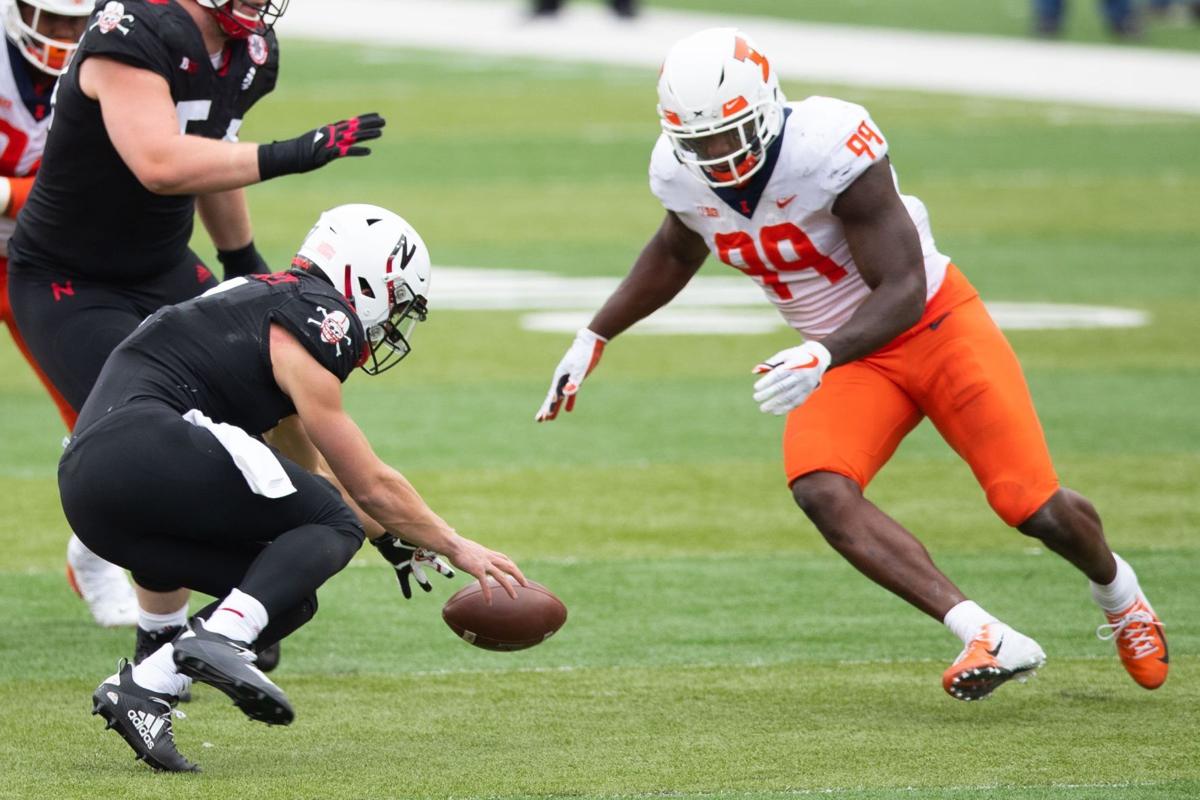 LINCOLN — Do you want to start with the money down? Eh, not off the top. We'll keep the cash to last after Nebraska's 41-23 loss to Illinois.
Let's begin with the fact that NU has three men — a head coach, an offensive coordinator and a position-specific coach — who have all developed, recruited or coordinated quarterbacks in their long, well-traveled careers, and Nebraska's quarterbacks not only appear to lock up the minute they have multiple wide receivers open, but they also seem to lack accuracy on the big-boy throws that the head coach's offense requires.
Scott Frost knows what it's supposed to look like. He had it Oregon with Marcus Mariota and Vernon Adams. He and NU offensive coordinator Matt Lubick helped recruit Justin Herbert. At Central Florida, McKenzie Milton finished eighth in the Heisman Trophy voting. And, as a freshman in 2018, Nebraska's Adrian Martinez popped off the screen with wow plays all over the field.
What's happened? Why'd No. 2 take such a step back? Why's No. 7, a smart, hardworking gym rat with two full years on campus, not firing to an open Wan'Dale Robinson on a corner route? Why is another pass thrown 12 yards out of bounds? Why is the first designed pass play of the game some down-the-line, high-risk, run/pass option that can end up, well, like it did? Why do the quarterbacks appear caught betwixt and between simple, safe plays and hitting the lottery?
Next: When is it reasonable for Nebraska's defense to better handle misdirection runs, pulling guards, front-side handoffs that cut back into empty space and zone reads with reasonably-athletic quarterbacks who riddle the Husker 'backers? Illinois had a diverse, well-blocked, well-schemed run game using blockish, unheralded linemen like Kendrick Green and Doug Kramer, who moved around like squat tanks among NU's defensive linemen. Quarterback Brandon Peters was used as a side dish in the run game, not the main course.
Then: How does a team win its first game of the year and treat that like the crest of the wave? According to quarterback Luke McCaffrey and tight end Austin Allen after the loss, NU's energy level was off in the week following a 30-23 win over Penn State. On some level, this is understandable. Really, it is. The semester is ending, the season has been a grind and, of course, COVID is still around. But was Illinois viewed as a bad team? What'd true freshman outside linebacker Jimari Butler tweet, then delete? "Can't be losing the easy ones." Easy? How'd that bit of entitlement slip into the team's thinking?
"It was almost like our team thought 'we won one game, we're good,' " said Frost, who has a healthy respect for Illinois and did not believe the game was easy, but somehow didn't quash the notion among his players. "That's not how it works in this league, it's not how it works in life, it's not how it works in football."
Frost brought up his coaches a few times, which is good. The Rewind praises coaching victories — such as NU's spectacular diversity in the 42-38 win over Illinois last season — and notes coaching struggles.
Illinois won that category on Saturday. The Illini's schemes were better, the quarterback play was better, the pass rush looked like a pass rush — that's a recruiting issue on NU's end — and, on third down, Illinois knew how and where to attack, while Nebraska, admittedly young and inexperienced on offense, is in the midst of major growing pains related to the how and where of anything.
A nightmarish end to a promising first quarter drive is worth noting. Frost and Lubick drew up a nice little switch route that got Robinson wide open down the right sideline. McCaffrey threw the ball into the bleachers. Later on the drive, he threw just a little high of Robinson on a seam route. On a key third-and-four, then McCaffrey darted to his right on a run with Rahmir Johnson as a lead blocker. The run would have produced a first down if McCaffrey had cut inside of Johnson's block, or if Johnson, knowing McCaffrey would dart outside, hustled to put himself between McCaffrey and the defender.
Neither happened. McCaffrey ran wide, and Johnson shoved the defender, Illinois linebacker Khalan Tolson, right into McCaffrey. No gain on the play. On fourth down, Cam Jurgens whizzed a snap by McCaffrey's head, forcing an interception, after which Illinois scored a touchdown to take a 21-7 lead.
So much is put on the shoulders of McCaffrey, or, more to the point, he takes so much upon himself instead of distributing the ball, in rhythm, to playmakers. Nebraska is reluctant to stick with a downhill, back-centered run game, which means play-action fakes are only so effective. On passes where the pocket was perfectly clean and Huskers were open, McCaffrey scampered anyway. Perhaps that's the design, but an offense struggles to function on a scramble-by-scramble basis. Short passes can lead to longer passes. You do one thing in the hopes of setting up something else. Aside NU's first touchdown drive, which looked melodic, everything else seemed like McCaffrey jazz, and he's not Miles Davis yet.
Does NU have the distributor it needs to run Frost's system? McCaffrey's started two games. That's too small a sample size. But you'd sure like to know, headed into the offseason, if No. 2 or No. 7 is the guy and, if not, whether the third scholarship quarterback, true freshman Logan Smothers, could be. Or 2020 signee Heinrich Haarberg. Or someone else?
Nebraska recruited or is recruiting all these four-star running backs, receivers and tight ends to get the football. Not to watch a quarterback paradoxically run 26 times in a spread passing offense. Quarterback is the paramount issue and, again, Nebraska is the rare team with three coaches looking at the position.
Which means the defense has to play hero, a little bit, and on Saturday, it allowed Illinois to convert 11 of 17 third downs. That's 64.71%.
Illinois hadn't done that well on third down in six years — in 72 games.
NU's opponents are now converting, for the season, 53.97% of their third downs. A Big Ten defense hasn't been north of 50%, in a full season, since the 2013 Darrell Hazell Purdue team that finished 1-11.
The Husker offense, meanwhile, is converting just 32% of its third downs. The -21.97% gap between offensive and defensive performance is larger than any Big Ten team since, again, Hazell's 2013 Purdue team.
This is not company Nebraska wants to keep. The third down is called the "money down" because it wins or loses games and makes or breaks seasons. Rival Iowa is next, and I suspect the Hawkeyes have no more love or mercy for Nebraska than they ever have. If the Rewind told you the Huskers could hang in there, would you believe it?
Well, they can. But NU's coaches better have the kind of week they should have had last week. Nothing's easy in the Big Ten.
I See You
Inside linebacker Will Honas: Played hard, finished with 10 tackles and a sack. Honas was so-so in pass coverage, but that's not a new development. You can win with him and outside 'backer JoJo Domann, who, yes, bit on a Brandon Peters fake to the running back and gave up a chunk run as a result. He plays with a forward lean, at least.
Punter William Przystup: He put two inside the 20 and had a 49-yard net for the day. That'll do.
Kicker Connor Culp: Made a field goal; continues to kick effective short kickoffs.
Robinson: Did what he could with the touches he had. He can't throw it to himself when he's open on a corner route. The fumble was the lone blemish.
Defensive end Casey Rogers: Bad (and somewhat inadvertent) penalty with the hands-to-the-face personal foul, but Rogers held up well. He, Ben Stille and Ty Robinson have become a clear top three among ends, with Damion Daniels playing a solid nose when NU needs it. None are great pass rushers, but outside linebackers are supposed to do that.
Receiver Oliver Martin: Nice debut for the former Michigan and Iowa receiver. Martin had two grabs for 30 yards. He'll help.
Illinois quarterback Brandon Peters: Looked healthy and athletic, and ought to be, sitting out for 21 days in COVID protocol. Nice game from him.
Illinois' secondary: Particularly safety Tony Adams. Illinois hit, broke on balls and generally let Nebraska have yards but few points. If you can't run the ball on the Illini's defense with your running back — and NU could not do so — passing against it becomes pretty hard.
Illinois running backs Chase Brown and Mike Epstein: Mid-major guys playing at a Power Five school and outplaying Nebraska's collection of higher-rated backs who are either banged up or highly inexperienced. It'd be nice to see NU get the running back position right. For all the puffing Husker fans did about the running back recruiting under Mike Riley, Devine Ozigbo would be a real blessing for this team.
Five Stats
41.17%: Nebraska's touchdown rate in the red zone. It ranks last in the Big Ten and is running worse than the 51.11% pace the Huskers set in 2017, when they also ranked last in the league. Nebraska's touchdown rate once it hits opponent territory is, of course, far worse. On Saturday, NU entered Illinois territory six times and scored three touchdowns. Two possessions ended in fourth -down interceptions, and one was a Connor Culp field goal.
2.5: Fumbles per game, so nine total for the season. Four have been recovered by the defense. On brand for the Huskers under Frost. NU averaged 2.25 fumbles per game last season and 2.33 the season before that. Both marks ranked last in the Big Ten. In an offense with so many quarterback/running back reads and exchanges, it's just sort of baked into the cake.
23:39: Time of possession for Nebraska. Once again the Huskers were dwarfed in this category, and currently rank 110th nationally in the stat. Now, it doesn't mean much if a team is scoring fast, foot on the gas pedal, overwhelming foes. When a team isn't doing that – and Nebraska is not – it sort of inevitably leads to the defense getting worn down and the opposing defense staying fresh. Illinois bled clock beautifully, which allowed its not-great defense to get rest and withstand NU's occasional forays into tempo. The Huskers only had four second half drives. Even if they'd scored touchdowns on all of them, guess what? They still lose by 3.
6.1: Yards per pass attempt for Nebraska, and that's a deadly stat for the Frost offense, which relies on efficient, explosive passing plays that push the yards-per-attempt average closer to 8 or 9. NU's yards per attempt was 7.8 last season, and 7.3 in Frost's first year at Nebraska. At Central Florida in 2017, it was 10.2. In year one, with a freshman quarterback, UCF was at 6.1 in 2016. This offense appears to line up with that offense. UCF took a huge jump the following season. Nebraska can hope for the same.
120: Total yards for Robinson, which is closer to where he needs to be in Nebraska's offense. He compiled those yards in 13 touches — seven carries, six catches. NU continues to send Robinson on more aggressive, deeper routes, but McCaffrey didn't connect. Martinez did, late, on a 31-yard post route in the middle of the Illinois defense. Robinson averaged 102.9 all-purpose yards per game last season. In 2020, he's up to 66.8.
Facebook Feedback
After each game, I ask Husker fans on my Facebook page for their thoughts on Nebraska's performance. Selected and edited responses follow.
Chris Jochum: Serious question here — how much different would our players' lives be on a daily basis (in state/on-campus) if they were a top five, undefeated team? They are treated like a top five team in terms of fan support, fame and facilities and as fans, in part, we are to blame. For 20 years we have paid prime rib prices for bologna.
Judy Rees: "Don't care what anybody says, I was thrilled Martinez went in and looked pretty damn good. Wish he would've been put in earlier!"
Sudhir Joshi: "Changing coaches is not the answer. We've changed coaches four times over the last 20 years to disastrous results. Fans need to lower their expectations for the near-term. Patience is the only answer."
Merlyn Klaus: "This needs to be a watershed moment for reflection and evaluation. They are not "close" or a break or two away from success. They were shoved all over the field by Illinois."
Nathan Hornecker: "Can you make sure Frost knows that tanking — while a viable strategy in the NBA - isn't a thing in college football? I'm not sure the university knows this."
Patrick Collins: "Lack of entire team toughness is a primary concern. Some players like Wandale have it, but it is not a team trait. It seems when they get punched hard they back down."
Opponent Watch
>>Iowa's defensive line is the truth. The Hawkeyes held Penn State to 62 yards on 35 carries — that included a whopping five sacks — in a 41-21 win over Penn State. Daviyon Nixon even had a pick six to cap the Hawkeyes scoring. Iowa's 1-2 punch at running back — Mekhi Sargent and Tyler Goodson — ran for 178 yards. Iowa has found its stride and doesn't like Nebraska any more than it has since 2014. The Hawkeyes have won five straight in the Black Friday series.
>>A highly questionable offensive pass interference call cost Purdue a win at Minnesota. The Boilermakers lost 34-31 but got back receiver Rondale Moore — who got 18 touches for 136 total yards — while quarterback Jack Plummer, in his first start this season, completed 35 of 42 passes for 367 yards and three touchdowns. Purdue's run D — led by nose tackle Lorenzo Neal — is decent, too. Better than Illinois, that's for sure.
Forecast
The Thanksgiving Zoom conversations about Husker football may be a little tense.
---
Photos: Nebraska plays host to Illinois