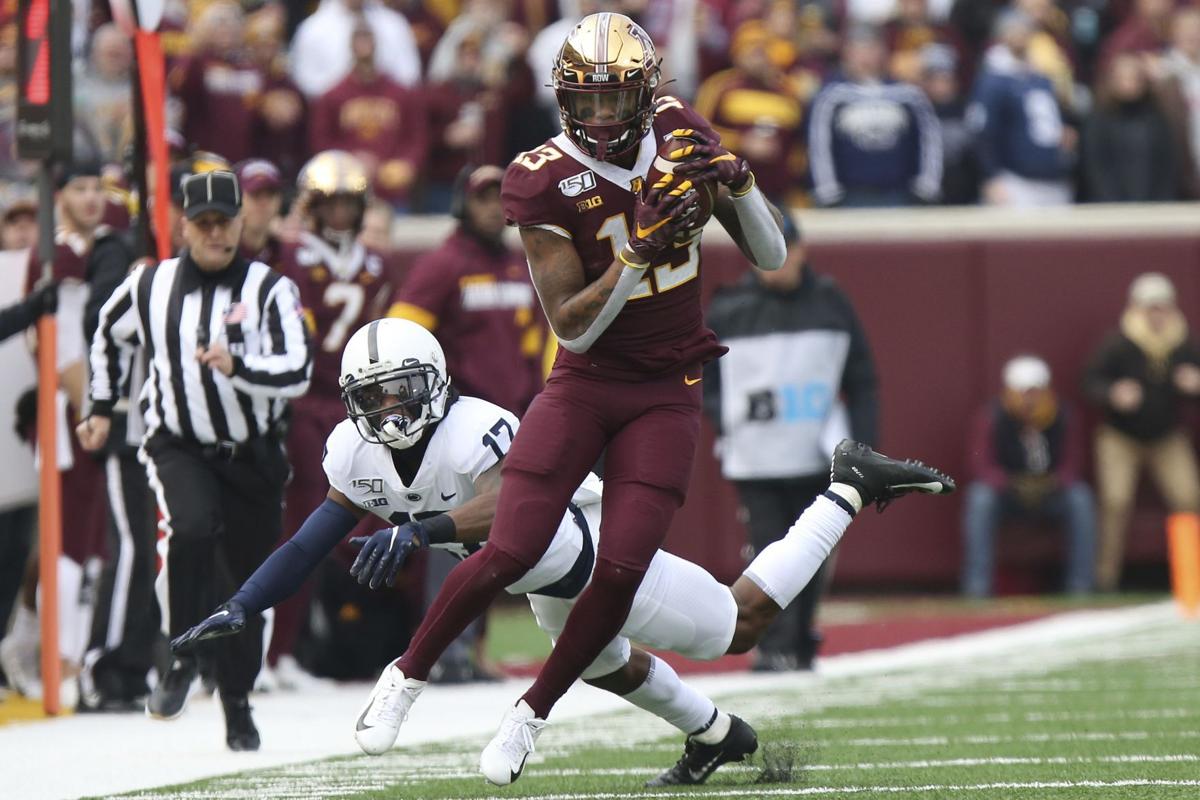 LINCOLN — As it turned out, Minnesota receiver Rashod Bateman wasn't worried about contracting COVID-19 when he initially decided to forgo his junior year and head straight to the NFL.
As he told the Minneapolis Star Tribune this week, Bateman had already battled the coronavirus and was beginning to recover from it when he opted out Aug. 4. He signed with an agent, too.
Now, feeling safe enough to play one more season with the Gophers, Bateman's back, having been reinstated this week by the NCAA.
So is Purdue's Rondale Moore, the do-it-all slot receiver who will line up next to sophomore David Bell, who shared the Big Ten lead last season in catches.
Nebraska won't see those three terrific receivers until late in the season. But the Huskers will face arguably the league's best group of pass catchers in the opening week.
Ohio State may have the league's purest route-runner in Chris Olave (49 catches, 849 yards, 12 touchdowns). Garrett Wilson had 30 catches for 432 yards and five touchdowns as a five-star true freshman. And in their 2020 class, the Buckeyes added four Top 100 recruits at receiver. Two five-stars and two four-stars.
Catching the drift? The Big Ten, long known for its running backs, is now a league better known for its pass-catchers.
Jonathan Taylor, JK Dobbins and Rodney Smith, the Big Ten's top three rushers in 2019, are battling in the pros after long, successful collegiate careers. And while the candidates to become the conference's top rushers — Penn State's Journey Brown, Nebraska's Dedrick Mills, Michigan State's Elijah Collins, Indiana's Stevie Scott — are good players, the receivers get top billing.
It starts with Moore, whose eye-popping stats over 16 career games — 1,861 yards from scrimmage and 16 total touchdowns — are surpassed by the experience of watching him make the actual plays. The 5-foot-9, 180-pound sophomore seems capable of dead-legging defenders in midair. His 252 all-purpose yards didn't single-handedly sink Ohio State's College Football Playoff hopes in 2018, but they were a big part of Purdue's 49-20 stunner over the Buckeyes.
"He gives us the ability to attack in many different ways," Purdue coach Jeff Brohm said on Big Ten Network. Purdue's offense had to change after Moore got hurt four games into last season. "Getting him the ball in the backfield, lining him up at receiver, at many positions, letting him do his thing is going to be exciting to watch."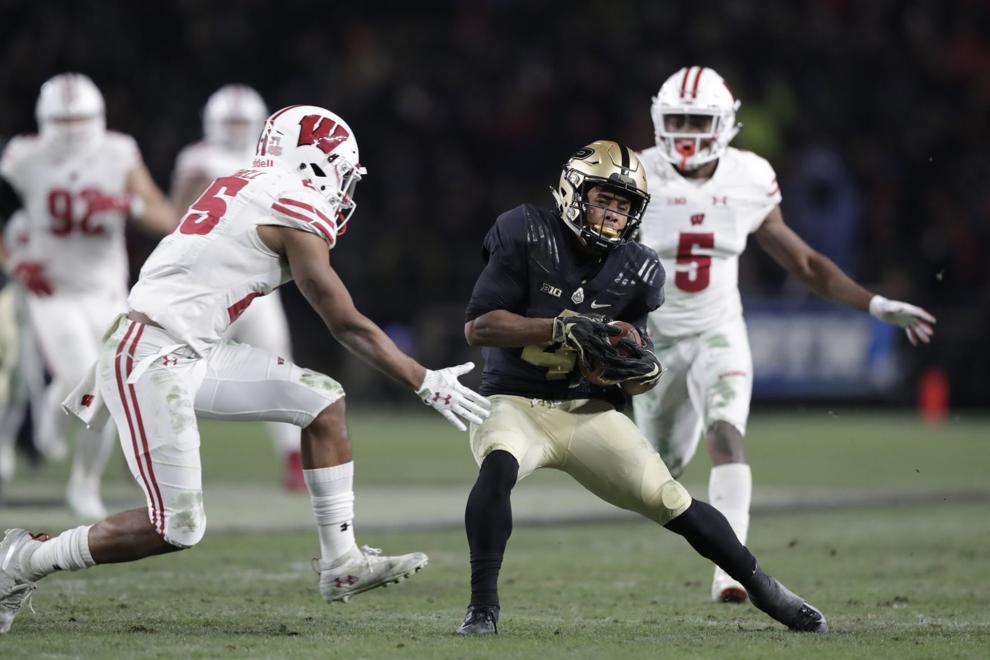 Because of his size — 6-2, 210 pounds — Bateman might be just as valuable to Minnesota as Moore is to Purdue. Bateman functions like a giant post player. He averaged 20.3 yards per catch last season, attracting double coverage and freeing another elite receiver, Tyler Johnson, to make plays. Two of Johnson's biggest catches against Nebraska last season — both of which set up second-half Gopher touchdowns — came as he lined up on the same side as Bateman, which forced the Huskers to cover Johnson one-on-one with Cam Taylor-Britt or JoJo Domann. Johnson won both matchups with good route running. But Johnson got single coverage in part because of Bateman's threat as a deep receiver.
Olave caught only three passes for 30 yards against NU in 2019, but he was a nightmare for Wisconsin. In two games against the Badgers, he caught 12 passes for 187 yards. Wilson, Olave's teammate, is likely to double his 2019 numbers even as the Buckeyes play fewer games in 2020.
Other Big Ten receivers to watch:
Wan'Dale Robinson, Nebraska: The better NU's total receiver corps is in 2020, the better it probably is for Robinson, whose skills are similar to Moore's. Robinson took a lot of physical punishment last season — rewatch the loss to Minnesota, for example, as proof — and needs to play a little less out of the backfield.
Josh Imatorbhebhe, Illinois: Very underrated junior season (33 catches, 634 yards and nine touchdowns) in which the USC transfer caught a touchdown on 27% of his grabs. If you're looking for a target goal for new Husker receiver Omar Manning, Imatorbhebhe (6-2, 220) is a good place to start.
Ronnie Bell, Michigan: A Kansas City product who posted big numbers (48 catches, 758 yards) catching passes from senior Shea Patterson last year.
Whop Philyor and Peyton Hendershot, Indiana: Nebraska fans remember these two from a 38-31 Indiana win last season. One reason the Hoosiers could lead the Big Ten in passing — they'll be neck-and-neck with Purdue, I'd predict — is the quality of receivers.
Ihmir Smith-Marsette, Iowa: The league's best kickoff returner also had 44 catches for 722 yards and five touchdowns last season. Smith-Marsette is a smooth route runner with the speed to challenge most cornerbacks.
Pat Freiermuth, Penn State: Along with Hendershot, he's the league's best pass-catching tight end. He won't have KJ Hamler, now in the NFL, to draw away coverage, though.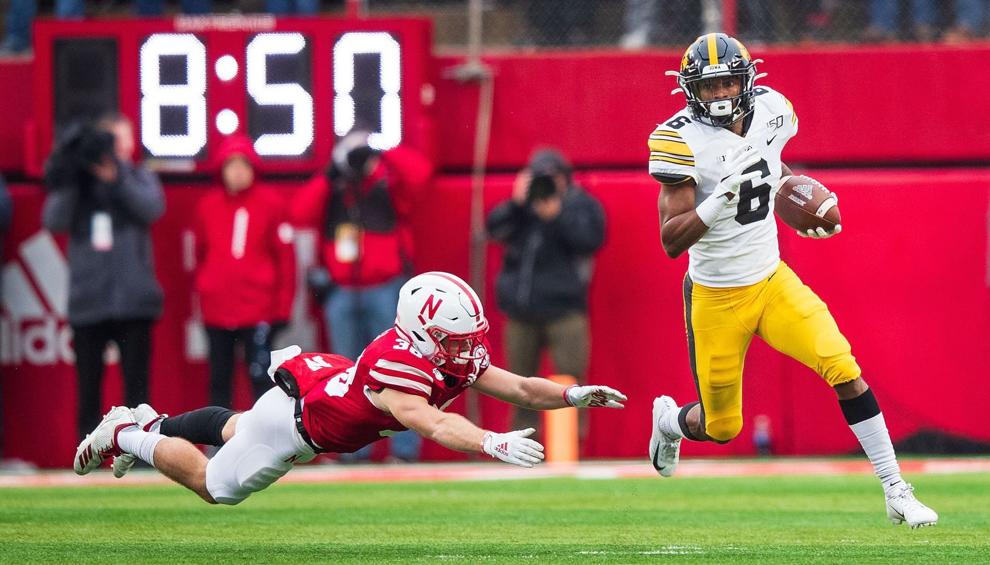 News and notes from the week of Big Ten camp:
» No word, as of Friday afternoon, on whether Michigan receiver Nico Collins will be among the Big Ten receivers opting in. He'll have to decide soon.
» Taylor, now with the Indianapolis Colts, was spectacular at Wisconsin. Tough, capable of big plays, durable. Wisconsin coach Paul Chryst told reporters on a call this week that three backs — Nakia Watson, Garrett Groshek and Issac Guerendo — will likely be the top group to replace Taylor.
Wisconsin's line is often so good, and its offense often so well-executed, that a trio of Badgers can probably replicate Taylor's work, say, within 10 yards of the line of scrimmage. What made Taylor different, and special, were the home run totes of 60, 70 and 80 yards. Groshek's longest run last season was 23 yards. Watson's was 27.
Don't be surprised if Wisconsin's rush totals look more like 2016 — 203 yards per game, 4.32 yards per carry — instead of the 233 and 5.33 the Badgers averaged in 2019.
Wisconsin will ask more of quarterback Jack Coan and his receivers.
» Linebacker Micah Parsons is not returning to Penn State. Coach James Franklin told reporters the timing was off because Parsons had simply spent too much time in California doing his own training regimen in preparation for the NFL. Franklin, armed with a roster list, rattled off Jesse Luketa, Ellis Brooks, Brandon Smith, Charlie Katshir and Lance Dixon as players to watch at linebacker, where Penn State will replace three starters. PSU has "box," "field" and "star" linebacker positions — the last of those is a nickel back.
"It's obviously a position of strength," Franklin said on a Zoom press conference. "You never want to lose players, but we feel like that's position of strength for us."
» Purdue coach Jeff Brohm told reporters Thursday that quarterbacks Jack Plummer and Aidan O'Connell have done a good job so far, but he added another name in UCLA transfer Austin Burton, who completed 68.8% of his passes last season for the Bruins in a limited stint before leaving for Purdue. Brohm's not afraid to play multiple QBs in a season or a game, so remember the name.
"We've got three guys we can put in right now and can execute our offense," Brohm said. "For not being here that long, Austin Burton has really picked things up well. He's got a good feel, a knack, for how to play the game."
---
The 2020 Nebraska football schedule