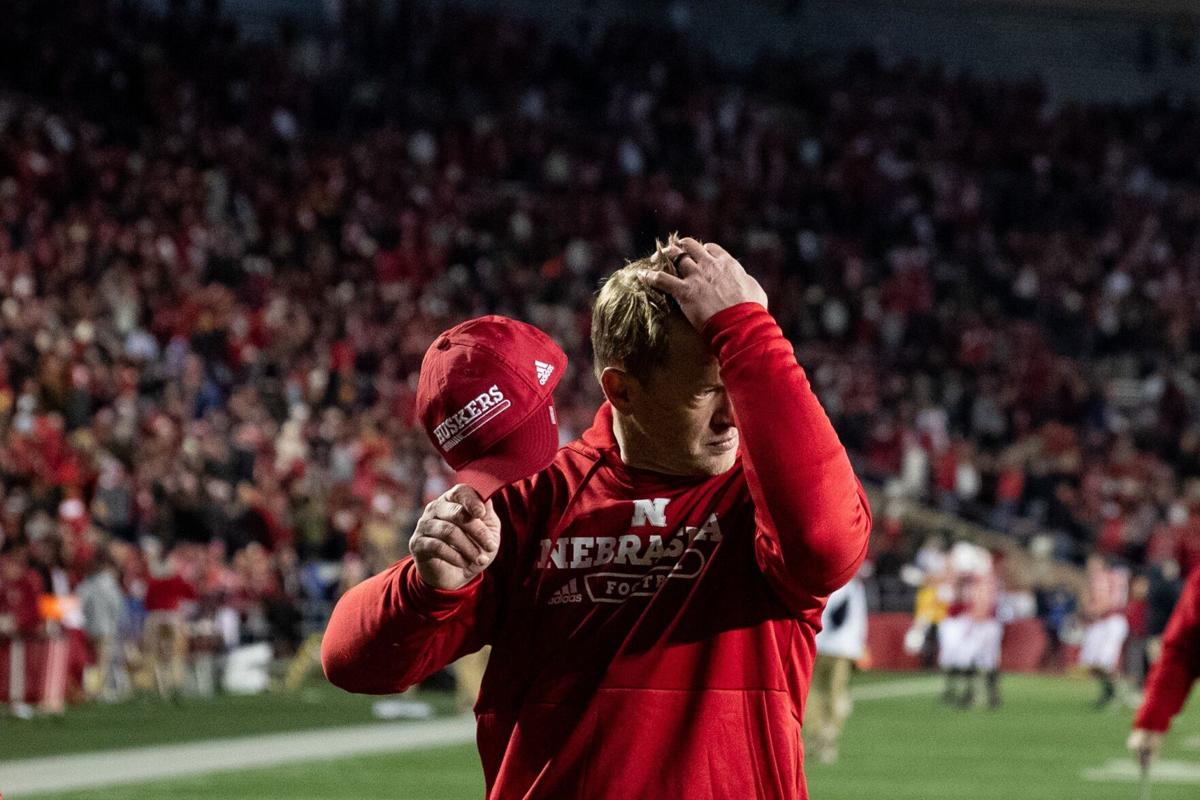 MADISON, Wis. — Scott Frost planned to go for two and the win. The Nebraska coach told his players that before the deciding drive of NU's 35-28 loss to Wisconsin perhaps to prepare them if the Huskers took the Badgers' top-ranked defense for yet another spin down the field.
And as the clock ticked under a minute and NU marched into an angry UW student section, Frost said he felt "really good" about Nebraska's chances to win.
Quarterback Adrian Martinez, playing through pain to his throwing shoulder, believed it, too. And why not? He had sliced and diced Wisconsin with 351 passing yards as Nebraska reached the Badger 11.
NU then incurred a holding penalty. The Huskers, so confident and aggressive all night, fell apart a little.
One missed pass became two and two became three. On fourth down, Martinez's long, across-the-field heave to Zavier Betts had a chance until Betts was bumped — hard — just before the ball arrived. Officials didn't throw flags. Frost exploded on the sideline, asking the officials to throw a flag on him.
"I was too angry to ask for an explanation," Frost said. But just as he seemed ready to go down the rabbit hole of Big Ten officiating, he stopped. Aware his team is where it is for reasons within its control, Frost dove into the things NU could have done better, but didn't.
Nebraska's shoddy tackling on both Wisconsin receiver Stephan Bracey's 91-yard kickoff return touchdown to start the game and giant, 17-year-old running back Braelon Allen, who rumbled for 71 and 53-yard touchdowns on the way to 228 yards and three scores.
Interceptions that stopped NU's second-half momentum.
Holding penalties cropping up at the wrong time.
The same old stuff separated NU from winning a one-score game. Nebraska is 3-8. Wisconsin is 8-3. The gap between them Saturday was small and large at the same time.
"It's happened too much, and we need to get it fixed — we're gonna get it fixed," Frost said. "We keep putting ourselves in position against really good teams. We've got to get it done."
Despite two turnovers and two empty possessions inside Wisconsin's 20, Nebraska's offense, in amassing 452 total yards and 28 points, did its part against a defense allowing 211 yards and 14.6 points per game this season. Down four regular assistants, whom Frost fired 12 days ago, Frost and his makeshift staff concocted a freewheeling, pass-heavy plan that Frost called "fun." He sought to attack the Badgers more than Wisconsin's defense attacked NU.
Frost called aggressive play-action passes that sent receivers deep over the middle and tight ends leaking into the middle of the field on shorter routes. Martinez hit passes of 42, 34, 27, 17 and 16 yards in the first half alone, evading Wisconsin's vaunted pass rush.
Samori Touré caught two of the long passes and added a 4-yard touchdown pass from Martinez on a short tunnel screen play. That capped an eight-play drive that started at UW's 33-yard line. The short field was in part due to Wisconsin stopping NU on fourth down at the Badger 6 and helped NU forge a 14-14 tie at halftime.
While Martinez missed the last drive of the first half with an undisclosed throwing arm injury, and had doubts about whether he'd return in the game, the fourth-year junior rolled out onto the field for the second half and eventually became, in the fourth quarter, NU's career leader in total offense.
"I needed to see how I was doing out there on the field, but we made it happen," Martinez said of the injury. He completed passes to nine Huskers and one Badger, Collin Wilder, who had two second-half interceptions. One of them set up Wisconsin's third touchdown of the game, a pass from Graham Mertz to Kendric Pryor that gave the Badgers a 21-14 lead just minutes into the second half.
NU answered that score — a 1-yard Martinez plunge after a 22-yard throw to Austin Allen — and answered Wisconsin's next touchdown with an impressive fourth-quarter march highlighted by Martinez's improvised 38-yard fourth-down pass to Allen, who broke NU's single-game record for tight end receiving yards with 143. At 28-28 with 6:27 left, the Huskers needed a stop.
Braelon Allen, a blend of power, patience and breakaway speed, landed the final knockout blow with a 53-yard rumble down Wisconsin's sideline with 3:50 left. NU's defense — missing starters Deontai Williams, JoJo Domann and after the first half Caleb Tannor to injuries — couldn't slow the 6-foot-2, 238-pounder.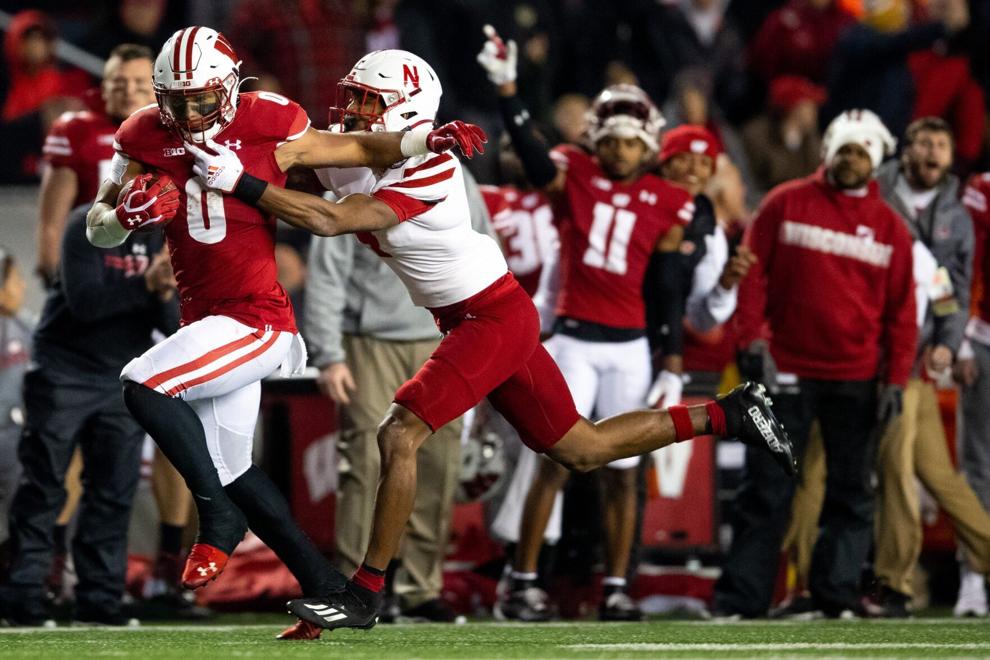 "Probably No. 1," outside linebacker Garrett Nelson said when asked where Allen stacked among backs NU's has faced this season. The Huskers slowed Michigan State's Kenneth Walker and Ohio State's TreVeyon Henderson, among others. "He's a pretty special guy. He's going to be a problem in the Big Ten for a long time."
Frost hinted NU's struggles with tackling were the bigger problem.
"We're beat up — everybody's beat up this time of year, so that's not an excuse," Frost said. "We're missing a couple of guys who I'd like to think would make a difference. A lot of teams are at this point. We've got to tackle better. Saw a couple guys come up and hit without wrapping up. Couple guys with chances."
Even with Allen's second long run, Nebraska had 3:27 to tie it. Martinez took his time moving the team down the field, and Frost, wary to score too quickly, kept timeouts in his pocket until 17 seconds remained.
By then, NU faced third-and-20 at the Wisconsin 21.
Much like Nebraska's overtime defeat at Wisconsin in 2016, the Huskers couldn't score the key touchdown headed into the angry student section. Much like the loss to Michigan more than a month ago, NU thought it would score in the final seconds but fell short. Mistakes that started on the game's opening kickoff moved like dominoes through yet another one-score loss.
"We're just getting better as a football team, and we have been for a long time," Frost said. "We're a pretty darn good team despite what our record says. I think everybody can see that."
Everybody can see the record, too.
---