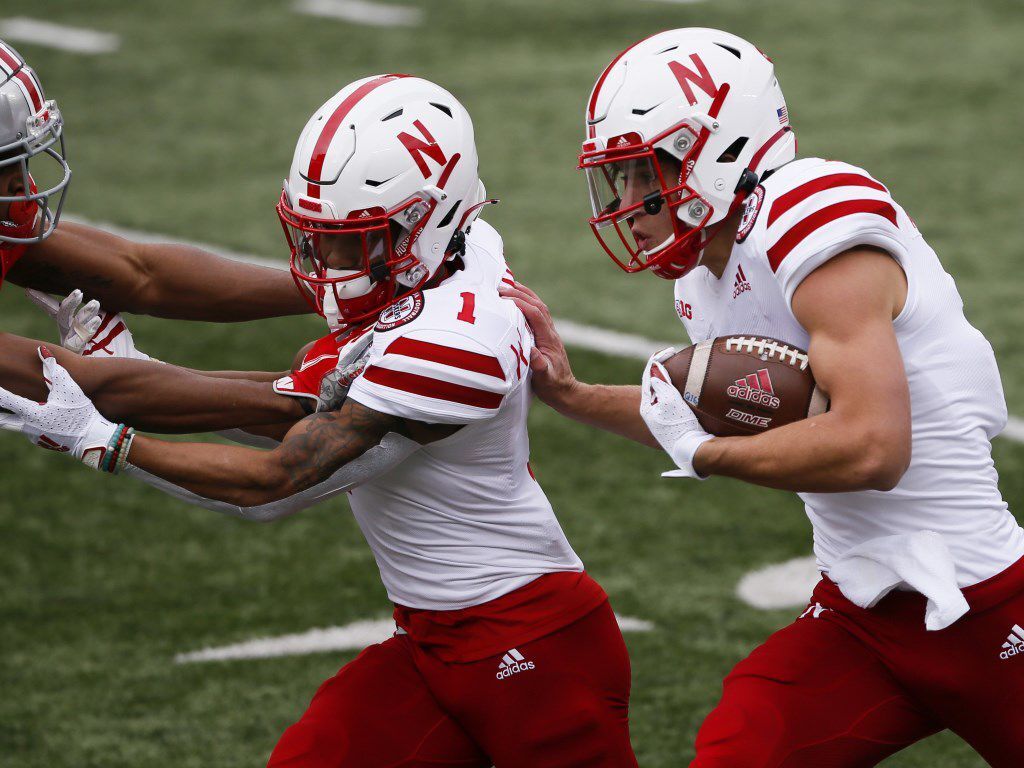 LINCOLN — Third-and-2 in the Horseshoe, and part of the future was on display with four members of Nebraska's 2019 recruiting class playing in a key moment.
Luke McCaffrey — the quarterback, leader and glue of that class — stood in a shotgun behind center. To his right, redshirt freshman tackle Bryce Benhart. To his left at receiver, sophomore Wan'Dale Robinson. And, as McCaffrey took the snap, the man pulling from left guard to pave a path was redshirt freshman Ethan Piper. McCaffrey plunged forward and got the first down during Nebraska's second — and final — touchdown drive of a loss to Ohio State.
That picture summed up a great deal about what pundits and Husker coaches alike knew about the 2019 class. It had headline recruits like Robinson, a top-100 national recruit, and Benhart, arguably the top offensive tackle prospect in the Midwest. That class had five in-state recruits, including Piper, a Norfolk Catholic grad. And it had a quarterback from one of college football's first families, the McCaffreys, who had four sons play the sport.
At 27 members, the 2019 class was big, and it had the stamp of approval from recruiting services — No. 15 according to Rivals, No. 17 according to the 247Sports composite and No. 18 according to ESPN. And when Scott Frost introduced the majority of that class in late December 2018, he deemed the group largely drama free, even if Robinson made it interesting for a month with his commitment to Kentucky.
"You'll probably get tired of hearing me say this, but I not only feel great about the type of player we brought in, but I feel great about the kid we're bringing in in this class," Frost said at the time.
At Ohio State, Frost and Co. got their biggest glimpse yet of that class as 18 of those recruits played — nine on offense, nine on defense. Five started. Two more transfers not technically included in the recruiting class — tight end Travis Vokolek and punter William Przystup — played major roles.
Mike Riley's final class in 2017 and the Riley/Frost transition class of 2018 were riddled with quick departures and disciplinary issues. Now Nebraska appears to have a hit with Frost's first full class, at least initially.
Not surprisingly, it's the quarterback — playing three positions — who's become the face of it.
"There's a lot of good individuals in that class," said McCaffrey, who accounted for 140 yards of offense against OSU. "I thought our coaches did a good job of recruiting people with great character and great skill sets."
Nebraska chose to exercise some patience with the class, more patience than some fans or media members might have preferred. Only four — Robinson, running back Dedrick Mills, outside linebacker Garrett Nelson and cornerback Quinton Newsome — burned their redshirts. Mills, a junior college transfer, was expected to play immediately and did, rushing for 745 yards. Robinson pitched in at running back and receiver, Newsome filled in mostly on special teams and Nelson was a backup on defense.
The rest of the recruiting class played four or fewer games, preserving their redshirt. That included McCaffrey, who made a single-play appearance in a 13-10 win over Northwestern but played larger roles in the Indiana, Maryland and Iowa games.
McCaffrey looked ready enough that perhaps his impact could have been larger when stretched over a whole season. Because of NCAA rules during the pandemic, McCaffrey will be a redshirt freshman again in 2021, but Nebraska coaches couldn't have known last season that he and the rest of his classmates would get a free year.
Frost and assistant coaches have said other players just needed more time to develop. That was particularly true along the offensive and defensive lines. As true freshmen last year, Benhart and nose tackle Ty Robinson — who also started last Saturday — made good impressions on coaches while continuing to shape their bodies. They dominated in high school, but the Big Ten is arguably full of the biggest linemen.
"The Big Ten, it's hard to play as a freshman in this league," Frost said. "Not that it can't be done, but it's just a big, physical league and it helps you to be 21 or 22 years old instead of 18 or 19 years old. So it takes a little while to develop those guys, not just knowing the X's and O's, but physically. We had a bunch of guys that played a lot for maybe the first time on Saturday."
» Five were Nebraskans who all chose to jump aboard the Frost Express. Nelson (Scottsbluff), Piper (Norfolk Catholic), linebacker Nick Henrich (Omaha Burke), tight end Chris Hickman (Burke) and linebacker Garrett Snodgrass (York) were high school stars from four distinctly different spots around the state and represented Frost's commitment to recruiting in-state prospects. Frost once called the quintet the "backbone" of what the Huskers were trying to do. NU has missed on a couple of in-state receivers since then — Xavier Watts (Notre Dame) and Keagan Johnson (Iowa commit) — but the Huskers continue to trend well recruiting inside their own borders.
» Four were from Georgia — Mills, Newsome, Myles Farmer and Ronald Thompkins, who rehabbed from multiple torn ACLs to become NU's No. 2 running back. Tight ends coach Sean Beckton is responsible for intel-gathering and relationship-building in the state. A fifth Georgian, Caleb Tannor, was in the 2018 class. The Huskers have three more Georgians committed for the 2021 class, as well.
» Five were linemen, including junior college transfer Keem Green, who redshirted last season while adjusting to a bigger level of football and logged 10 snaps against the Buckeyes. Nebraska recruited nine linemen in the 2019 class, so they were expected to play a major factor eventually.
» Three — Newsome, Farmer and Noa Pola-Gates — were in the secondary. Two more true freshman defensive backs — Isaac Gifford and Ronald Delancy — also played. It's possible all five will be needed in the first half at Northwestern, as NU defensive backs Cam Taylor-Britt and Deontai Williams will be suspended because of targeting penalties committed in the second half of the Ohio State game.
» Only Wan'Dale Robinson was a receiver. Two more 2019 receivers — Jamie Nance and Demariyon Houston — didn't make the trip. Another, Darien Chase, left the program last winter. Chase is the only member of the 2019 class to have left Nebraska so far, standing in stark contrast with 2017 (12 who left or didn't show up), 2018 (14) or even 2020 (three left before the season began).
» One was McCaffrey, the pied piper of the class. He's the youngest of the four McCaffrey brothers to play college football, including Heisman runner-up Christian. Luke was deemed by his parents, Ed and Lisa, to be the most coachable of the four in youth football. In high school he spent as much time at receiver as he did quarterback until his senior year. By then, he was already committed to a program who had committed to him playing quarterback instead of moving him to a different position.
Of course, McCaffrey allowed Nebraska to use him however it pleased in the opener, to great effect. McCaffrey was the Huskers' most exciting weapon whether he lined up at running back, receiver or quarterback.
"It's a blessing to be on the field at all, especially in that circumstance," McCaffrey said.
The 2019 class is experiencing a fuller blessing in 2020.
Photos: Nebraska travels to Ohio State for Big Ten season opener
The Huskers travel to Columbus to face Ohio State in the Big Ten's season opener on Oct. 24.