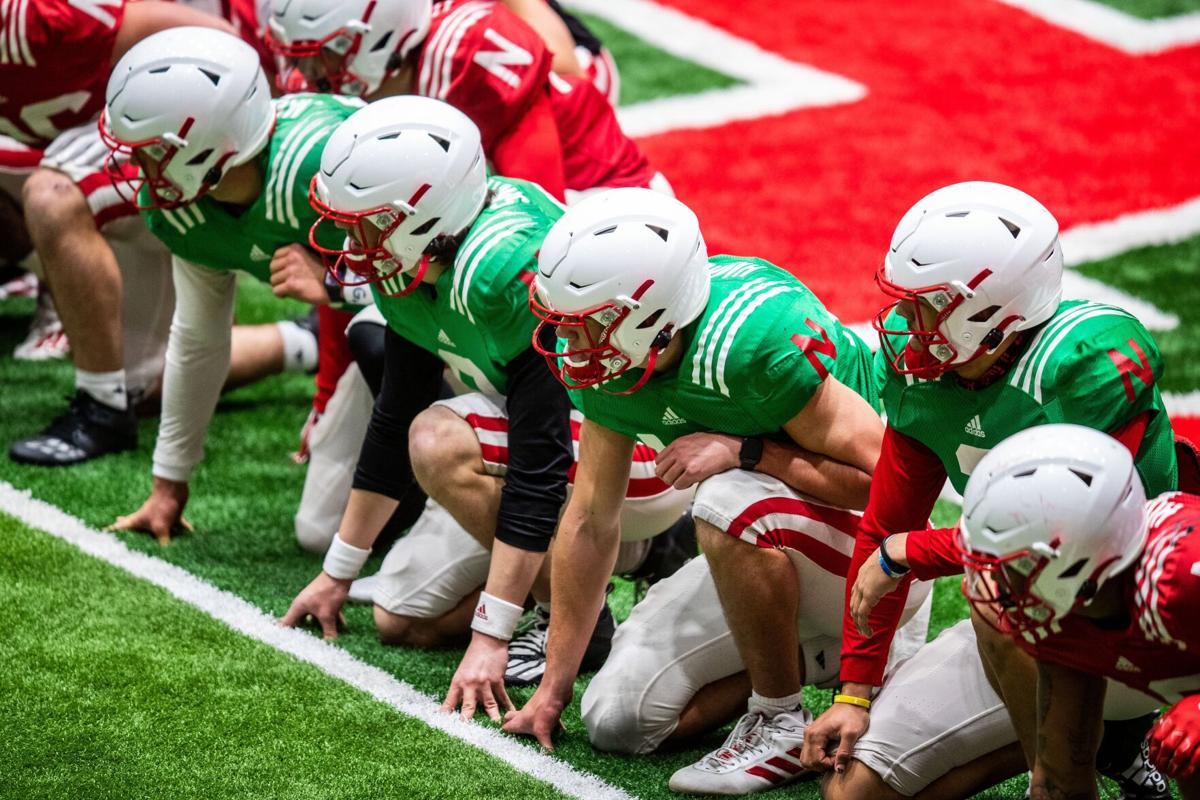 LINCOLN — Under construction. Major construction.
That's how I'd describe Nebraska's quarterback position after watching an open practice. Under construction.
It's a status that includes excitement for the future and trepidation for the present. NU may have one more scrimmage, the spring game, then three wise men — Scott Frost, Mario Verduzco and Matt Lubick — will have a decision not so different from Nebraska's dilemma in 2018.
Back then, the Huskers had to decide whether to put all of their starting quarterback chips on Red No. 2 — that is, Adrian Martinez — or pursue Joe Burrow. I wrote then and again 18 months later that Nebraska made, yes, the right choice. Burrow wasn't going to a school that couldn't give him an elite shot at starting while Nebraska thought it had "the guy" in Martinez.
You may not like the results, but the process was sound.
In 2021, Martinez is the clear starter, but we know things about him we didn't know in spring 2018.
For one, Martinez tends to get banged up enough to miss a game. Two, it's reasonable to assume that he gets banged up in part because he's often the team's leading ball carrier. Three, until proven otherwise, it's fair to expect that Martinez will continue to tote the ball a lot. Four, you can tell the difference between spry Martinez (this spring, when he looks like the best QB in the Big Ten) and 100,000-miles-on-his-knees-and-shoulders Martinez, which he has often been at some point in each season.
Knowing that, we know this: Nebraska's backup matters in 2021.
What Heinrich Haarberg and Logan Smothers can do in two years — in the case of Haarberg, perhaps a lot — is important. What they can do now, in a pivotal year for Frost, dictates whether NU nabs the best possible option out of the transfer portal.
Maybe the Huskers, on this side of the NCAA's new transfer waiver, can find a fifth-year senior unicorn who doesn't mind embracing a backup role on the chance he'll play if Martinez goes down. Short of that, Nebraska is looking at a young guy, or looking at no one at all, and hoping Smothers/Haarberg/Matt Masker can manage things. If Nebraska adds a quarterback, that's an entire slate of reps he takes away from some other quarterback. Not to mention more of Verduzco's attention and tutelage, which like any coach's attention, is finite.
To the Rewind's admittedly amateur eye, Masker, the walk-on from Kearney Catholic, slots between Andrew Bunch and Ryker Fyfe. A better passing, less mobile version of Bunch, who couldn't beat Troy in 2018 when Martinez got banged up. (Noah Vedral looks better than all three.) Masker threw it from every arm slot imaginable Saturday, occasionally with some smoke on the ball. He appears to be a serviceable runner.
Smothers is intriguing because he can really run, and the few times he got free, you could see his speed. As a passer, he threw better in more complex scenarios — like 7-on-7 work — than he did in drills, when his footwork looked more mechanical. Smothers threw a decent deep ball, too, but never forget that Nebraska values a quarterback who makes all those quick, horizontal throws with pace and accuracy.
Haarberg, naturally, has a big advantage: He's 6-foot-5. That's good for a young college quarterback to be, and Haarberg throws with all the strength that comes with such a frame. There's an "oh, hello!" quality to his passes. As Frost said last week, the ball jumps out of Haarberg's hand.
When it lands as expected — a deep ball to Levi Falck, a crossing route to Thomas Fidone — it's pretty. It always looked easy, too, even when the ball sailed well into the sideline. Coaches had Haarberg getting extra reps during one team period with his own unit of backups, presumably to get him up to speed on everything he has to do. Haarberg is great clay.
But can that guy — at 190 pounds — do all the things Nebraska wants done in the run game?
Rare is the quarterback with Haarberg's height and current frame — we're not talking 6-6, 250-pound Cam Newton yet — who can take countless brutal shots over 18 college football carries four months from now. Is there a smaller, more bulked up, passable passer out there who can serve as Martinez's No. 2 as Haarberg grows into his body? Is that No. 2 Smothers or Masker?
It's pertinent to ask now instead of after the spring game because Nebraska may have to move fast — within May — if it opts to add a transfer. Coaches may use the spring game as a final confirmation, but by then, they'll know. They may know already.
One more piece is key: Does Nebraska have players around the quarterback — Martinez; the backups; a transfer; heck, Cam Taylor-Britt as a Wildcat — to make that quarterback's life much, much easier?
In 2013, when Taylor Martinez went down, Ron Kellogg and Tommy Armstrong had multiple NFL receivers, multiple NFL offensive linemen and an NFL running back, Ameer Abdullah, at their disposal. NU went 9-4 because of them, and also the NFL defensive linemen — you know, four of those. Abdullah, Quincy Enunwa and Randy Gregory covered a multitude of problems, including a coaching staff in complete turmoil.
If the Huskers could surround their quarterbacks with that in 2021 — receiver, tight end, line, all of it — perhaps a serviceable running backup or serviceable passing backup is enough until Haarberg gets all the strength and nutrition bells and whistles. Wouldn't it be nice if a Nebraska quarterback was asked to do a little less because he had a little more?
The early returns at open practice — good receiver play, big linemen, a quick Ronald Thompkins at running back — were promising, but they won't be confirmed in a game until long after NU has decided to stick with its QB room or expand it.
A big, fun fortnight awaits. As does a big decision.
More notes on football and other NU sports:
>> Nebraska baseball is 12-2 against the bottom four teams in the Big Ten and 4-3 against the top five teams in the league.
With a sweep of Penn State, the Huskers are done playing the basement teams. They have nine more against the top teams.
Nebraska will only play two of those games — vs. Indiana at Rutgers' field — before the NCAA announces regional sites. NU is 18-6 now and could be 23-6 by the time it plays Indiana.
>> With four walk-ons — another, Jackson Cronin, joined the team this weekend — and at least 13 scholarship players on the team, Nebraska men's hoops appears ready to roll with its best, deepest roster since at least the 22-win team in 2018 and maybe much further back.
That doesn't necessarily mean much — see Tim Miles' 2015 team, which started the season ranked 21st and finished 13-18 — but it's a major leap over the roster Fred Hoiberg had to build from scratch when he arrived.
Does Hoiberg have a top-shelf point guard? Does Hoiberg's offense need that? If the ethos he teaches — unselfishness, relentlessly looking for the best shot if the early offense isn't there — permeates enough guys, no.
Would a Davion Mitchell — mediocre at Auburn before transforming Baylor — help the Huskers? Yes. But Nebraska may need to win a little more to attract a guy like that.
As it is, NU attracts plenty of good players. Though Keon Edwards spent three months at DePaul, he's effectively a 2021 recruit, much like Nebraska women's player Kendall Coley, a 2021 recruit who enrolled early and got a taste of college basketball. That exposure will greatly benefit Coley heading into an offseason. The same is likely to be true for Edwards.
>> Two Husker recruits — 2021 Ranger College guard Keisei Tominaga and 2022 Coffeyville Community College center Blaise Keita — will play Monday in the national junior college tournament in Hutchinson, Kansas. Tominaga, who is averaging 15.7 points per game and hits 50.2% of his 3s, plays at 6:30 p.m. Keita, a budding star averaging 9.6 points and 7.8 rebounds as a freshman, plays at 4:30 p.m.
While the Huskers wouldn't have garnered any points in football or men's and women's basketball, Nebraska is doing well in many of the Olympic sports, including the Huskers' 26th-place finish in the women's swimming and diving championships.
>> Twelve Nebraskans dot the roster of the top-seeded team in the FCS playoffs.
South Dakota State, which recruited heavily in the state with Dan Jackson, who is now at Northern Illinois, has finally become the No. 1 team in FCS. Heading into the playoffs, anyway.
The Nebraskan making the biggest impact in Brookings is former Papio South corner Josh Manchigiah, who has three interceptions in six games. Isaiah Stalbird, who started his career at NU and quite frankly might be the No. 4 safety with the Huskers right now, has 17 tackles and three pass breakups. Kicker Cole Frahm, an Omaha Burke grad who began at Nebraska, is 9 for 12 on field goals and 19 for 20 on extra points.