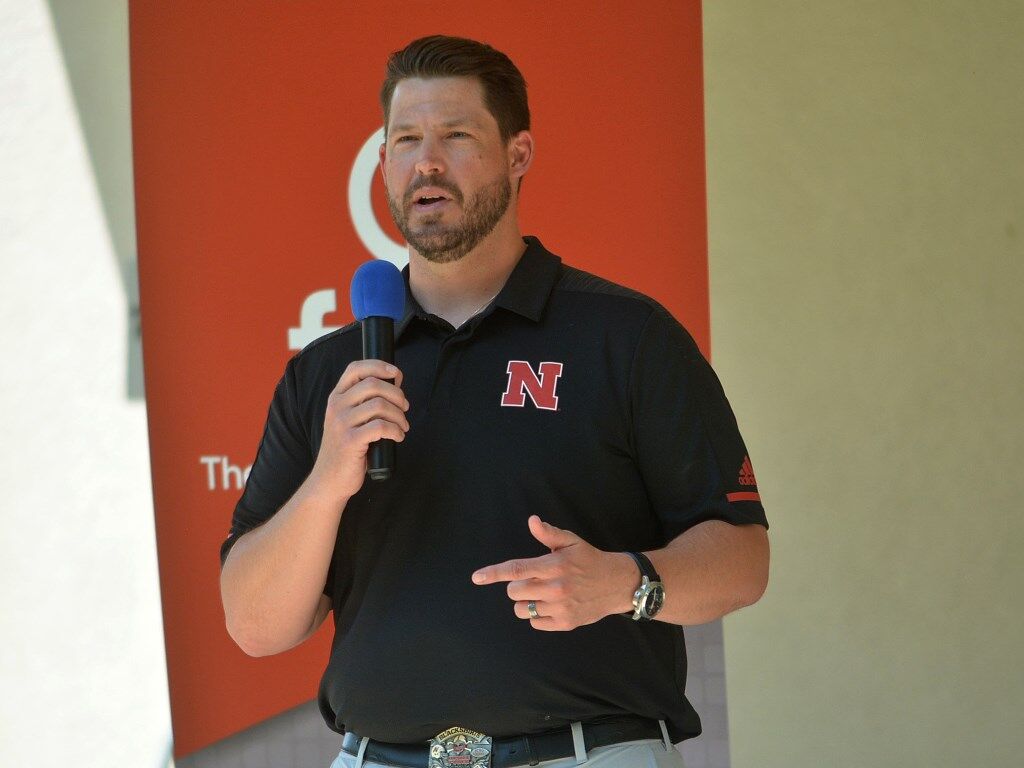 COLUMBUS, Neb. — The midday heat roiled, and train whistles blared.
A crowd of 50 clapped politely, and a man pedaling by — hauling the equipment of his lawn company in a small trailer — craned his neck to hear a little.
The coach who may hold the keys to Nebraska's football season sported a black shirt, khakis and cowboy boots. But you know Erik Chinander is the defensive coordinator of NU by the belt buckle with the trademark skull-and-crossbones carved into it. Just above the logo, the word "Blackshirts."
"Rebuilding a culture with 100-plus people on the team is dirty, nasty work," Chinander said. "You can either do right or you can do it fast."
Well, NU didn't do it fast. A 12-20 record in the first three years of Scott Frost attests to that. But Chinander believes his boss has done it right, and the proof can be found on defense, which seemed like an afterthought upon Frost's arrival.
The Nebraska defense, maligned for years as too small, too indifferent, too soft for the Big Ten, has emerged under Chinander as the bunch most prepared to resurrect the Huskers' fortunes in their new league.
The defense, for the first time since we've started the Camp Countdown, has a far bigger presence in the top half of our list. The Countdown is a combination of a player's performance, potential and position value, and the Blackshirts — while not quite back to glory yet, Chinander said — are at least knocking on the door.
Four sixth-year, super-senior starters. A defensive line that returns every key piece. One of the league's best cornerbacks in Cam Taylor-Britt. Continuity in position coaches, including two who have been at NU all four years with Frost.
It points to a good year statistically, perhaps as good as Chinander's 2017 defense at Central Florida that forced 32 turnovers and logged 27 sacks in 13 games. Does Chinander believe that's possible?
"Yeah, I do. The potential's unlimited for these guys. It's partly due to the leadership we got, partly due to the people we have coming back, and then some of the youth that's being infused into this thing.
"You can have all the talent in the world, but if you don't believe in yourself, it's really hard. I think they have that belief in themselves that 'we can do whatever we want to.' I'm not telling them what they have to do, and those goals? They're setting them pretty high. But they believe they can do it, so we've got a chance."
When speaking to fans, Chinander used an example from this spring, when starting safeties Deontai Williams and Marquel Dismuke treated each rep like a game. They had no interest, even as sixth-year seniors, in taking a few breaks from the grind.
"I'm trying to take care of them because they're old. ... I'd send young guys in there, and Deontai, he'd be waving me off," Chinander said. "The rest of the team sees the attitude and the leadership those guys bring, and just the love for playing football."
The defense Chinander took over had been demoralized through poor play and a revolving door of assistants, some who hadn't even been hired by the coordinators. It was smaller than the standard Big Ten defense, outside linebackers coach Mike Dawson said this week in Fremont.
Dawson first joined the Husker program as a defensive line coach, and like all assistants do, invited his players over to a dinner at his house. As players filed in, Dawson's wife pulled him aside.
"Where is everyone?" she asked him. Dawson explained Nebraska didn't have a ton of defensive linemen in the program at the moment.
No, she said, where are the big guys?
NU didn't have a ton of those, either. Carlos and Khalil Davis were excellent players — good enough to be drafted to the NFL — but smallish, odd fits for Nebraska's 3-4 system.
Now, Dawson said, his friends who coach offensive line in the Big Ten tell him they can see the difference in NU's size. Ty Robinson is 6-foot-6, 310 pounds. Damion Daniels is 6-3, 335. Jordon Riley is 6-6, 330. Massive men.
Chinander focuses on maximizing the team's potential through "relentless effort," "competitive excellence" and players who make decisions with their teammates' well-being in mind.
Proven older players — Chinander has plenty — should better be able to check off every box.
What about the offense? There's plenty of it on the Countdown, especially at receiver, where Frost feels like he has the right playmakers. At quarterback, the Huskers have a clear starter — Adrian Martinez, No. 1 on this list in 2018, 2019 and 2020 — and two unproven backups in Logan Smothers and Heinrich Haarberg. The 1-2 punch at tight end, Austin Allen and Travis Vokolek, might be the Big Ten's best duo.
Questions abound on special teams. NU knows Connor Culp will be the kicker, but little else among the specialists. Dawson, also the special teams coordinator, was handed a difficult situation but has an NFL-style plan to resolve it. He'll have to prove it works.
Chinander's defense has shown measurable improvement since his arrival. In 2020, NU ranked 50th nationally in yards allowed per game, 44th in yards allowed per play and 64th in points allowed per game. That was an improvement from 2019 (64th, 62nd and 66th), and a big leap from 2018 (94th, 75th and 88th) and 2017 (101st, 112th and 116th).
This year's bunch should be Chinander's best yet, and it'll be reflected in our Countdown, even as Frost's offense tends to command more headlines.
"That's just football — everybody loves offense, right?" Chinander said. "That's just the way offense is going. Football is 'how many points can we score' and all those kinds of things. That doesn't bother me. I don't think I'll ever coach the guys differently. There's always a standard. The thing that happens is, the kids move the standard. They don't stay the same."
Camp Countdown honorable mention
These players just missed the cut for the top-50 countdown. In the case of two positions, the starter is unknown, and defined as X. It won't be the last time Husker fans see it in the countdown, either.
Kickoff specialist X: Who will it be? It needs to be someone who can boot touchbacks at least 50% of the time. Nebraska hasn't been close to that since Caleb Lightbourn left the program in 2018. Ord's Kelen Meyer could be the guy, or someone else on the roster, or perhaps a guy who hasn't even joined the roster yet.
Long snapper X: Dawson said Nebraska has to improve its snapping. Cameron Pieper and Cade Mueller shared the duties last year, but they'll face plenty of competition.
Broc Bando: The fifth-year junior lineman can fill in at guard or perhaps even tackle if needed. If Nebraska gets the ball rolling downhill in some early games against Fordham and Buffalo, Bando will be in the mix to play a lot.
Phalen Sanford: After testing off the charts in the spring, this former high school track star may get a look in NU's secondary and will surely be a factor on special teams.
Garrett Snodgrass: The inside linebacker from York will be a special teams dynamo and figures to be the No. 4 inside linebacker, pushing for more time. Snodgrass had five tackles last season and could easily triple that in 2021. Good, key depth.
Nash Hutmacher: Nebraska has the luxury of giving the massive, strong Hutmacher one more season to grow into a Big Ten nose tackle, as Damion Daniels and Jordon Riley are key fixtures in the middle. Hutmacher turned heads in the spring, has cut a little weight and looks athletic.
Thomas Fidone: A shocking, frustrating knee injury just before the end of spring camp likely means Fidone is headed for a redshirt season, but remember: He gets four games without burning that redshirt. Fidone — as tough and determined as any recent Husker signee — will do everything he can to get back. If he does, and he gets those four games, he could make an impact.
Eteva Mauga-Clements: Bound to be a rocket man on special teams coverage units, Mauga-Clements adds depth at inside linebacker and could be an effective blitzer in certain situations. A junior, he has two years left.
Damian Jackson: One of the most respected players on the team, Jackson, a former Navy SEAL, can play some outside linebacker and may vie for a captaincy role. Jackson is pretty good at the point of contact.
Sevion Morrison: Nebraska loves the potential Morrison has at running back, and he flashed some sweet moves in the spring game. But Morrison is still a little bit behind that top group of Marvin Scott and even freshman Gabe Ervin. This next season is a big one for Morrison's development.
Wyatt Liewer: Caught three passes for 22 yards and a touchdown last season and showed he could be an effective perimeter blocker. NU has a better receiver corps this year, but Liewer should still play.
Brody Belt: The Millard West graduate moved to slot receiver in the offseason. Looked pretty good at it, too. Fixture on special teams as a lead blocker and occasional returner.
---