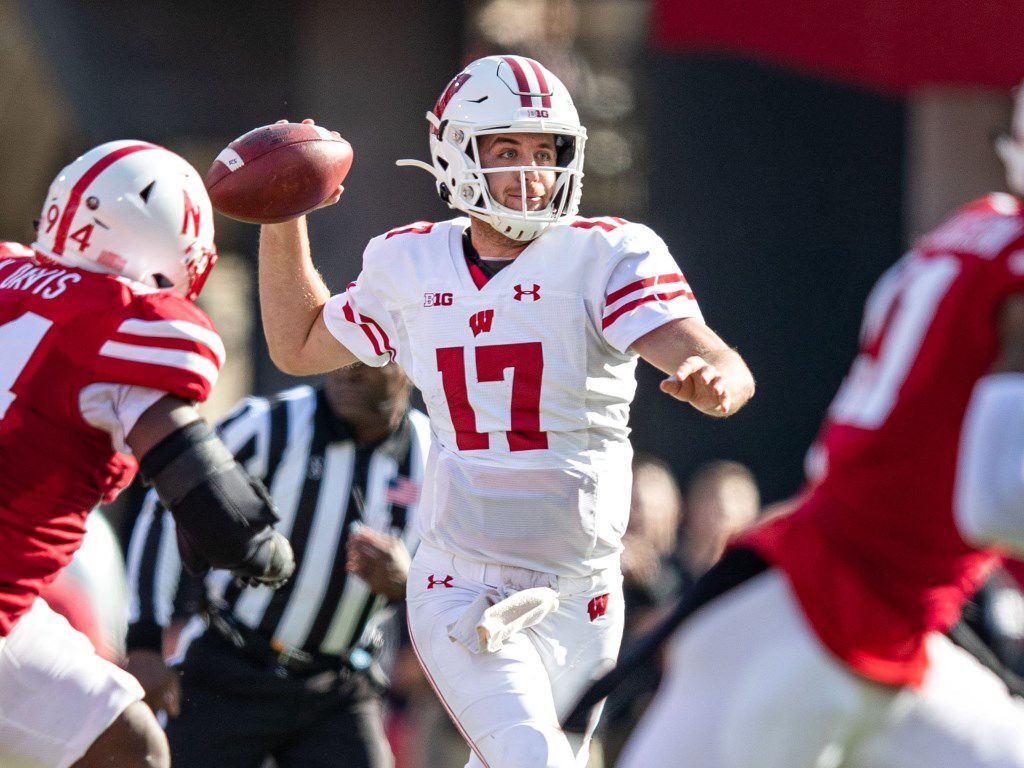 LINCOLN — News of Wisconsin quarterback Jack Coan's foot injury — and subsequent surgery to fix it — allows us to recall Nebraska football's bye week last season. Oct. 19, 2019.
That'd be the day the Badgers, with Coan at QB, suffered one of the biggest upsets in Big Ten history at Illinois.
You may recall watching it with fascination and perhaps a little satisfaction. I suspect a lot of Big Ten West fans did. Wisconsin may rule the division, but its lack of success in the most important games — be it the league title tilt, a game against Ohio State, or the Rose Bowl — always seems to leave the Badgers within reach.
Illinois, a stunning 31-point underdog, proved it with a 24-23 win.
The Illini did not play fancy, or jump out to some screwball three-touchdown lead and hang on. Wisconsin controlled the ball for two-thirds of the game, in fact. But Lovie Smith's crew forced three turnovers, hit a few big throws and nipped Wisconsin at the wire. Illinois caught the Badgers' good-not-great offense on a fair-but-not-good day, and capitalized.
Guess who heads to Wisconsin on the Big Ten's opening weekend? Illinois.
I'm not picking the Illini in Madison, even as Camp Randall Stadium stands will be completely empty, since UW is now expelling even family and friends from the seats in the wake of rising COVID-19 cases. The Badgers figure to be on high alert, though. While pundits and predictive analytics may consider Wisconsin a runaway favorite in the West Division this season, Coan's injury changes the story a little bit.
An offense already drained of its big-play running back — Jonathan Taylor, now with the NFL's Colts — now has to break in, for at least a little while, a new starting quarterback. Perhaps Coan is back and healthy, perhaps he isn't. Foot surgery isn't necessarily an ACL. It isn't a hangnail, either. De'Mornay Pierson-El had foot surgery in 2015 and didn't play until the fifth game of that season. It's not a stretch to think Coan could miss a month.
Enter Graham Mertz, a touted 2019 recruit from suburban Kansas City, who throws a gorgeous ball and could be, one day, the Badgers' best passer since Russell Wilson. He'd still be a new starter, and he'd still be a new starter without a big-play running back.
Wisconsin coach Paul Chryst's word salad to reporters this week about Mertz was classic Chryst, and also not terribly enthusiastic.
"You put the time in, and it's important to him, and you're going to make progress," Chryst said. "I appreciate that he's done all that. There's a lot that's happened in the last year. You're talking about the first year in college. It's very different, but starting his second season, second year of football with this program, so I think he's put a lot of time in and I think he has progressed."
Yeah, so, yeah. Doesn't sound like Mertz has differentiated himself from a Stave or a Hornibrook yet. Clearly, he hasn't beaten out Coan, who, once upon a time, was Nebraska's Plan B quarterback recruit if Tristan Gebbia hadn't committed to NU.
Coan made a wise choice with Wisconsin. Better program than Nebraska right now, with an offense that can accentuate Coan's talents — headiness, prudence, good midrange accuracy — while surrounding him with a line, tight ends and skill players who take the playmaking load off his shoulders. Wisconsin is expected to have its usual brutish front, and I like the Badgers' collection of tight ends and receivers, even if the best one from last year, Quintez Cephus, is now in the NFL.
Wisconsin won the division in 2014, 2016, 2017 and 2019. Chryst rules this roost.
But, for the first time since 2015, when Corey Clement's injury just before the season left the Badgers breaking in new guys, the backfield is a major question mark.
Taylor is gone, and, as his replacement, Chryst rattled off a three-headed Badger of Nakia Watson, Garrett Groshek and Isaac Guerendo, a converted high school receiver. They'll run behind Wisconsin's offensive line, which almost guarantees some success. The 60-, 70- and 80-yard runs Taylor typically produced, however, may not be in the cards.
And that changes Wisconsin's offense. You could see the difference from 2014 — when Melvin Gordon hit home runs, especially against Nebraska, with frequency — and 2015, when Gordon was gone and Clement was hurt.
The Badgers averaged 320.1 rushing yards per game in 2014. In 2015, they averaged 150.3 rushing yards. Nearly eight fewer points, too. It's something to keep in mind, considering Wisconsin averaged 34.1 points per game last season. If that number dips to 26 or 27, it brings several more opponents into striking range.
How do we know? In the past five years, Wisconsin is 15-15 when it scores fewer than 28 points. That's every Badger loss but one since 2015.
Slow down Wisconsin's offense and you can get into the gills of UW's defense. In fact, Nebraska has done it twice under coach Scott Frost. It just couldn't slow down the Badgers' offense.
Without Taylor — and perhaps now Coan — the task looks a little easier for the whole division.
Wisconsin's crossover games — at Michigan, vs. Indiana — aren't cakewalks. Wisconsin has to visit Nebraska and Iowa, too.
Just file it away for future reference. The near future.