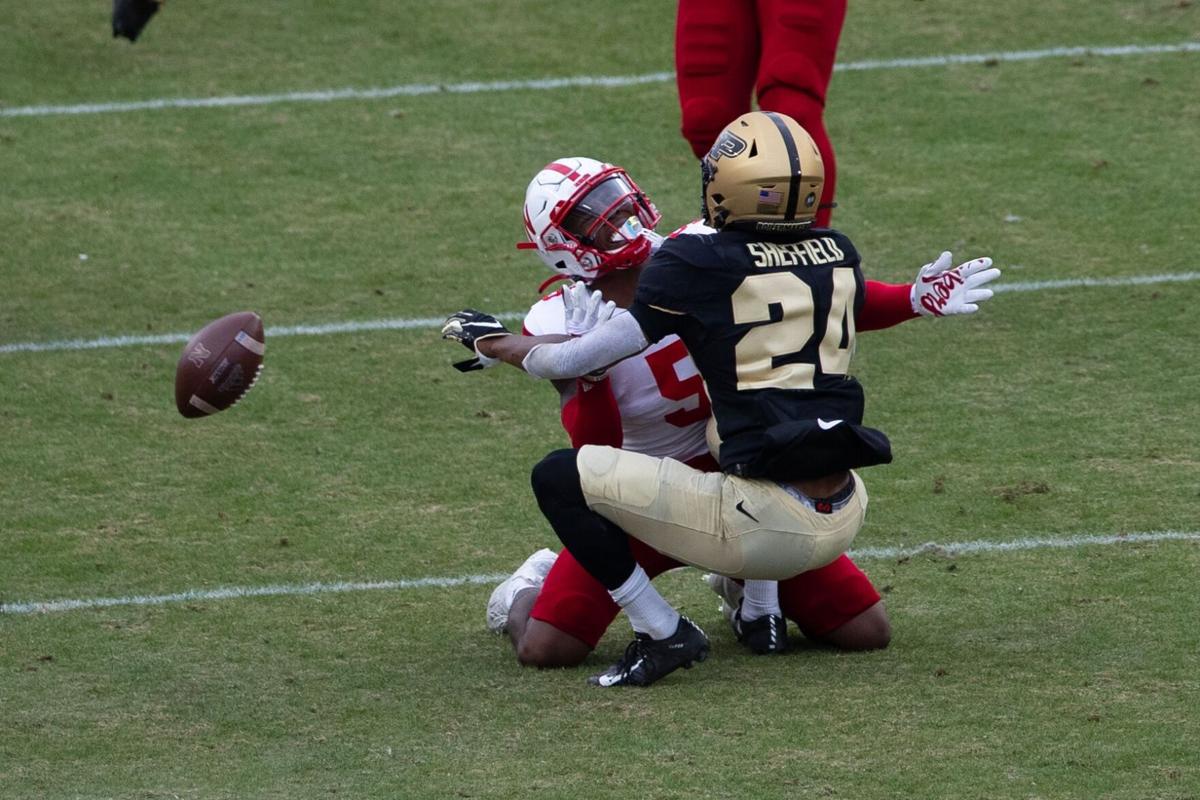 LINCOLN — As it turns out, it was planned.
The kickoff at Rutgers. The one in the direction of Aron Cruickshank, the Big Ten's best kick returner. Planned.
Cruickshank's return for a touchdown was not planned, of course, but it's good to have the mystery solved by now-departed senior special teams analyst Jonathan Rutledge, who was fired recently by coach Scott Frost.
Rutledge talked to a few media outlets last week, including The World-Herald, in what were his only comments since being hired at NU last February. Rutledge was honest in messages, in thinking he and Nebraska could have done better on special teams this season while noting the difficulty of coaching in an analyst role.
The Rutgers game, he said, was a night when little went right against (according to the way Rutledge keeps track) the Big Ten's top special teams unit. The kickoff to Cruickshank was done because NU was leery of the Scarlet Knights attempting a throwback to Cruickshank from one of the "sky-right" pooch kicks by Connor Culp. Rutgers had tried it against Maryland.
So Nebraska was in its "base kickoff Day 1 install," Rutledge said. Culp did not get a touchback, Niko Cooper got blocked in the back — it wasn't called — and no one else got off a block. Touchdown Cruickshank, who barely had to veer off a straight line down the field.
Bad play, bad night, big question for 2021.
So Rutledge wasn't the answer. Is another analyst?
Nebraska is advertising for one. Because adding a full-time, stand-alone special teams coordinator would mean either shuffling the roles on the staff or firing one of the 10, it's possible that Nebraska decides that the analyst approach is fine but the person in the role had not been.
Nebraska at least has the freedom to ponder it more because the defense — the problem child upon Frost's arrival — is getting good marks and five sixth-year returnees. Nine of 11 starters should return, barring any unforeseen departures. Defensive coordinator Erik Chinander can teach more 400-level classes with his defenders than 100-level courses.
NU's offense also is fundamentally experienced at quarterback, tight end and the three interior offensive line spots. Receiver and running back improvement depend on the quick learning skills of transfers Samori Toure and Markese Stepp. But at least both have experience managing time — and game responsibility — at a collegiate level. You can envision Stepp carrying the ball 20 times. Is the same true of the guys likely to be his backups?
Special teams. That's the sore spot. Nebraska knows. Of course, it knew last year. It didn't get fixed. NU still seeks:
>> A guy who can kick touchbacks. Culp, the Huskers' best field goal kicker since Drew Brown, couldn't consistently do so.
>> A great punter in a league full of them. Rutledge thinks this will be Daniel Cerni, the Australian import who was slated to be the guy in 2020 until he got hurt in preseason practice. His replacement, William Przystup, ran hot and cold. NU's net punting average ranked 111th nationally.
>> A kickoff returner with great vision. Nebraska hasn't had that since JD Spielman manned the role full time in 2017 and led the Big Ten with 669 kickoff return yards. He was pulled off of the role in 2018 for Maurice Washington, who averaged 15.69 yards per return, and in 2019, Wan'Dale Robinson handled the role. He wasn't as good as Spielman, either.
Alante Brown struggled in returns, averaging 19.6 yards per attempt.
NU used to be elite here. In 2009, 2010, 2011 and 2013, Nebraska averaged at least 25 yards per kickoff return. Niles Paul, Ameer Abdullah and Kenny Bell, in succession, provided Nebraska with great options. Since Spielman in 2017, the Huskers have been consistently mediocre in finding return options.
Why? It's not for lack of recruits.
Is there a player in the program — maybe not the No. 1 receiver — who realizes like Josh Davis once did that there's a chance to make an unique impact at kickoff returner? Has Frost, the de facto special teams coordinator in the absence of one, sold the role as such?
The Huskers' offense has problems — Robinson's departure creates question marks about how much Nebraska needs to use its slot receiver out of the backfield — but unless NU makes changes, there are five full-time coaches and a three-year starting quarterback to work on those problems in the spring.
Frost has a chance to take a more global approach, whether Nebraska pursues a special teams coordinator or not.
More Rewind thoughts
>> Ron Brown is still a part of Nebraska's football brain trust, he told The World-Herald, but he's being reassigned to another role in the athletic department. NU has now advertised for a director of player development, which was Brown's previous role.
>> It wouldn't stun me if Nebraska men's basketball, in a COVID-19 pause, doesn't play a game until February. The Huskers won't engage in any basketball activities until at least Jan. 24 — perhaps later — and it could take awhile to get back in basketball shape. Coach Fred Hoiberg is a competitor but takes COVID-19 seriously.
>> Still in a holding pattern related to Omaha Westside cornerback Avante Dickerson. Nebraska would appear to still be in the mix for the four-star prospect, but he's held his recruiting process close enough to the vest that multiple results are possible. If NU lands Dickerson, it's a major late addition. And it would mean the Huskers got every in-state guy they wanted but Keagan Johnson and Xavier Watts since Frost arrived in Lincoln.
>> The best team on campus is likely volleyball or wrestling, but the best story, by far, is the women's basketball squad, which now has three wins over ranked teams after Saturday's 63-55 upset of previously undefeated Ohio State.
NU dressed seven players. Three were true freshmen. Two more starters are transfers. Among the Huskers who played Saturday, only Kate Cain and Sam Haiby are veterans.
Yet it's working — really working. Coach Amy Williams has a sum greater than its parts. She's able to coach a little harder, I think, and produce a team a little tougher than the past two teams. The Huskers aren't going to win out — the Big Ten is too good, and the roster too thin — but Nebraska could easily be 3-8 instead of 7-4.
"A lot of the offseason, we really talked about really defining what we want our team to look like, and this performance, tonight, was the picture of what we would like for our team," Williams said. "Just grit and toughness and playing every possession and getting contributions from everywhere, sharing the basketball."
Said Cain: "As a group, just the fact that we're playing for each other, and we're defensive-minded, in a sense. It's not just 'trying to get mine on offense, trying to get mine on offense.' We work really well together, which I think would relate to how we were my freshman season."
That's when NU went to the NCAA tournament. In the two seasons between, Nebraska had more talent — and clashing egos. You could sense it in body language and late-game struggles. When the Huskers turned over their roster during the summer, the presumption (mine, too) was that it would take time to rebuild. Not so far.
The one thing Williams never had in her first four years — and lamented not having — was a rebounder who would or could go anywhere on the floor, grabbing whatever piece of the ball available.
Now, Williams does. Bella Cravens, who transferred from Eastern Washington, changed the team. She is averaging 9.8 rebounds in Big Ten play.
"It's insane, her ability to jump and just find the ball, wherever it's at," Cain said.
This can change, but for now, Nebraska has the No. 2 triple jumper in the nation in Papay Glaywulu, an Oklahoma transfer who uncorked a 53-foot, 6¼-inch jump at the Husker Triangular on Saturday. It's fourth best in school history.
>> With one setter opting out, the health of junior setter Nicklin Hames is crucial. Her backup is a freshman walk-on.
But if Nebraska ever had to turn to Waverly native Anni Evans — both of her brothers played football at NU — it's worth remembering that some teams are so good they accommodate a walk-on quarterback quite well. A guy up Highway 77 from Wahoo, named Turman, would know something about that.
---
Our best Husker football photos from the 2020 season