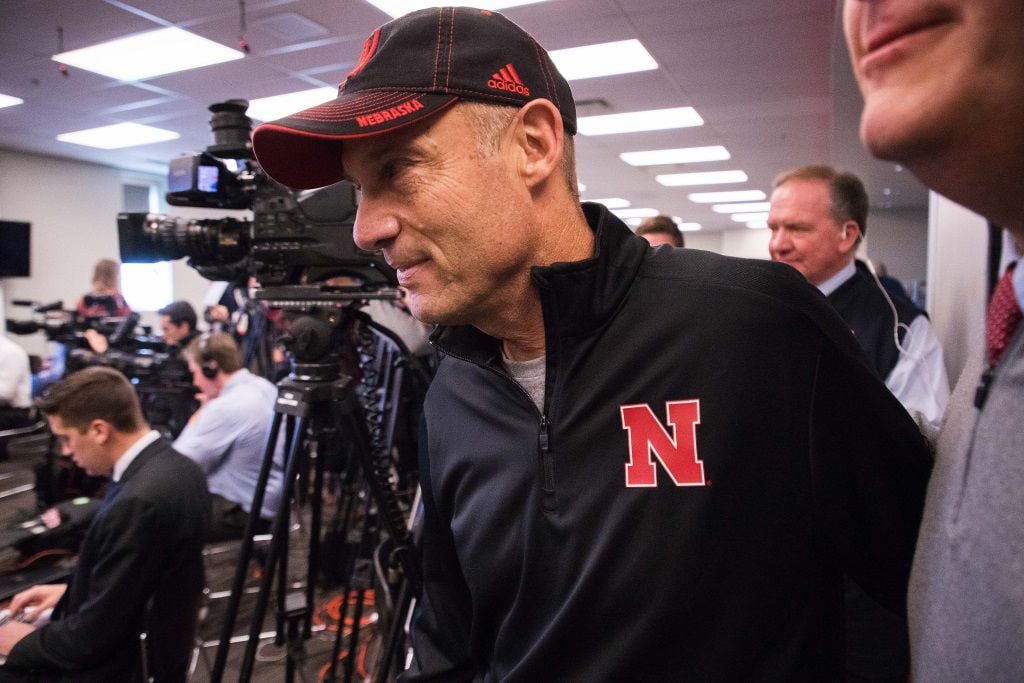 LINCOLN — Former Nebraska coach Mike Riley opened his own firing press conference with a joke.
"Can't ask me any questions about the game, I came in to watch the film and got interrupted," Riley said.
Athletic Director Bill Moos did the interrupting. He met with Riley at 9:30 a.m. Saturday for 20 minutes. Then Moos met with assistants, and later with players. The Riley Era, after three seasons, 19 wins and 19 losses, was over. Reporters waited for two hours at two exits outside Memorial Stadium for Riley to appear and walk over to his Prius, which sat in the parking lot across the street.
Riley didn't go out that way. Instead, he came to the sixth floor of the stadium after Moos finished his comments and addressed the full media.
"I wanted the message to be that we, as a group, me personally, appreciated this opportunity," Riley said. "We wish we could've continued it, but at the same time I think that the opportunity to always speak to this group, I always think of the people that are around me, the people that I represent — family, coaching staff, team.
"So, I wanted to represent that group one more time and basically give my message to them that I love them and appreciate all the support and work through the time that we've been here."
Riley thanked Moos for their several conversations and for not making a decision until after the season concluded. He said he'd miss the "people" — players, coaches, staff, fans, friends he'd made — most about the job at Nebraska. His wife, Dee, who watched the press conference from the back of the room, developed a solid tennis game while in Lincoln, Riley quipped.
"As I've gotten older in this thing, the thing that I've appreciated as much as anything — more so than probably early on when it was all about the X's and O's and the coaching — is the relationship with players and the realization that somewhere in the career that this thing is bigger than football," Riley said.
As a result, Riley said, it was going to be hard not to see the players he recruited through their four years of football. True to form, Riley said any new coach has to have a good plan for acquiring talent.
"We discovered you have to have a really specific recruiting plan," Riley said. "That how you recruit here has got to be very strategic about how you're going to approach it. What we've learned is that now that we're in the Big Ten, there's a different footprint to recruit in. I think we were finding our way."
When Riley finished, he shook the hands of various media members. He didn't have to seek out reporters. They came to him.
8:27 a.m.: Mike Riley shows up to Memorial Stadium in his silver Prius, walks by reporters and waves, Starbucks in hand. He said he didn't have any news, and planned to watch Iowa film like a regular day.
9:22 a.m.: Nebraska director of player personnel Billy Devaney enters North Stadium, as well as assistant coaches, including Bob Diaco and Danny Langsdorf.
9:30 a.m.: Moos meets with assistant coaches and relays the message they will also be fired, but linebackers coach Trent Bray will be the interim head coach.
9:46 a.m.: Players begin to show up at Memorial Stadium. When asked if the meeting time was normal, senior tight end Tyler Hoppes, entering the stadium, shrugs and tells the media the team "got a text" to meet.
10:00 a.m.: Bill Moos meets with the team to tell them Riley has been fired.
10:13 a.m.: Bill Moos announces in a press release Riley is fired.
"Mike Riley has brought a tremendous professionalism and energy to the Nebraska football program, but unfortunately, those attributes have not translated to on-field success," Moos said in the written statement. "After a thorough review of all aspects of our football program, I have chosen to move in a different direction."
10:53 a.m.: Players and coaches exit North Stadium one-by-one after the meeting, a few players stop to talk to the media waiting outside. Nebraska offensive line coach Mike Cavanaugh walks past the media with a box slung over his shoulder, then peels out of the parking lot.
1:04 p.m.: Bill Moos addresses the media to talk about the firing of Mike Riley.
"These fans have been through a lot in the last 20 years," Moos said. "They, the university and players involved deserve to be in a position to be back competing in the Big Ten Conference and nationally."
1:10 p.m.: Moos, in the middle of his press conference, confirms that he is interested in hiring Scott Frost.
"Scott Frost is a very good football coach. He's in the heat of trying to win a conference championship," Moos said. "He's obviously a Nebraskan and he's getting a lot of attention from several other schools. But Scott is someone that I am considering but I'm being very sensitive to the fact that he's still coaching a team and he's having a heck of a run."
He also mentions Texas A&M coach Kevin Sumlin and Washington coach Chris Petersen in his press conference, and says he "doesn't know" recently fired Arkansas head coach Bret Bielema.
1:51 p.m.: Soon after Moos' press conference ends, FootballScoop.com reports that Nebraska is going after Iowa State head coach Matt Campbell, Frost and Virginia Tech head coach Justin Fuente.
1:55 p.m.: Mike Riley takes the podium for the final time to speak to the media, a surprise and unplanned press conference. He says he's "disappointed" by the news but he will forever be "grateful" for the opportunity.
"I'll miss the players I've been with, the coaches I've been with, the life in the community. It really becomes about the people in that way," Riley said.
2:09 p.m.: Riley exits the media room for the final time, shaking hands with media members giving well-wishes.
2:22 p.m.: Riley tweets a final goodbye to Nebraska fans, saying: "It's like that old song, I could've missed the pain but I would've missed the dance."
Mike Riley's Nebraska career timeline
A look back at the highs, the lows and the important moments in Mike Riley's Nebraska career. 
Sign up for Big Red Today news alerts
Get a daily Husker news roundup, recruiting updates and breaking news in your inbox.
Omaha World-Herald: Big Red
Don't miss a moment of Nebraska athletics.