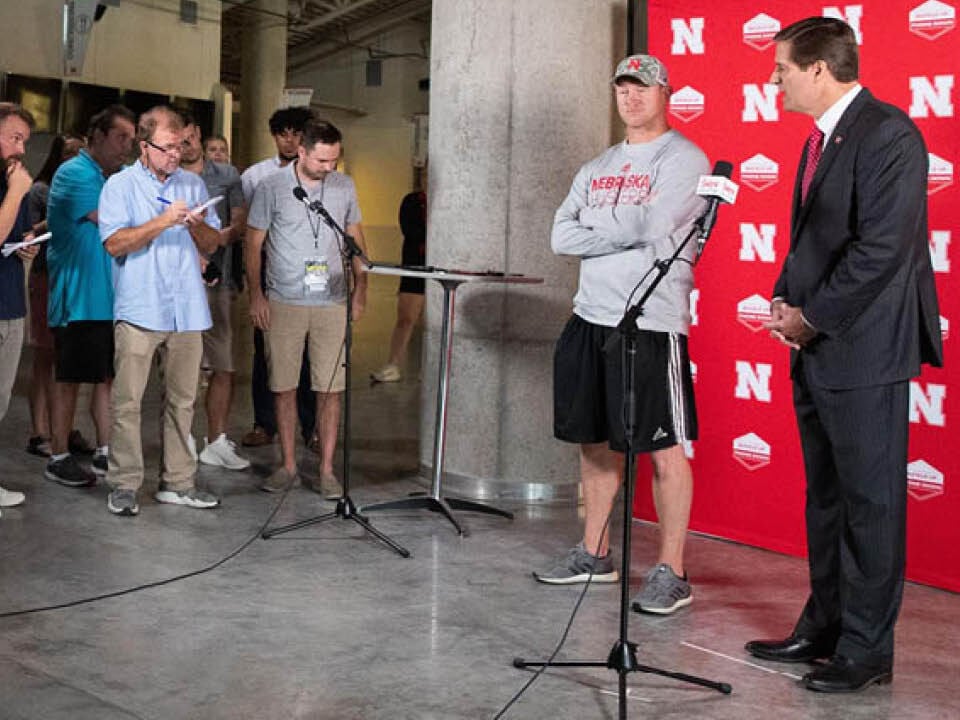 LINCOLN — Ten days before the start of football season, Nebraska Athletic Director Trev Alberts and coach Scott Frost stepped to a mic inside a darkened corridor of Memorial Stadium — but not to discuss the Huskers' Aug. 28 season opener at Illinois.
They were instead there to confirm that NU has been under NCAA investigation for at least one month for impermissible use of analysts during practices and games. The investigation was initially reported by Action Network on Wednesday morning, corroborated to The World-Herald and addressed briefly by Alberts and Frost at Nebraska's previously scheduled postpractice media availability.
"We have complied 100% with the NCAA," Alberts said. "We've been very collaborative in our approach with them in terms of all of their investigation. We will continue to do whatever the NCAA has asked us to do. And our coaches, including Coach Frost, have done a great job and have been very accessible in working with the NCAA as we've worked through these allegations."
Alberts said NU couldn't provide additional "context or details" because of the ongoing investigation. Alberts confirmed that the investigation predated his mid-July arrival as Nebraska's A.D. Frost declined to comment on when the NCAA started digging into the case.
The Action Network report — which also alleged that Nebraska may have conducted unauthorized off-campus workouts last summer during the early days of the COVID pandemic — adds a bit more pressure to an already big year for Frost, who is 12-20 in his first three seasons.
"Our players have been laser-focused on Illinois," Frost said. "They're still laser-focused on Illinois. Nothing's going to change there. Feel good about where the team is right now."
The program has been beset by self-inflicted errors on the field, and frequent headlines off it. Nebraska forced Alberts' predecessor, Bill Moos, into a golden-parachuted early retirement. Frost's chief of staff for five years, Gerrod Lambrecht, left during training camp for an undisclosed business opportunity that would still help the team in some way.
Another former employee, special teams analyst Jonathan Rutledge, was the main subject of the Action Network report. Rutledge was not one of NU's 10 full-time assistants last year, so by NCAA rules he wasn't allowed to directly coach players during practices or games. But the report says Rutledge did, and there's video footage to prove it.
Either way, Rutledge's work didn't help. Nebraska was among the nation's worst programs on special teams in 2020, barely able to field a competent kick coverage team by season's end.
Frost fired Rutledge after the season. Rutledge confirmed his departure Jan. 14 but was let go before that. He said then that his and Frost's philosophies did not align.
"Honestly, if I'm the only one he fired and I'm not the on-field coach, it's a little odd," Rutledge told The World-Herald in January.
Reached Wednesday by The World-Herald, Rutledge said he's under "legal obligation" not to talk about an ongoing NCAA investigation. Moos and Lambrecht did not immediately respond to requests for comment, either.
It's common for college football programs to use analysts, and Nebraska has seven. Football practices tend to involve so many people aside from just players and full-time coaches — like analysts, graduate assistants, video coordinators, administrators, equipment jockeys, DJs, former players and coaches — that various roles can bleed into each other. But rarely does analyst use come up as a major NCAA-related headline.
When reporters were allowed to view limited periods of practice this spring, outside linebackers coach Mike Dawson — now also NU's special teams coordinator — was seen running drills, while Bill Busch — a former full-time Husker assistant serving now as a defensive analyst — merely walked the sidelines watching.
As for the potentially unauthorized workouts — which are not part of the NCAA investigation, according to a source — Nebraska players told reporters last fall that they worked out on their own during the COVID summer.
"We always made sure we lifted during the day, always made sure we got some type of conditioning component in and always made sure that we got some type of technique component in," former Husker corner Dicaprio Bootle said last year. "So some days we'd wake up at like 7 a.m., go find a spot to work out somewhere, someway, somehow, and then by the time 7 p.m. rolls around, we'd already have so many different things that we had worked on during the day."
Frost said Wednesday that every action he took during the early days of COVID was "with the best interest and health of our players in mind."
"Everything we did was approved by athletic department administration and campus administration," Frost said.
The Action Network piece seems to allege that NU was directing unauthorized team activities and workouts at some point between mid-March and June 1. During that time the NCAA banned all mandatory team activities. Starting in June, voluntary workouts were allowed for football and basketball teams in smaller groups.
So who directed those Nebraska workouts? Bootle seemed to indicate players did. The Action Network report suggests NU coaches directed an off-site workout regimen. Frost's answer suggests Nebraska may have framed those workouts to some degree, but got compliance approval to do so.
Another topic in Wednesday's Action Network report centered on Nebraska's attempt to reschedule this season's game against Oklahoma, which marks the 50th anniversary of the Game of the Century. The report identified Frost and Lambrecht as "key proponents" of ditching the game for an easier opponent. After news of this first surfaced in the spring, the report said Moos "jumped on the grenade for that debacle" by releasing a statement affirming Nebraska's willingness to play the game.
Frost said Wednesday that he "never made one single phone call" regarding Nebraska's schedule. Nebraska has since added a Sept. 4 home game against Fordham, and will still play at Oklahoma on Sept. 18.
"I love that rivalry," Frost said of the OU game. "Once our Ireland game got (moved to 2022), our schedule didn't make sense, and I love where we landed. Instead of having a Week 1 bye, we have a Week 1 game. There was lot of discussion about how to discuss our schedule so we didn't play Week Zero and then wait till Week 2."
Moos told The World-Herald in the spring that he advised Frost not to consider moving the game. Moos is now in Washington, having taken nearly $3 million in early retirement. The responsibility of navigating Nebraska and Frost through another news cycle is no longer his.
It belongs to Alberts, who wore a suit and tie Wednesday while standing next to Frost, who wore practice gear. As Frost was about to get another question on the NU-OU game, Alberts ended the press conference and put his hand on Frost's back.
"Just wanted to acknowledge what's happening today," Alberts said. "We're going to get ready for Illinois."
---