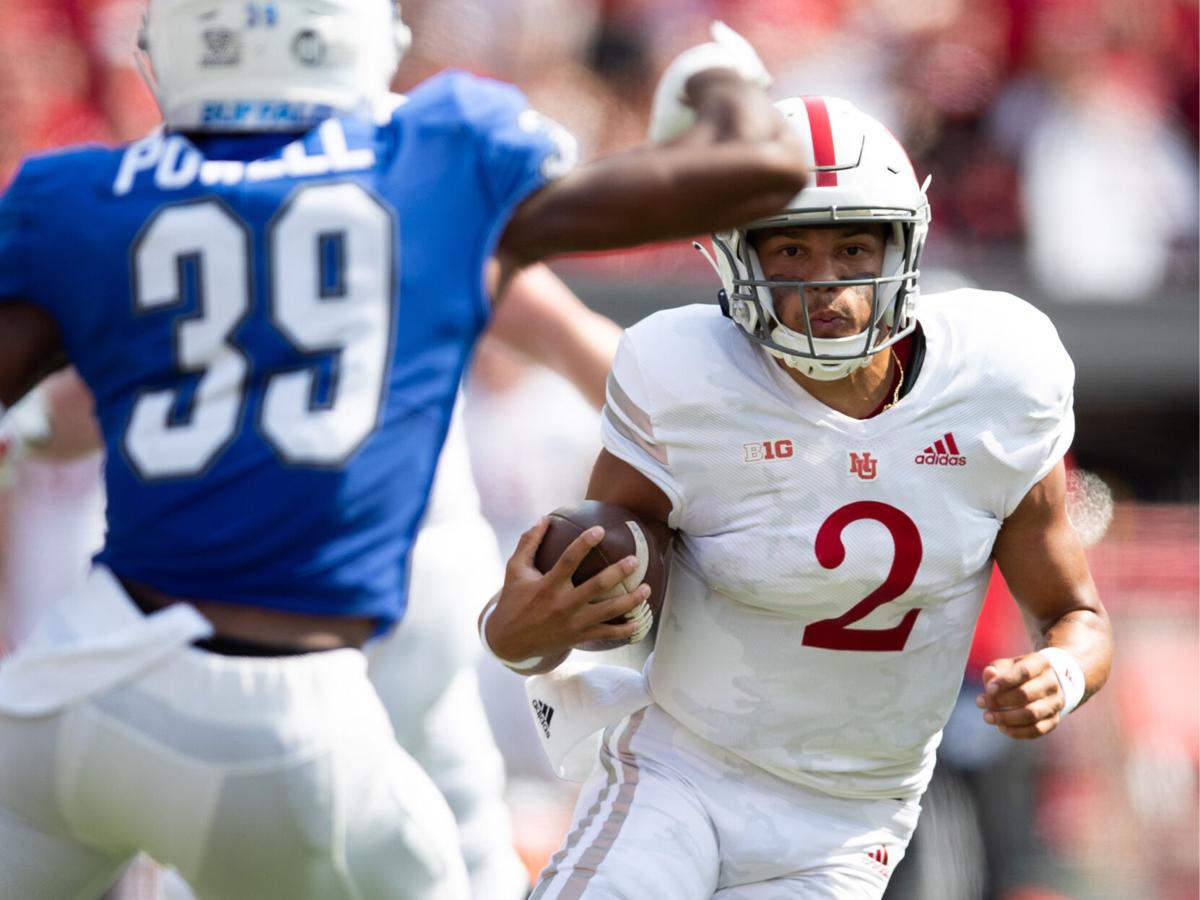 LINCOLN — Three things we learned and three things we still don't know about the Huskers coming out of Saturday's victory over Buffalo.
Three things we learned
1. Adrian Martinez is indispensable
The running backs couldn't find any momentum until the second half, so Nebraska's fourth-year quarterback provided a spark. He turned a pair of would-be sacks into a 71-yard run and a 27-yard completion, the former sparking Nebraska's first score. He finished with 354 total yards and two touchdown passes on 19 attempts. After a rough opener at Illinois, Martinez should be heading to Oklahoma, then into Big Ten play, with some needed self-confidence.
Nebraska notably struggled to create big plays last year with four pass plays of 30 yards or more. NU already has nine in 2021. Martinez ripped off a long run, his second of over 70 yards this season. He also completed a pair of 68-yard touchdown passes to Samori Touré. Backup quarterback Logan Smothers got in on the fun, unleashing a 54-yarder to tight end Chris Hickman on the final drive. The Huskers topped 500 yards of total offense but scored 28 points, which could have been a lot more if not for three missed field goals and failures to convert on a couple of extended drives. The performance was especially impressive considering second- and third-leading receivers Oliver Martin and Omar Manning missed the game with injuries.
3. Blackshirts up to the challenge
Nebraska's defense impressed for a third game in a row, holding Buffalo's powerful run game to 135 yards, almost scoring on a takeaway and not allowing a touchdown. Despite compiling 19 first downs and 359 total yards, the Bulls failed to advance beyond Nebraska's 19-yard line.
Three things we still don't know
1. Why can't the Blackshirts convert pressure into sacks?
Nebraska's front seven repeatedly put pressure on quarterback Kyle Vantrease and made an impact. Still, what happened to the team that recorded three sacks at Illinois? The Huskers had six tackles for loss, several being instrumental to ending drives or building momentum, but sacks can be game-altering and are necessary for slowing dominant offenses, which Nebraska hasn't played yet.
2. Is Chris Hickman the next good Husker tight end?
The Omaha Burke grad who chose Nebraska over LSU and Oregon was used sparingly in his first two years, but the redshirt freshman logged the most receiving yards (90) by a Husker tight end since Tyler Hoppes in 2017. The converted receiver showed his speed on a 54-yard deep connection with Smothers. Starter Austin Allen is two years ahead of Hickman in eligibility and could pursue an NFL career after this season and injured backup Travis Vokolek is in his fifth year of college. Husker fans may be seeing a lot more of Hickman soon.
3. Can the running backs carry over any consistency and complement Martinez?
Markese Stepp appeared headed toward top-back status after he eclipsed 100 yards rushing last week, and he started the game with the first carries. But he totaled 17 yards on nine carries. Sevion Morrison, the team's shiftiest back, failed to break free, tallying 24 yards on eight carries. True freshman Gabe Ervin finally broke out after an uninspiring start, converting two short touchdown runs and recording three double-digit gains on first downs in the second half, ending with 56 yards on 10 carries. This back-and-forth could turn into a seasonlong saga to find a lead back.
---