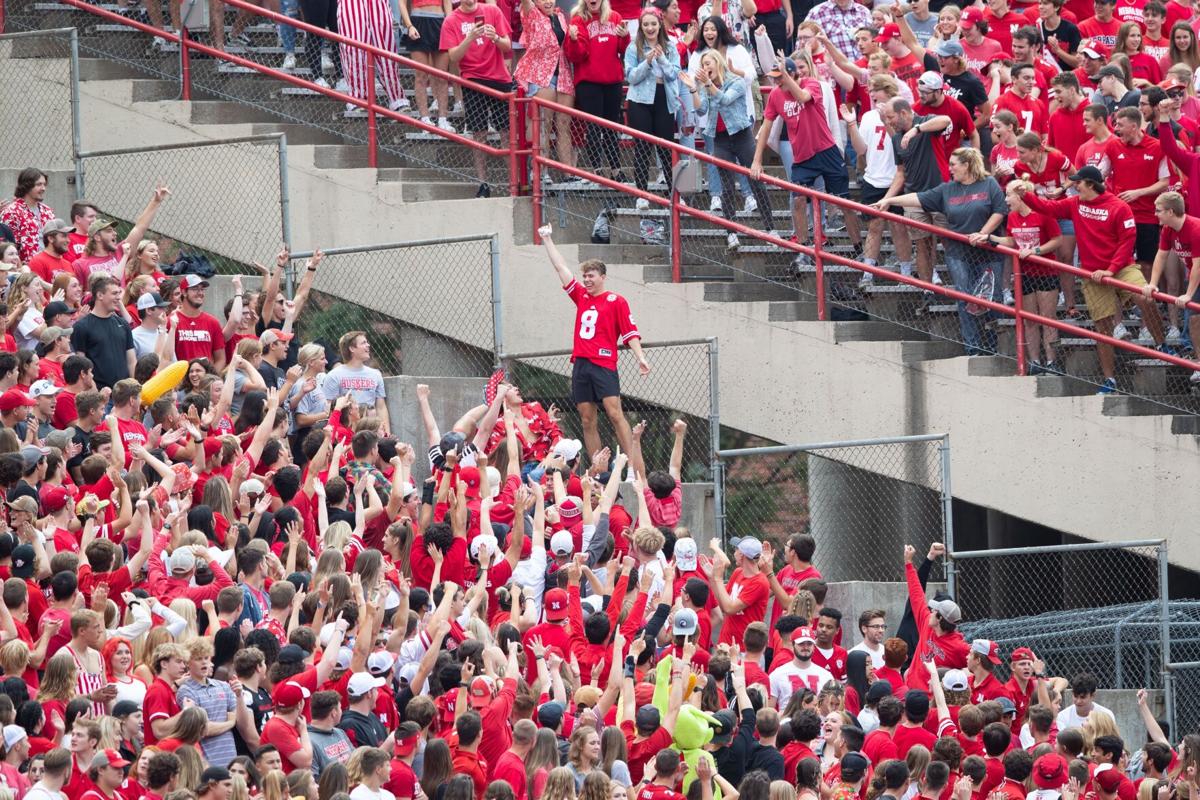 LINCOLN — Welcome to the best seats in Memorial Stadium.
Located along the east and west sidelines near the south end zone, students could pump their fists at Athletic Director Trev Alberts, who was NU's sideline Saturday. They could dap-up five-star freshman Bryce McGowens when Nebraska's basketball team climbed the steps to their seats. And when the Huskers inspired roars from the 85,938, the students could hear them better than anyone, which is to say they couldn't hear anything.
None of those scenes and sounds were permitted last season, when COVID-19 stripped college football of its most valuable resource: fun. Coach Scott Frost missed fans so much he said it was "almost depressing" to play home games last year. And fans missed their seats so much they packed Memorial to near capacity after an ugly Week Zero loss to Illinois.
The questions that spawned from that game will linger over the Huskers the rest of the season. But against Fordham, fans shelved their skepticism. They preferred to celebrate the largest family reunion in Lincoln.
"I love being back in the stadium," said Zach Everts, a junior studying sports media and broadcasting at UNL. "It's a great atmosphere. It's always one of my favorite parts of the year."
While students relished their first game back, I experienced my first game ever at Memorial Stadium. And the stories I heard since moving to town prepared me well.
The noise impressed, even against an FCS opponent. I needed to lean over so I could hear Nebraska hoops recruiting coordinator Shannan Lum shout-talk right before kickoff. The scale overwhelmed.
Despite attending media sessions at Memorial Stadium the past month, I ended up on the west-end roof when trying to glean a glimpse of the top row on the opposite side. And the passion bled through in every fan I met during the game.
Everts lined up outside the stadium at 7:20 a.m. to secure the aisle seat in the first row of the east student section. No beers, no tailgate. Just a box of doughnuts from LaMar's and a hankering for football.
Others chose to flaunt their spirit in more vibrant fashion. One of his rowmates wore a Husker-themed sport coat paired with a Santa hat. (He planned to dye his beard red as well but was scared off by cloudy skies.) Thirty-one-year-old Kevin Coleman, a 2014 UNL grad who sat one row behind Everts, wore a red afro wig to go with his Deadpool onesie. About seven rows back, one UNL student chose a green Teletubby costume as his game-day getup.
"Bought it on Amazon — 60 bucks," he said. "I wore it once (before). And I wore it again because you can't waste 60 bucks."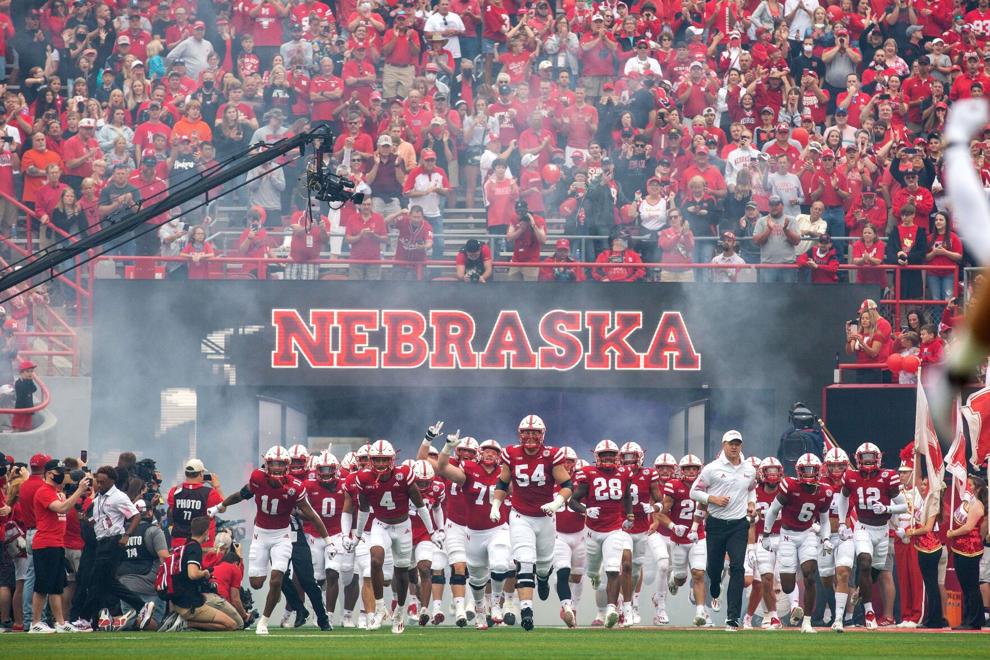 The Husker players felt the energy in the building the second they stepped on the field. Kickoff specialist Brendan Franke called the Tunnel Walk "insane" and "possibly my favorite thing I've ever done." Chancellor Brewington called the crowd "awesome" and said it lived up to the stories his teammates told.
Sevion Morrison could feel the energy rise as the Huskers moved closer to the goal line. And when he broke the plane on his two touchdowns, "It's just nothing but a Sea of Red. And they're cheering for you. It feels good."
Nebraska's red wave extended to the top of the stadium, to the seats reserved for the most loyal fans. In section 601, where nobody checks your ticket or credential and a few rows separate your head from the clouds, fans have a better view of the Lincoln skyline than of the players. The crowd's roars sound like echoes by the time they travel the few hundred feet to reach the peak.
Still, fans filled most of the upper bowl, even as Nebraska pounded Fordham late. They stood and clapped when Logan Smothers — not Adrian Martinez — led a touchdown drive late in the third quarter. They yelled "THANK YOU!" when the referee called a holding penalty against the Rams with the Huskers leading 45-7.
Even as satisfied fans shuffled for the exits, many in section 601 stayed behind. Including Eric VonSpreckelsen, who bought tickets to the game because this weekend was one of few his family had open.
With about five minutes to play, VonSpreckelsen's young daughter asked if they would be leaving early, too.
"We might not get to go to another game for a long time," VonSpreckelsen responded. "We might as well stay and watch the whole thing."
Thousands agreed and stayed for the last playing of "Hail Varsity." Fordham wasn't Oklahoma, and fans still aren't sure whether Nebraska is good. But they'd waited 645 days to watch the Huskers play in person.
I waited almost 26 years, which I now know is much too long. The "Go Big Red" chants, the crazy costumes — even the upper-bowl fan who chided me for standing in his sightline during garbage time — compose college football's charm.
After spending three hours in a packed Memorial Stadium, I can't imagine playing football in an empty one.​
---