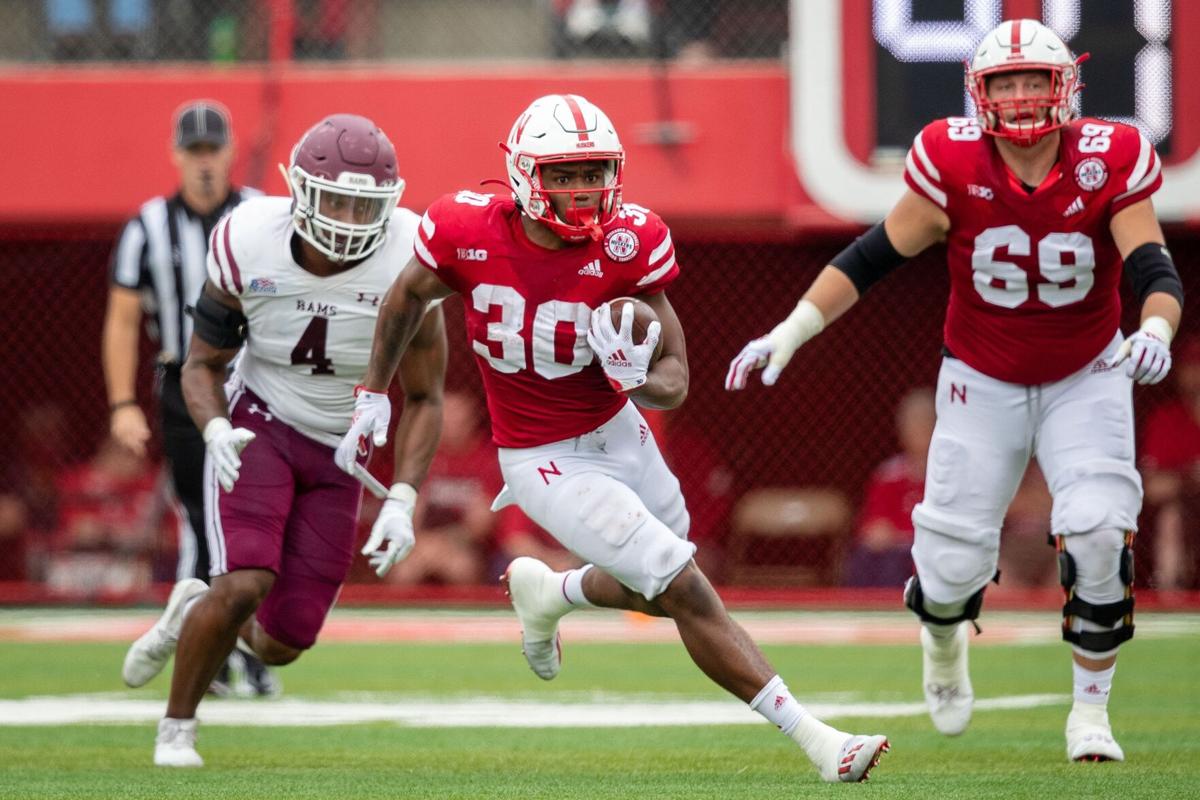 Three things we learned
1. The downfield passing game and receiving corps are much improved: Rather than relying on Wan'Dale Robinson every play, the Huskers now have a plethora of playmaking options, and proved a willingness to use several of them. Oliver Martin set the tone last week with 103 receiving yards but missed Saturday's contest with an injury. In his place, Samori Touré provided 168 yards from scrimmage, Omar Manning and Austin Allen each caught several passes, and Zavier Betts and Alante Brown made cameos. More than that, Adrian Martinez and backup Logan Smothers repeatedly tossed the ball downfield, and often connected, a welcome departure from last season.
2. Cam Taylor-Britt should probably be done returning punts: The Swiss Army Knife cornerback, and only non-specialist to earn All-Big Ten honors last season for NU, talked about his desire to rarely come off the field as one of Nebraska's top players. The junior may be trying to do too much after he muffed a punt return for the second straight game. For the ensuing returns, Nebraska sent out walk-on Brody Belt, who almost coughed one up himself. Maybe the Huskers should just let the ball roll.
3. The Huskers may have found a top running back: Sophomore Markese Stepp, a transfer from Southern California, appears to have separated himself from the pack Saturday with 101 yards rushing. Though true freshman Gabe Ervin started the game, Stepp had 18 carries, twice as many as any other running back. Don't be surprised if that trend continues.
Three things we still don't know
1. Who's Nebraska's backup plan behind Martinez? Freshman quarterback Logan Smothers looked dynamic once he settled into his first on-field appearance, mixing downfield throws with lateral runs, all building to a fumble in the red zone on a 15-yard run. He got the nod as the backup with more experience than true freshman Heinrich Haarberg, but the Huskers may not feel any better about their options behind Martinez than they did entering Saturday.
2. Should the Huskers try to return anything? The punt-return situation will be much debated, but the few kickoff returns we've seen haven't inspired much more confidence. Nebraska is 0 for 4 on reaching the 25-yard line when returning kickoffs, three times with Betts, who attempted to return Fordham's two kickoffs. It may be time for Nebraska to either try other options on both return fronts, someone more sure-handed and with better vision, or just take its lumps with fair catches and letting the ball go.
3. Can Nebraska translate its momentum against a higher-profile opponent? In their 52-7 victory over Fordham, the Huskers did many of the things that had been lacking in recent years and should build needed confidence. They limited penalties, forced turnovers, established a run game and threw the ball downfield to their playmakers. Nebraska hosts a better team in Buffalo next week, but will need to do almost everything right, including eliminating fumbles, to have a chance at Oklahoma in two weeks.
---