LINCOLN — Scott Frost didn't go far to find the man who will oversee Nebraska's special teams in 2022.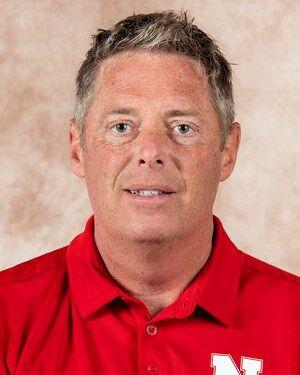 In a long-expected decision, Bill Busch, a defensive analyst on the 2021 team, will fill the role for the Huskers. NU identified Busch, a Pender native, several weeks ago as the top candidate, according to sources, and allowed him to take a lead in Nebraska pursuing a new scholarship kicker and punter for the program.
"Bill Busch is a strong addition to our full-time coaching staff," Frost said in a press release. "Bill has brought a veteran presence to our staff over the past year in his role as an analyst. I look forward to him coordinating all aspects of our special teams moving forward. Bill's experience and track record as both an outstanding coach and recruiter speaks for itself."
Previously an assistant for four seasons under former NU coach Bill Callahan, Busch is one of the more seasoned coaches and recruiters in college football, having worked at Utah, Wisconsin, Ohio State and LSU, among other schools.
In December he secured Nebraska's presumptive starters at kicker (Furman transfer Timmy Bleekrode) and punter (Montana transfer Brian Buschini) in short order after both FCS standouts entered the transfer portal.
"I worked my entire professional career to get the opportunity to coach football at the University of Nebraska," Busch said in a press release. "Now I have been blessed to do that twice — how cool is that?"
Now he'll be tasked with fixing one of the worst overall special teams units in college football. NU allowed three special teams touchdowns — two on punt returns, one on a kickoff return — and incurred a safety on a punt return in 2021. NU's return game became largely nonexistent as the team finished 124th nationally in kick return yards and 127th in punt return yards.
This past season followed poor performances in 2019 and 2020, as the Huskers finished 120th, 115th and 128th in special teams efficiency over the past three years, according to ESPN's Football Power Index.
Busch becomes the fourth person to oversee special teams in as many years, following Jovan Dewitt, analyst Jonathan Rutledge and Mike Dawson. The NCAA is currently investigating NU for its alleged use of Rutledge in a capacity greater than NCAA rules allow for analysts.
In his first full-time stint at Nebraska, Busch had the special teams coordinator title while working with outside linebackers (2004) and safeties (2005-2007). NU blocked 16 kicks when Busch coordinated special teams, which benefited from having punter Sam Koch — who just completed his 16th year in the NFL — for two seasons and kicker Alex Henery for one.
Busch was perhaps better known for recruiting some of NU's best defensive backs in the past two decades — Prince Amukamara and Eric Hagg. That duo was instrumental in helping the Husker defense reach rare heights in 2009 and 2010.
After Callahan was fired, Busch was not retained by Bo Pelini. He then worked at Utah State (2009-12), Wisconsin (2013-14), Ohio State (2015), Rutgers (2016-17) and LSU (2018-20). He also helped LSU attract Heisman Trophy winner Joe Burrow after Burrow left Ohio State.
Busch — who is from Pender and attended Nebraska Wesleyan — arrived on NU's staff in 2021 as a defensive analyst. Though analysts can't coach during practices, they can consult off the field and "coach the coaches." In that capacity Busch lent insight to the 2021 special teams coordinator, Dawson, who also worked with outside linebackers.
Dawson will now also coach NU's defensive linemen — the same role he had in 2018 when he first started at NU. The line role opened up when Tony Tuioti left after three seasons for the same job at Oregon.