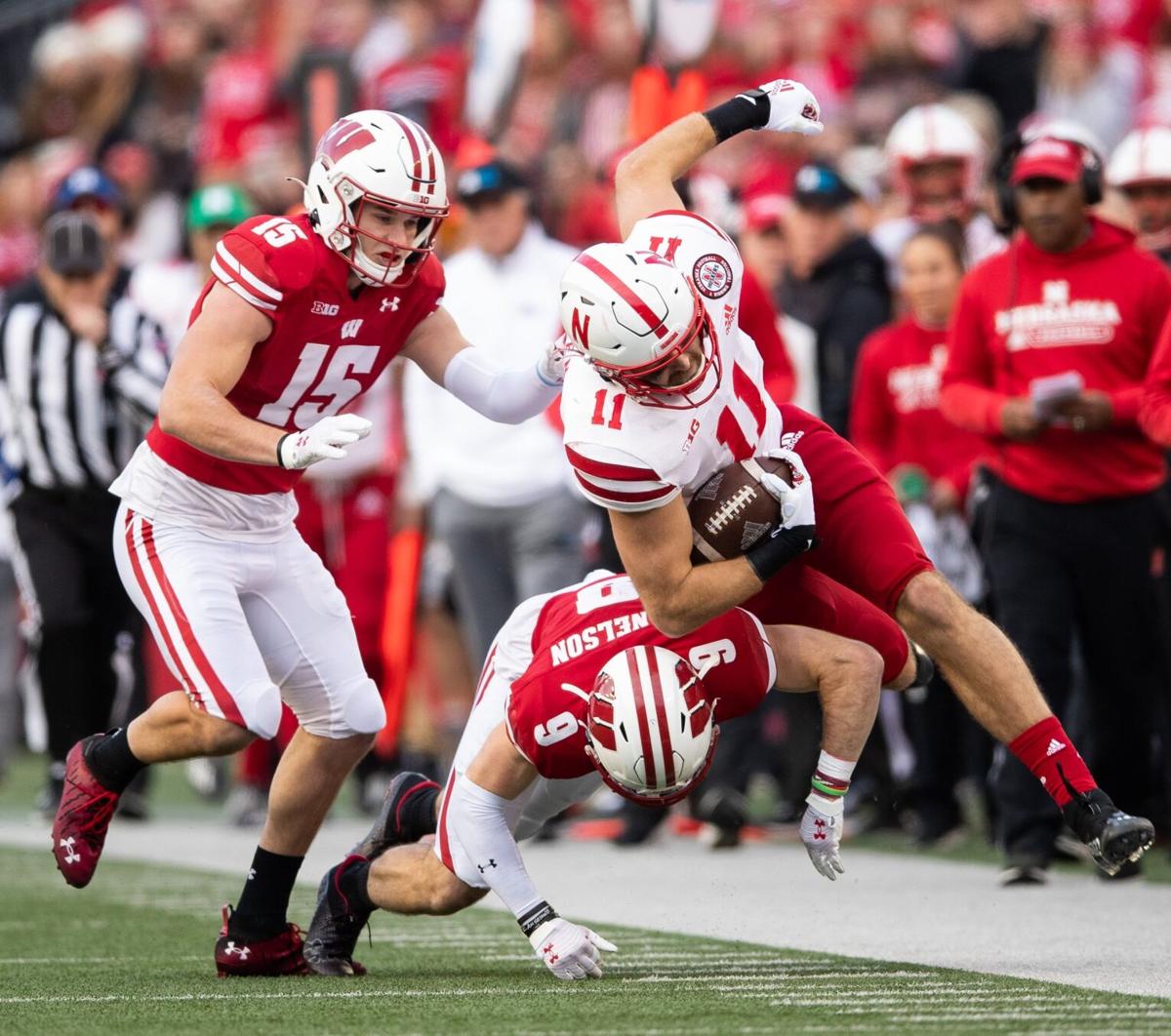 Three things we learned and three things we still don't know about the Huskers coming out of Saturday's loss to Wisconsin.
Three things we learned
1. Braelon Allen is a dude
The Wisconsin running back is 17 years old and dominated Nebraska with 228 yards and three touchdowns, including a 51-yard run that put Wisconsin up 35-28 with 3:50 to play.
While Nebraska has shuffled its running backs all season (more on that), the Badgers have found another bell cow. Allen gained 100 yards for the seventh straight week, helping the Badgers record their second-highest scoring output this season despite throwing for 145 yards.
The worst part: Nebraska has to deal with him for at least two more seasons.
2. It's time to hire a special teams coordinator
Alante Brown dropped a fair catch on a kickoff, which forced the Huskers to start a drive at their own 6 late in the third quarter. The Huskers failed to down a punt despite beating it downfield and getting a favorable bounce with under three minutes to play in the first quarter. And of course, the Badgers scored a touchdown on the opening kickoff after dropping the return.
Hiring a full-time special teams coach doesn't have to reflect poorly on outside linebackers coach Mike Dawson, whom coach Scott Frost has praised all season for improving NU's third unit, or tight ends coach Sean Beckton, who works with the returners.
But Nebraska's special teams have made too many game-altering mistakes. Like Frost said after firing his offensive assistants, you can't keep running it back after seeing the same results. And Dawson and Beckton likely would prefer not to coach two position groups — potentially three in Beckton's case, if he takes over the receiving corps next season.
3. It'd be nice to have Austin Allen back next season
Allen finished with seven catches for 143 yards, breaking Nebraska's single-season record for receptions (36) and single-game record for receiving yards for a tight end. He ranks second on the team in catches and receiving yards (547) and is tied for second in receiving touchdowns (two).
Allen sought scouting feedback during the Huskers' bye week and said after Week 8 that he was "50-50" to return next season. Nebraska could use an offensive weapon like him next season, when Frost's job will hang in the balance.
Three things we still don't know
1. What to make of the Huskers' running back room?
The faces change frequently, not the results.
Without Rahmir Johnson and Gabe Ervin — and with Sevion Morrison in the transfer portal — Nebraska gave Markese Stepp, Marvin Scott and Brody Belt their chance in the backfield against the Badgers. They combined for 78 yards on 25 carries against the nation's top-ranked rushing defense.
Nebraska has five backs with at least 30 carries this season. Only Minnesota, which lost three scholarship running backs to season-ending injuries, has incorporated more ball carriers (seven) among Big Ten teams.
2. Who is the next Nebraska playmaker at wide receiver?
Samori Touré continued his excellent senior season with seven catches for 113 yards and one touchdown Saturday. The rest of Nebraska's receivers caught six passes for 53 yards and no touchdowns.
The Huskers have been searching for a consistent second receiver to complement Touré all season. The Montana transfer has caught more touchdowns (five) than the rest of NU's receiving corps combined (four) and accounted for 43% of NU's yards among receivers.
Austin Allen is having a career-best season at tight end, but the Huskers need another perimeter playmaker to emerge, especially considering Touré has one game left at NU.
3. What difference could JoJo Domann have made Saturday?
Domann was Nebraska's most versatile and perhaps its best defender before surgery on an injured hand ended his season after Nebraska's loss to Ohio State two weeks ago. Without him, the Huskers allowed 252 rushing yards and 35 points, and tight end Jake Ferguson caught eight passes for 92 yards.
Domann made the best choice for his future, but it's easy to wonder how different those numbers might've been with him on the field. He was third on the team in tackles (72) and second in tackles for loss (nine), and he shined covering slot receivers and tight ends.
---