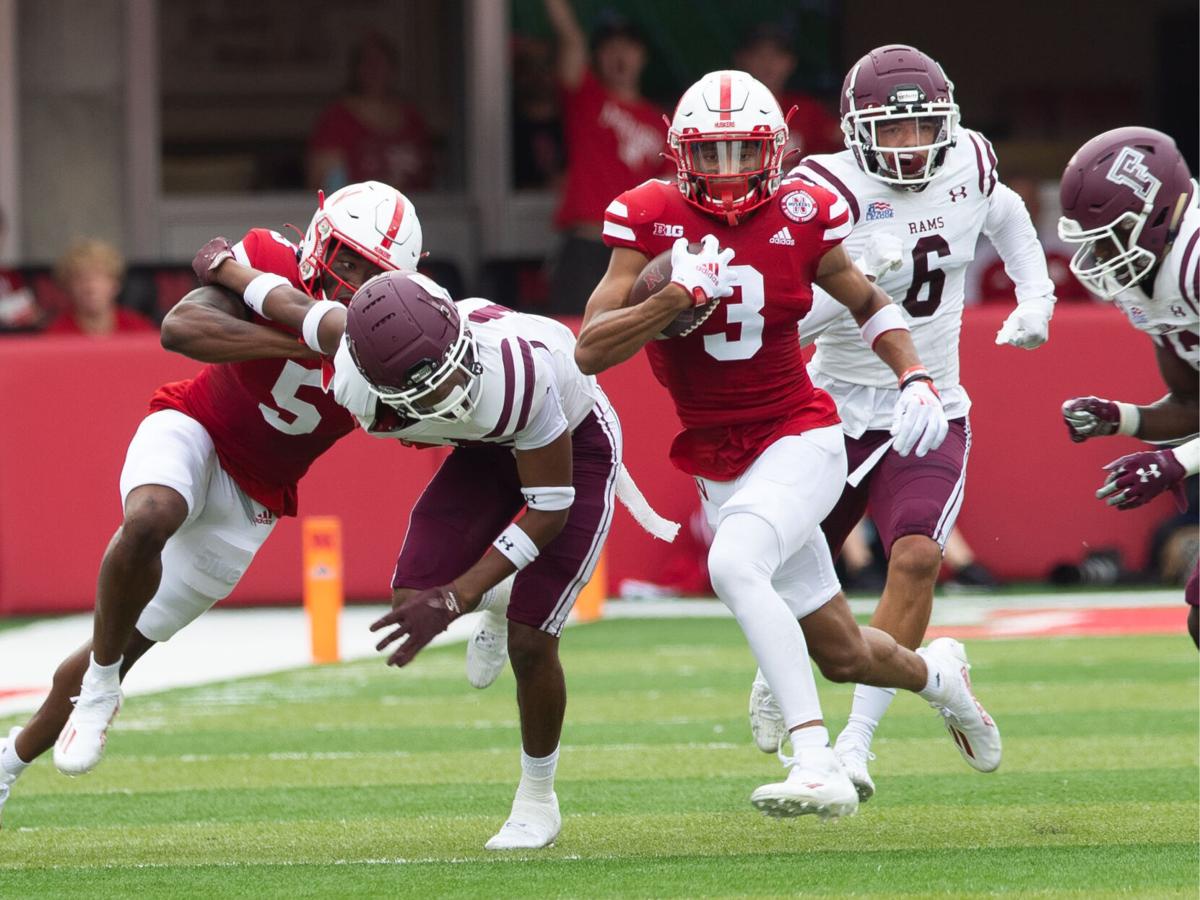 LINCOLN — Nebraska's new offensive wrinkle — a triple option pitch play to Husker receivers — is part of an old staple long used in coach Scott Frost's offense, NU offensive coordinator Matt Lubick said Tuesday.
The play went for a Samori Touré touchdown Saturday. It was embedded into the offense at Oregon, Lubick said, and functions much the same way a quick bubble screen would.
"It lets you get the ball on the perimeter with skill guys," Lubick said. "You're always reading a defender, too, so it's kind of based on what the defense is doing."
Quarterback Adrian Martinez has the choice of handing off to a running back on an base inside zone play, while a receiver — typically Touré — orbits around the quarterback for a pitch. If Martinez gives the ball to the back, it's a zone. If Martinez pulls the ball from the dive, he can keep or pitch to the receiver.
Nebraska first ran it near the goal line against Illinois. Against Fordham, Touré gained 35 yards on the play, and backup quarterback Logan Smothers later ripped off a 15-yard gain on a keep before fumbling.
Lubick said the play is "not expensive" — meaning it's easy for his players to run, regardless of how complicated it looks. Lubick praised Martinez's ball-handling and the ball security of Husker receivers, who had to learn the intricacies of the play in camp.
"We haven't put a ball on the ground yet, knock on wood, from a pitch standpoint, because we work on that every day in our drills," Lubick said.
Martinez operates the play well and has "courage" to take a big shot from defenders.
"The key to pitching it sometimes is when to do it and holding on to it to the last second when you know you're going to take a big shot," Lubick said.
Touré never practiced the play at Montana before coming to Nebraska, Lubick said. Other receivers who could run it — Brody Belt, Alante Brown, Will Nixon — have "adjusted well."
"You kind of look at it like a quick passing game," Lubick said. "It's a pitch, but it's the same thing as throwing the bubbles, same thing as throwing a quick pass. It's just getting the ball to a guy in space who can hopefully make somebody miss."
This week Martinez will have to be prepared to feel even more heat from Buffalo, which comes into Memorial Stadium with experienced, aggressive players, Lubick said.
"We've got our work cut out for us from a pass-rush standpoint, because they know how to put pressure on the quarterback," Lubick said, noting the athleticism of UB's front four in a 69-7 win over Wagner. "They cover well."
---