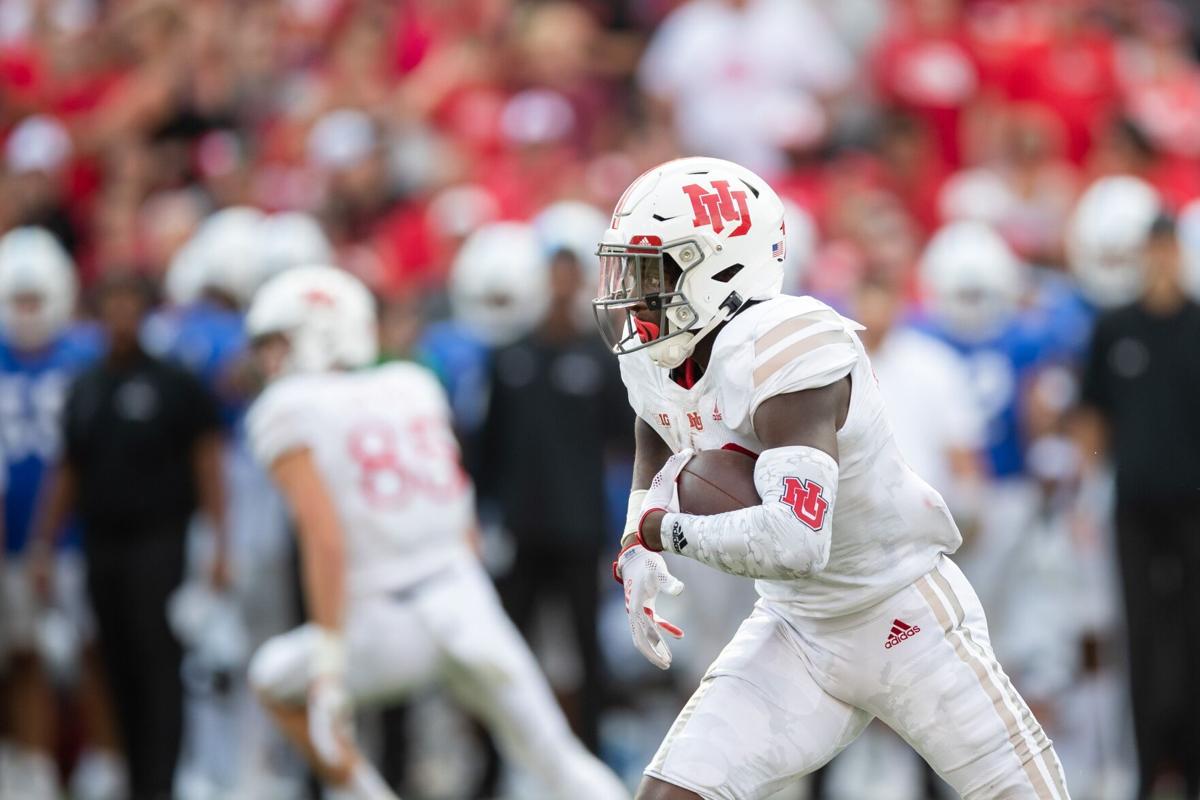 LINCOLN — The final numbers looked good for the offense. But smiles faded as the Husker players put them into context after a win that was more stressful than it seemed.
The Huskers rolled up 516 total yards and had reserves in for the fourth quarter during Saturday's 28-3 victory over Buffalo. Still, too many warning signs cropped up for an offense that knows it will have to be better as it faces Power Five defenses the rest of the regular season.
"We showed spurts of improvement," tight end Chancellor Brewington said. "Then we showed spurts of just shooting ourselves in the foot."
A handful of explosive plays by Adrian Martinez and a timely interception return by linebacker Luke Reimer were enough. But take out the quarterback's highlight-reel 71-yard scramble and NU ran for 149 yards. Four running backs combined for 106 on 31 carries (3.42 per tote) with few explosive sprints.
No offensive linemen spoke with reporters afterward. But erratic rushing lanes and inconsistent blocking — with plays going for no or negative yards — contributed to six fruitless drives that had the Huskers leading 14-3 and Buffalo with the ball before Reimer's tip-drill pick to open the fourth quarter.
"Offensively, we've got to establish our base run a little better so we can keep drives going and give ourselves more chances," coach Scott Frost said. "They were packing the box on us a little bit but we still need to be able to hit it downhill and get some yards. Didn't do that well enough in the first half but a couple plays by a couple really good players kind of bailed us out."
The what-if moments weren't just from the line. The offense would have produced nine more points had Connor Culp not gone 0 for 3 on field goals — though the last from 34 yards appeared to be good.
Three would-be touchdowns were also called back because of penalties. A Martinez 26-yard scoring throw down the sideline to Samori Touré on fourth-and-3 was negated by a Wyatt Liewer offensive pass interference away from the play. Two drives later in the second quarter, a holding infraction on right tackle Bryce Benhart negated a 44-yard touchdown to receiver Zavier Betts on a tipped ball.
A ruling of an illegal forward pass also canceled a 13-yard touchdown for Will Nixon in the final moments of the game.
But the run game is what stuck with the Huskers most.
Outside linebacker JoJo Domann said the attack looks better in practice than what NU put on the field against Buffalo. Brewington identified the line of scrimmage as the big point of emphasis moving forward. Running back Gabe Ervin called the ground game "not really good" at first.
Said rusher Markese Stepp: "We've just got to run the ball better. (If) we want to be the team we say we want to be, (it's) as simple as that."
"It's a process and we're getting better — all of us," Martinez said. "I think it's a vital part of our run game (to) have teams respect our deep-ball threat. ... We've got a big game next week. Gotta play better than we did this week."
And Nebraska thinks it can. Martinez said a missed block here or an errant read there might be all the offense needs to get its rushers some open space. NU defenders often took part in offensive huddles during the game to offer encouragement — they see every day what the attack is capable of.
Rewatching the game from an offensive perspective might not be too fun this week despite the final numbers, multiple Huskers guessed. But the mantra remains the same: Do your 1/11th and don't make unforced errors.
Whether they can turn that into reality this week is the task with Oklahoma on deck.
"Consistency in the play is the biggest thing," Brewington said. "We have a big play and then we get called back for a penalty. One-eleventh. We'll look back on the film and we'll probably be banging our heads like, 'Dang, we could have hit a bigger play.'"
---