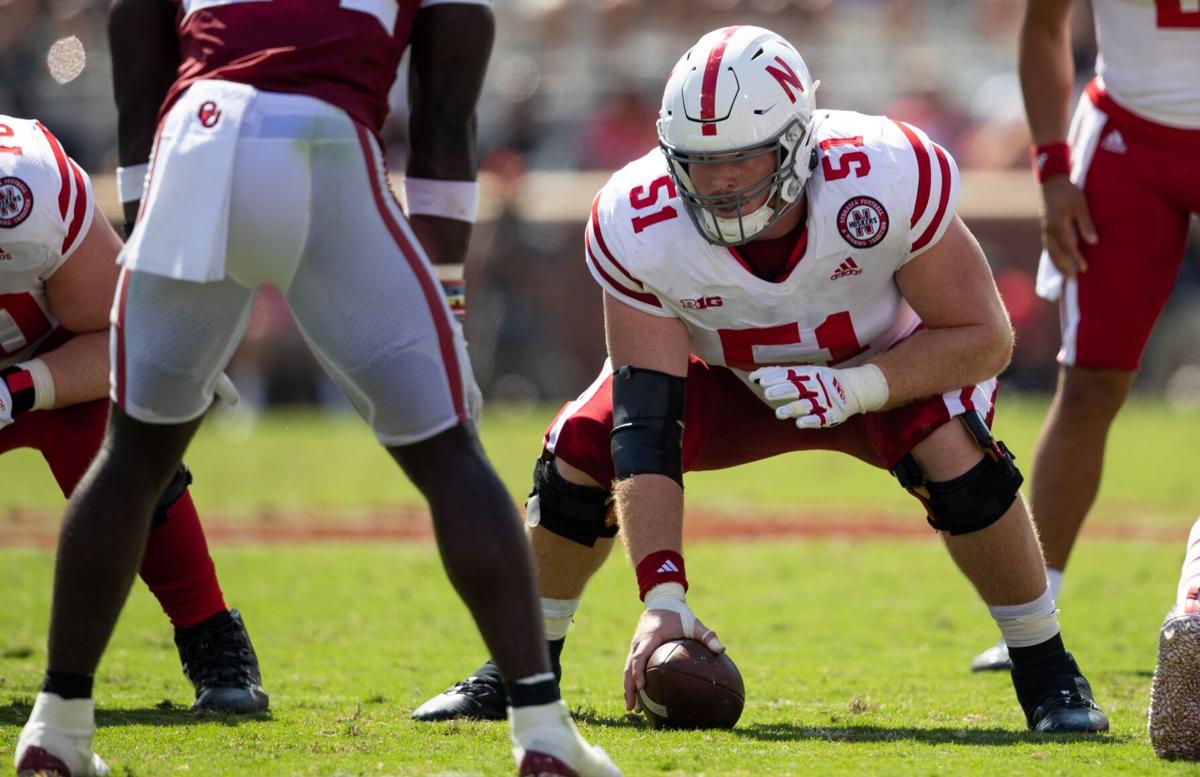 NORMAN, Okla. — Adrian Martinez barely finished his drop back before Nebraska's comeback started to crumble.
Moments after the Huskers snapped the ball on first down from their own 17, an Oklahoma defender broke into the pocket. Another followed, and Martinez swallowed a sack at the 10.
Martinez took another sack on Nebraska's final drive and five overall in the Huskers' 23-16 loss to the Sooners. To be fair to the Husker linemen, Oklahoma knew NU was throwing on the final drive. On the other hand, that's when Martinez needed them most.
Timing wasn't the only area where the Husker line fell short against OU. They failed to create consistent running lanes for their running backs (2.5 yards per carry). They committed six of the team's eight penalties. And left guard Ethan Piper, benched for Trent Hixson, allowed the opening that Oklahoma needed to block the extra point it returned for a 2-point conversion during the third quarter.
Questions about the offensive line have persisted all season. What's the fix?
"Just keep working into that zone where nothing else is important except your job, you know?" center Cam Jurgens said. "Everybody's got to be dialed in to what they're doing."
Jurgens said "dialed in" three times during his five-minute interview with reporters after the game. He thinks focus can fix Nebraska's penalty issues. And its inability to create lanes for the running backs. And the 10 sacks the Huskers have allowed against two Power Five opponents.
If that's true, then Nebraska's linemen better think fast. Big Ten play starts next week at Michigan State, where the Spartans look like a much tougher matchup than they did in August. After beating Miami to start 3-0, MSU is now ranked No. 20.
The rest of the schedule is filled with strong defenses.
Think the Blackshirts have looked good early? They have. Nebraska ranks 26th in scoring defense through four games. But six of the teams ranked in front of them play in the same conference. Four of those six — Michigan, Ohio State, Wisconsin and Iowa — are on the Huskers' schedule.
Michigan State has generated eight sacks in three games. Are the Huskers prepared for that pass rush?
Oklahoma wasn't better than Nebraska in Norman, Jurgens said, and he has a case. But the scoreboard suggested otherwise because the Huskers made too many mistakes.
Missed kicks, yes. But Jurgens said the Huskers shouldn't need to rely on placekicker Connor Culp. They should finish drives.
But Nebraska's offensive line committed too many penalties and missed too many blocks. Missed blocks, four false starts — Jurgens himself committed two 15-yard personal foul penalties on separate drives that crossed OU territory.
The three-year starter from Beatrice thinks his unit is improving, though. Better every week. They're better than they showed against Oklahoma, but they're going to get a lot better from the experience. He says they need to limit the plays where they "kill themselves."
That all sounds good, but Jurgens and Co. need to translate those words into action. Now.
The Big Ten slate has arrived, and opponents won't wait for the Huskers to find their stride. Take it from another Nebraska leader.
"The team is ready to turn a corner," team captain Austin Allen said. "It's just gotta be no more saying we can do it. It's gotta be (on us) to go out and do it."
---