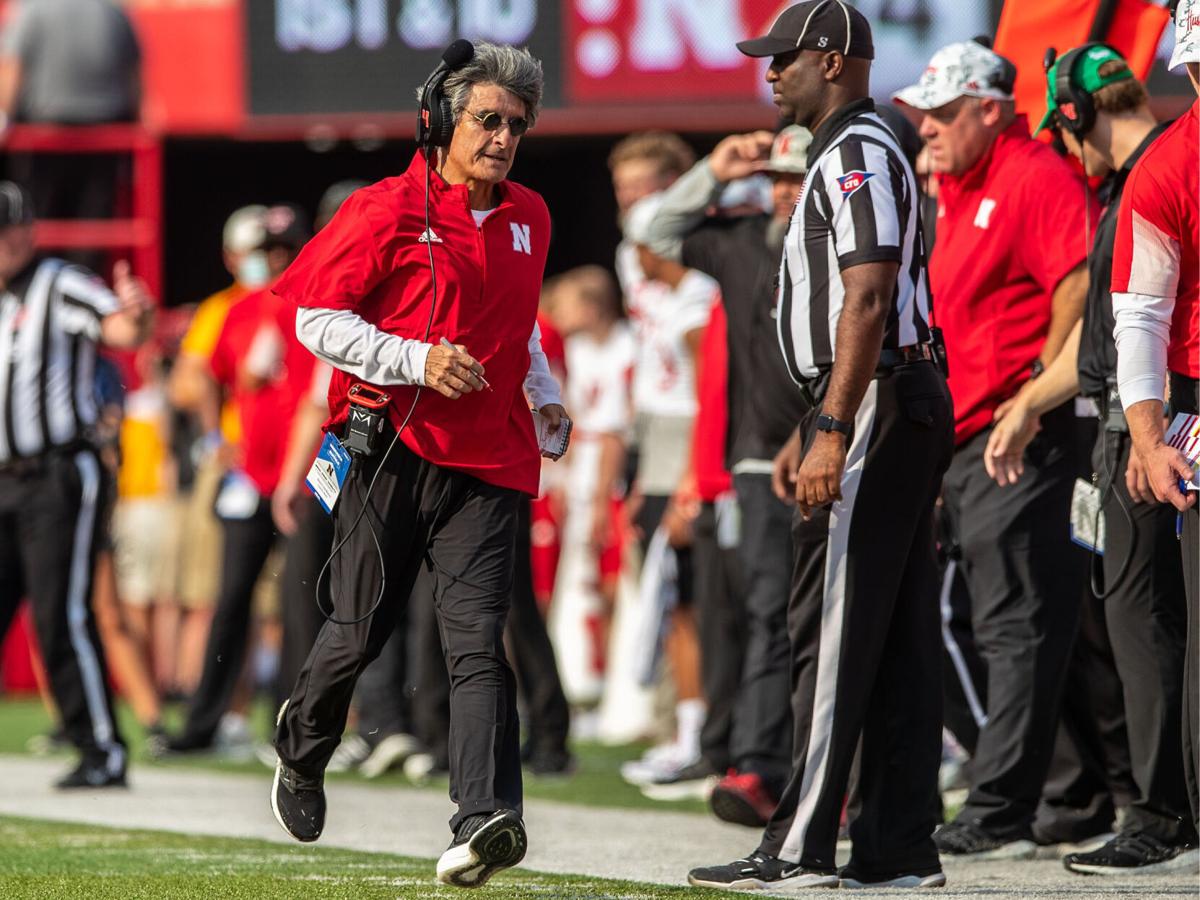 LINCOLN — Nebraska quarterback Adrian Martinez has been "good" at making plays while not trying too hard to make a play, position coach Mario Verduzco said Tuesday.
But as soon as Verduzco — talking to the media for the first time since preseason camp — said the word "good," he switched gears.
"None of that matters," Verduzco said. "What only matters is this game this Saturday. And after this game this Saturday, the only thing that matters is the game after that. Doesn't matter what he's doing well. It just matters what he's going to do well this Saturday."
Verduzco said he's not coaching Martinez any differently, but he did talk differently about the fourth-year starting quarterback. Verduzco said he's focused on Martinez eliminating every mistake, doing his own job without trying to do anyone else's, and staying in the moment.
"The most important thing I can do for a young guy in that situation is just be consistent and not change who I am," Verduzco said.
He has altered to some degree how he coaches Martinez during the game since he's now on the sidelines instead of in the coaches box. Verduzco said Scott Frost requested that move. Verduzco has only been on the sidelines four years in his long career.
"It's good having that face-to-face communication with him on that constant level," Verduzco said. "When I'm in the booth, we talk, boom. Now I see him all the time, and if there's something I need to remind him about, then it's immediate."
Verduzco said he'd like one coaching moment back so far this year — Martinez's fumble at Illinois.
"I would have reminded him, 'Hey man, we're right before the half, something happens, pass play is called, whatever it is, just cover it up and let's get into halftime,'" Verduzco said. "But it was getting used to being back down on the sidelines. I feel pretty good right now about where I am right now talking about those things. Don't let yourself get frustrated."
Verduzco said Martinez has to limit mistakes — a topic they discuss "on a constant basis."
"Do his job, do whatever it takes to get it done, but play within the framework of his job and not try to do somebody else's job," Verduzco said. "Because you're playing Oklahoma, there's good, there's bad, there's frustration, yadda, yadda, yadda — can't let that get to you."
More quick hits from Tuesday's interviews:
» Verduzco said Logan Smothers has done "OK" in his first two appearances as a backup quarterback, even if on his "his knees were as stiff as telephone poles" on his first pass against Fordham, and his ball flight was low as a result.
"He handled himself really well," Verduzco said.
» Defensive coordinator Erik Chinander said NU's D must have "eye discipline" for all the window dressing — motions, misdirection, pulling linemen — OU likes to use on offense to confuse defenses. Inside linebacker Chris Kolarevic said the Sooners have "SEC speed," but Nebraska has the players to match it.
» Offensive coordinator Matt Lubick said OU's penchant for switching coverages on defense will have little effect on NU's passing game, since the Huskers use a progression-based system.
» Defensive backs coach Travis Fisher said cornerback Cam Taylor-Britt has done a good job of not allowing his mistakes in the punt return game affect his play on defense.
---