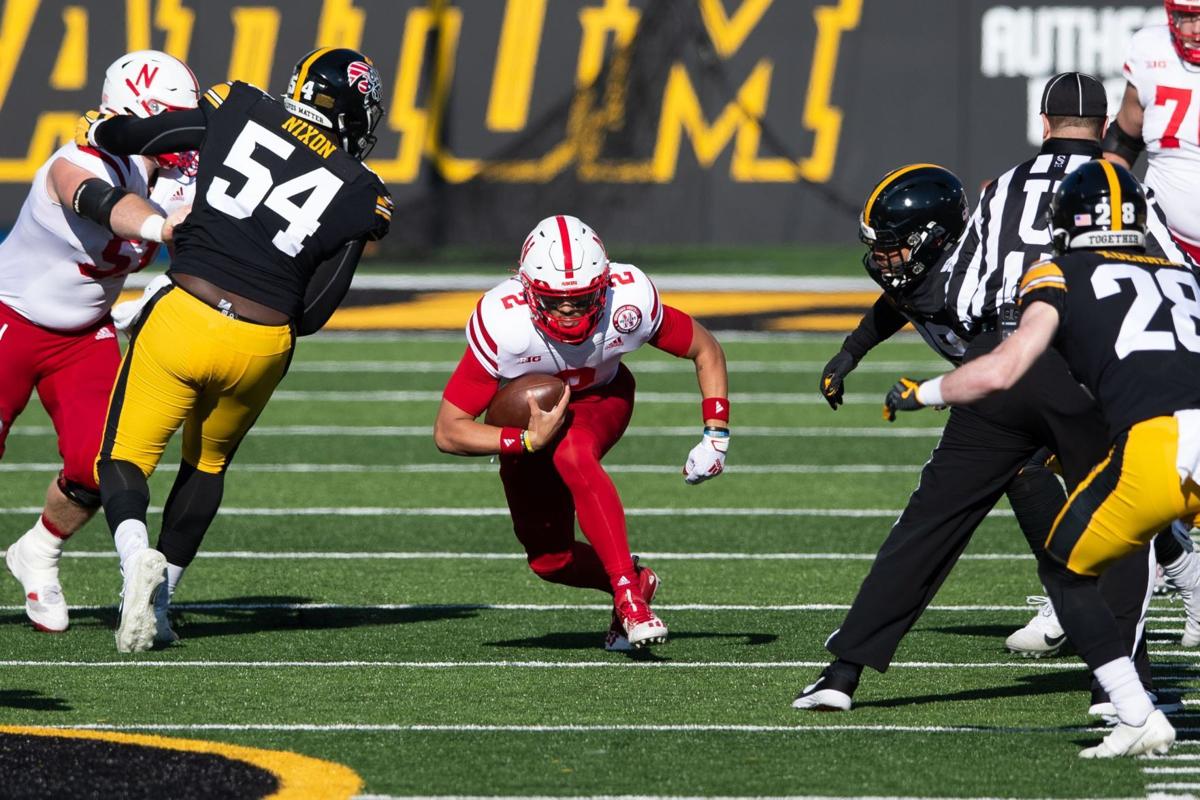 IOWA CITY — Adrian Martinez stayed on his back on the Kinnick Stadium turf for a few extra beats while players in black and gold danced and others in red pants trudged to the locker room.
Another Nebraska loss. Another turnover when Nebraska couldn't afford one.
Three weeks after being benched at Northwestern, the junior returned to his familiar job Friday as the starting Husker quarterback — sort of. For the first time in this season of QB uncertainty, NU mixed drives between Martinez and Luke McCaffrey in a combination that came up just short of an upset in a 26-20 defeat at No. 24 Iowa.
The shared approach came after a week of practice competition that coach Scott Frost said was "dead even." Each completed 81% of their passes and both committed two turnovers, so both were part of the game plan against the Hawkeyes, with Martinez penciled in to make his 24th start and run the first two drives followed by the 19-year-old McCaffrey.
"We've got two good young players, two good quarterbacks," Frost said. "We need to continue to hit a few more of the easy things that they give us that we miss at that position, particularly in the pass game. But I thought we threw it downfield better. I thought both guys managed the game well when they were in. We've got two good players, we'll continue to let them compete."
Martinez played the entirety of seven NU possessions while McCaffrey led two. They split the penultimate drive of the game — with their team down by six and 8:21 left — by using McCaffrey for the first three snaps and Martinez for the latter three. The sequence ended with a punt.
The second half otherwise belonged to the captain Martinez, who led an eight-play, 70-yard touchdown drive out of intermission but followed by producing three punts and the game-ending turnover. That came when Iowa lineman Chauncey Golston hit the QB as he threw and Zach VanValkenburg grabbed the ball on the fly.
"Obviously, there's room for improvement," Martinez said. "There always is."
Martinez completed 18 of 20 passes for a season-high 174 yards while McCaffrey was mostly a running threat logging five carries for 42 yards. Their combined totals of 21 of 25 passing for 195 yards and 17 rushes for 70 worked well in stretches, especially during a 13-point second quarter.
One beneficiary was sophomore receiver Wan'Dale Robinson, who caught nine passes for 75 yards and added six carries for 42 more.
"I think they both played well," Robinson said. "But it really doesn't change for us because we get enough reps with each one of them to know what one can do ... they both can really do about the same things. ... They're really interchangeable."
While McCaffrey made his first career starts against Penn State and Illinois, Martinez said his time on the sideline helped him "put some things in perspective" about how he approached his daily work. He overcame multiple erratic first-half snaps from center Cameron Jurgens, most notably in the second quarter when he converted a third-and-23. His sideline pass to Austin Allen was just enough for the first down — the tight end needed every inch of his 6-foot-8 frame to get a foot down inbounds — and Martinez pushed across the goal line for a 1-yard touchdown plunge three plays later to tie it 13-13 before halftime.
McCaffrey's drives resulted in two field goals earlier in the quarter, covering distances of 62 and 22 yards.
By the time Martinez and the offense lined up at their own 32-yard line with 2:02 left in a one-score game, the starter said there was "a ton of confidence" for the drive. A 4-yard completion, 6-yard scramble and 18-yard pass to Robinson brought NU to the Iowa 39 before the final, game-clinching hit.
Frost reiterated his comments from last week that McCaffrey is the "future of the program," though with a new disclaimer that that could be now or "when Adrian's all done at Nebraska." The third-year coach, whose frustration was evident after the game, said competition would continue with three scheduled games remaining.
"I've been doubted at Nebraska as a quarterback," Frost said. "Adrian's felt that, too. I was proud of how he responded."
---
Nebraska travels to Iowa for Black Friday showdown