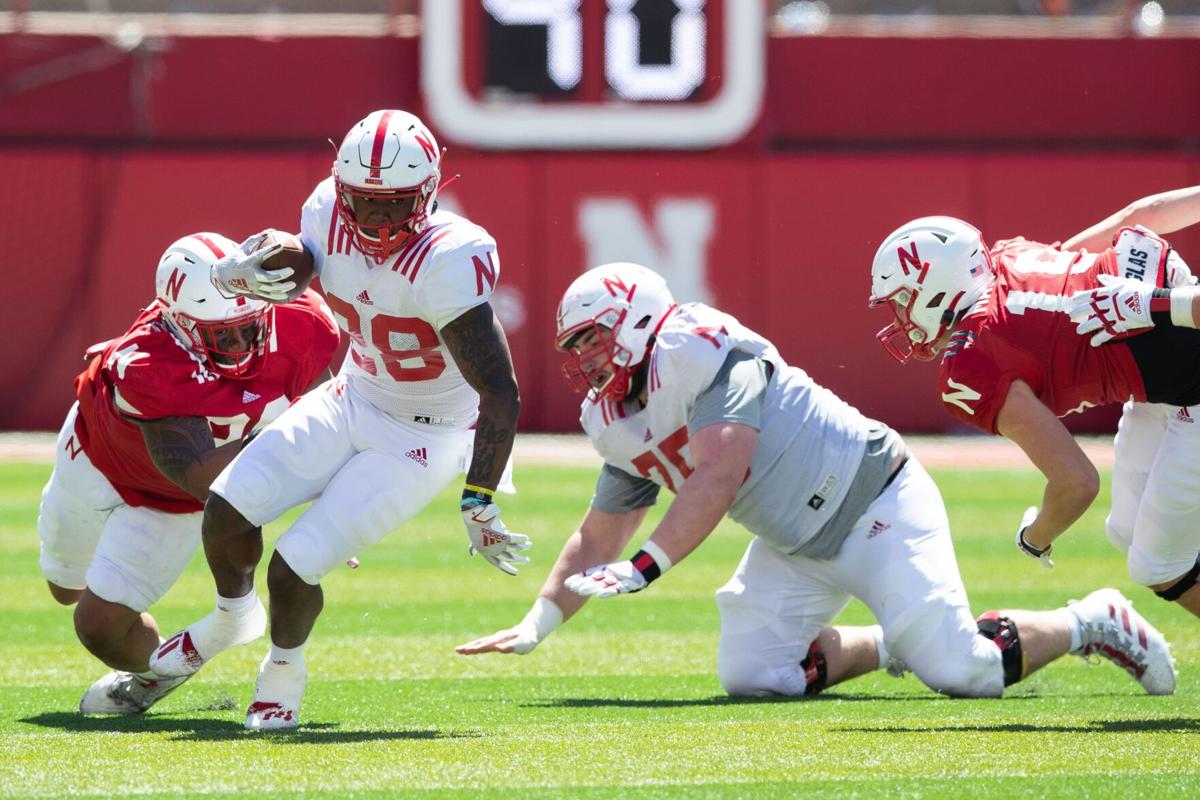 LINCOLN — In spring games, you make your own rules. So after an afternoon of playing into a 25-mile-an-hour, make-you-squint southern wind, Nebraska football coach Scott Frost called an audible and allowed, after the clock had already hit zero, one game-deciding, untimed down.
Heinrich Haarberg didn't waste the moment. The freshman quarterback from Kearney Catholic threw a 25-yard touchdown to Wyatt Liewer and delivered the White team a rare 21-20 victory over the Red, which almost always wins this game.
"Did you see that!" gushed Husker safety Myles Farmer who sprinted down to reporters to celebrate Haarberg's pass and his team's win. Oh, scribes saw it, all right, how Haarberg's pass cut right through the stiff wind so it could land in the breadbasket of Liewer. Haarberg, the precocious 6-foot-5, 190-pounder, called it "surreal" how he sent the 36,406 mostly-masked-up, socially distant Husker fans home happy.
"Even two years ago I was part of those fans," Haarberg said. "Now being able to entertain them was a dream come true."
The coronavirus pandemic cancelled last year's spring showcase. It did not stop the 2021 version of it.
"I don't know who needed that the most — us to have the fans in there cheering for us or the city of Lincoln, but it's been too long," coach Scott Frost said.
"It didn't feel half (full) to me, I'll say that," said quarterback Adrian Martinez, who played only the first half on Saturday. "It was a great atmosphere."
With a heavy, heavy dose of defense, plus power football on offense. NU ran the ball 27 more times than it passed, and most of the day's big plays came on the ground in the second half, as Nebraska rotated one running back into the game after another. It provided some juice to a scrimmage that was primarily pulp in its first hour.
Nebraska's offense — both the Red group full of starters and the White backups — struggled in the first half to get much going. The Red posted 13 points, but two of its three red zone drives stalled inside the 20 and a fourth drive, right before half, ended in an interception by reserve defensive back Phelan Sanford. In his half of work, Martinez completed 12 of 20 passes for 127 yards in windy conditions, while running for 49 yards on nine carries.
The White offense, often working with the wind in the first half, was stoned on four straight drives by NU's No. 1 defense, which was playing without starters JoJo Domann, Ben Stille and Will Honas. The White team ran 17 first-half plays for 19 yards and quarterbacks Smothers and Haarberg combined to complete 2 of 8 passes. Smothers logged the longest first half run for the White at seven yards. The Red led at half 13-0.
"We've got humungous goals," cornerback Cam Taylor-Britt said of the Blackshirts. "Everybody individually is setting the highest goal they can set."
Frost said the format favored the defense.
"If I was one of those guys, I would think it's a little bit of a — joke is the wrong word, but it was too easy for them," Frost said. "Going out and not having any live tackling and playing with a sped-up clock, I don't think those guys thought they had to work very hard today. But we've got a lot of guys on that side of the ball playing well — playing a lot better than they did a year ago."
Against reserve defenders in the second half, the White offense, behind strong line play and power runs from Jaquez Yant, got rolling. Yant, a 245-pound freshman walk-on, routinely ran over or carried defenders during his totes, which included a 21-yard touchdown. Two drives later, the White team, led by Haarberg, scored another touchdown, this time on a 29-yard run by Isaiah Harris, to take a 14-13 lead. Yant's 63 yards was second to Marvin Scott, who had 75. Freshman Gabe Ervin had a game-high 12 carries for 57 yards, as well. Frost called them a bright spot of the scrimmage.
Backup quarterback play was a little more hit and miss. Haarberg took two sacks and completed 9-of-23 passes. Logan Smothers, who completed 8-of-14 passes, also took a sack and rushed for 17 yards. His best play was a 23-yard touchdown to Brody Belt on fourth down. Frost reiterated he likes the work of both backups this spring and is not prioritizing a transfer quarterback with one of his final two available scholarships. Saturday's performance didn't appear factor much into Frost's evaluation of those two players, or others on the team.
Saturday was a day for fans, fun and a breaking a rule, at game's end because you can.
"It's fun to see them compete a little," Frost said. "... You guys have stories about what happened today, I understand that. What happened all spring is more important to us. Again — we want to see guys who come out in the stadium and love the competition and environment and thrive in that."
---