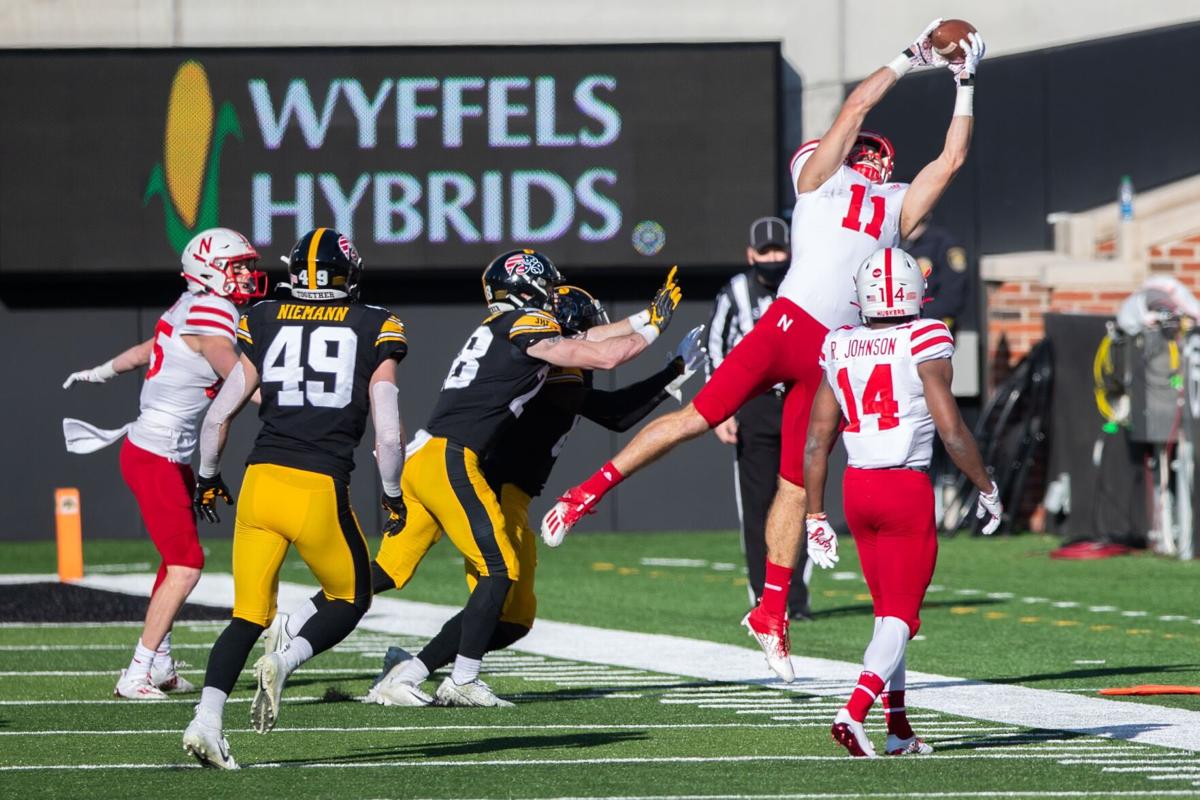 LINCOLN — Nebraska's tight end room has the most experience on the offensive side of the ball outside of three-year starting quarterback Adrian Martinez. Because of this, junior Austin Allen has high expectations for his position group.
"We're a very experienced room," Allen said at Monday's press conference. "I expect a lot of great things out of the tight end room."
The Aurora, Nebraska, product said he and fellow tight ends Kurt Rafdal and Travis Vokolek are looking to provide leadership to all of the young players on the offense, whether a tight end, a receiver or a lineman.
"I think team-wise, we bring probably the most experience, and that goes hand in hand with being able to lead," said the 6-foot-8, 260-pound Allen. "Leadership comes with experience, and when we know what we're doing with experience it allows us to take care of the young guys."
Nebraska's tight end position is becoming one of the key pieces of its offense.
During the 2020 season, Allen became a go-to option in coach Scott Frost's offense when a big play was needed. He averaged 13.1 yards per catch with 18 receptions and 236 yards on the season. Vokolek, a 6-6, 260-pound Rutgers transfer, also provided NU with an average of more than 10 yards on his nine receptions. Jack Stoll, who has since declared for the NFL draft, brought down seven catches for an average of 12.7 yards. 
In an offense that struggled to create explosive plays in 2020, having three players who can all but guarantee a decent gain was crucial and will continue to be for Nebraska.
The three freshmen who have joined assistant Sean Beckton's group have the tools to continue solidifying tight ends in NU's overall offensive scheme.
Four-star prospect Thomas Fidone has become the face of the 2021 recruiting class and is one of most anticipated players in the class and the offense as a whole.
"Something I noticed about Thomas, he's learning really fast," Allen said. "He picked up the playbook really well. I get texts at 10:30 at night asking about mid-zone, so he's eager to learn, eager to get out there. I think he'll do great things."
In-state players like James Carnie and AJ Rollins add more depth and height to the tight end room. Carnie, from Norris, and Fidone both are 6-5 and 220 pounds. Omaha Creighton Prep graduate Rollins stands an inch taller and is listed as 230 pounds.
The combination of speed, height and agility from a tight end puts more pressure on an opponent's defense. The position forces defenses to choose between putting a cornerback inside the box to match up against the tight end speed-wise — but potentially get beat in the run game — or put a linebacker on man-to-man coverage with a typically faster and taller receiver.
"If you have a guy that can be physical at the point of attack, but still run routes on the outside, it just gives you a lot of options," said offensive coordinator Matt Lubick.
The second-year assistant said that in addition to complicating defensive schemes, tight ends also provide quarterbacks with reliable receivers and bigger targets.
"Throwing the ball, they're a quarterback's best friend because of the big catch radius, and it's a lot easier to throw to a 6-5 guy than is a 5-9 guy," Lubick said. "And the quarterback has room to miss and the guy can still go make a play."
Similar to last season, Nebraska's wide receiver room is completely open with multiple players who could take over the No. 1 receiver spot that Wan'Dale Robinson held before his transfer to Kentucky. The position also lost team captain Kade Warner, who entered the transfer portal after last season but hasn't landed at a new school.
Allen, Vokolek and Rafdal bring consistency and leadership to the receiving corps, which cross-trains all of its receivers, according to Lubick. Nebraska's offense has 11 upperclassmen, and three of those are experienced tight ends.
Allen said his personal goal this season is to capitalize on the way he has worked in the tight end room, in the weight room and in practice the past three years to become a team captain.
"Being an in-state kid, it means a lot to have your name up on that board in the hallway in the stadium," Allen said. "It'd be a good piece to show all the people that helped me along the way to get me to where I am, whether it be in high school or college. It'd be a good thing to earn that for them because a lot of stuff that's happened to me in my life is thanks to them. And so I think getting the accomplishment of captain, it's a hat off to all of it."
---
Our best Husker football photos from the 2020 season