LINCOLN — The first "Go Big Red" chant from 3,200 Husker fans inside Memorial Stadium went up at 2:29 p.m. Saturday. The last one went up at 4:39 p.m.
In between, those Huskers — plus some ex-players and media — saw the first, full open practice of the Scott Frost era. Full pads. Lots of drills, and lots of cheers for the group Nebraska coaches haven't been afraid to praise this spring.
A maligned position the past two seasons — the two most productive pass-catchers have left the program — the revamped receiver room looked impressive for two hours Saturday afternoon, especially with hot-and-cold passing from Nebraska's quarterbacks.
Two — Oliver Martin and Omar Manning — jumped out considerably once one-on-one drills started against defensive backs and NU moved into a 7-on-7 period. Martin blew by NU's No. 2 corner, Quinton Newsome, on a deep pass. On a stop-and-go route against No. 3 corner Braxton Clark, Manning — who missed almost all of last season with health issues — did the same. Be it longer or shorter routes, Manning consistently flashed throughout the workout to the applause of fans.
In the slot, NU got consistent work from Montana transfer Samori Touré and freshman Will Nixon, who missed last season with a knee injury. Bellevue West graduate Zavier Betts caught a few deep passes in drills. Even walk-on and Lincoln Pius X graduate Austin Jablonski had a strong day, as did tight ends Austin Allen, Travis Vokolek and Thomas Fidone.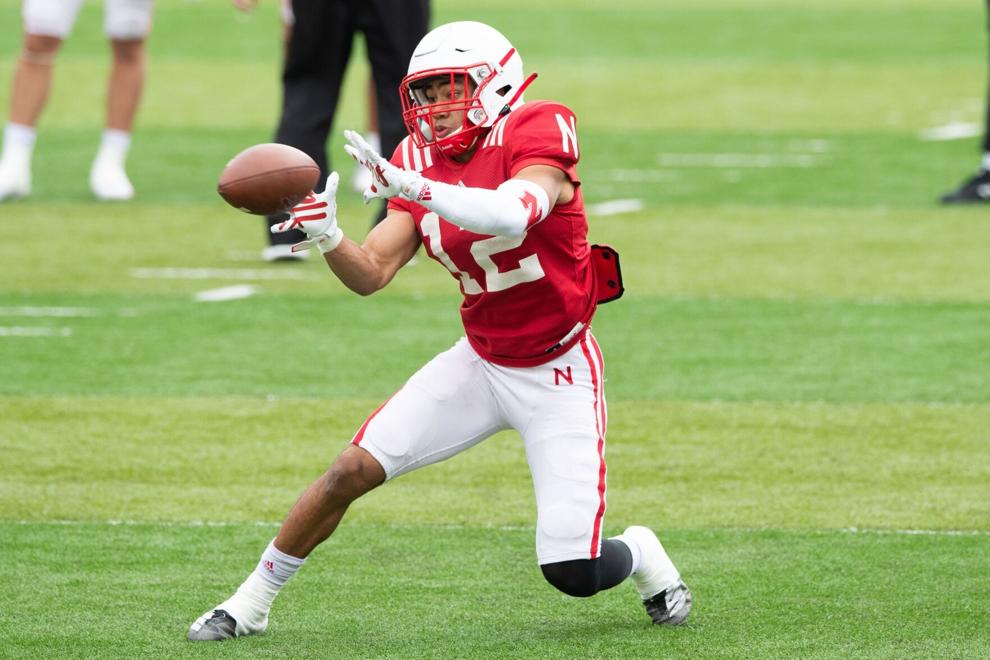 Earlier in spring camp, Frost had hinted that he liked his group of pass-catchers more than any he's had at NU, including the 2018 bunch with Stanley Morgan and JD Spielman.
"It's as deep a group as we've ever had, and there's a lot of talent in that room," Frost said Monday. "So we've got to make sure we have time for quarterbacks to throw because I expect guys to get downfield a lot more for us."
Nebraska's offensive line — with starters Turner Corcoran, Ethan Piper, Cameron Jurgens, Matt Sichterman and Bryce Benhart — didn't always win up front, as the top defenders, anchored by linemen Deontre Thomas, Damion Daniels and Ty Robinson, successfully got a series of "touch" sacks on green-jersey-wearing quarterbacks Adrian Martinez, Logan Smothers, Heinrich Haarberg and Matt Masker.
Martinez, the clear No. 1, deftly moved in and out of the pocket during most of his reps. Smothers, Haarberg and Masker, in an ongoing battle for the backup spot, had their ups and downs. For Smothers, a second-year freshman, and Haarberg, who just enrolled in January after a sterling career at Kearney Catholic, those downs were more often on shorter throws than they were on long ones.
With running backs Rahmir Johnson, Gabe Ervin and Sevion Morrison sidelined with undisclosed injuries, Ronald Thompkins, Marvin Scott and Jaquez Yant got the bulk of the carries in drill work. They were not tackled to the ground in any scenario, however. On defense, Nebraska was without two of its top defenders — Ben Stille and JoJo Domann — in the workout. Both are extremely limited this spring as backups — in Domann's case, Javin Wright and Isaac Gifford — learn the ropes at the nickel spot.
The practice did not feature a full-contact scrimmage, as some weekend workouts do — Nebraska is more likely to have one in the middle of next week before the May 1 spring game — but the units got their fill of work, and received a long ovation at the end from the fans on hand.
Those fans, in turn, got a warm moment and a surprise.
The first was Frost's son, running into the postpractice team meeting on the field, and Frost picking him up as he finished. Nebraska's coaches and staff members had their families on hand for the event.
The second was, after the workout, dozens of Husker players heading over to the west bleachers, where fans sat, and signing autographs and taking pictures with family members and fans.
It was the first time Husker fans — who weren't friends and family of the players — had been in Memorial Stadium since the Black Friday loss to Iowa in 2019.
"Nebraska has the best fans in the nation," NU left guard Broc Bando wrote on Twitter. "Thank you for coming out rain or shine to support us. We missed having you in the stadium."
---