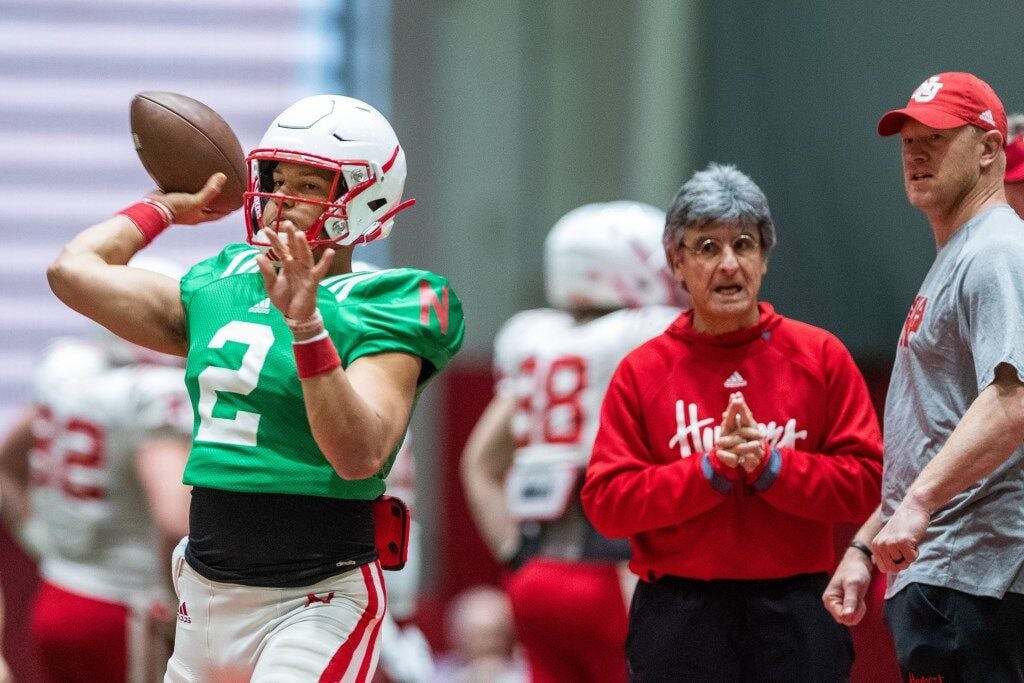 LINCOLN — Adrian Martinez dropped his black Adidas backpack and stood before a pack of cameras Monday as the wind whistled through a northeast concourse inside Memorial Stadium.
After a quiet offseason, the Nebraska quarterback was front and center once more.
The last time Martinez had conducted an in-person interview was 493 days ago, following Nebraska's season-ending loss to Iowa in November 2019. His last Zoom call was a four-minute briefing after the win over Rutgers last December, capping a season in which he was benched and later regained the starting job.
Two of his much-discussed Nebraska teammates — quarterback Luke McCaffrey and receiver Wan'Dale Robinson — have since left the team. That leaves the 21-year-old two-time captain with 28 college games of experience to set the pace not only for a young group of quarterbacks, but for a young offense.
"I know what the standard is, what we need to get to," Martinez said. "I can help hold all those guys accountable."
A slimmed-down Martinez appeared at ease as he touched on a range of topics for nearly 15 minutes wearing shorts and flip-flops.
He said he devoted the last few months to getting faster and stronger. He dropped a couple pounds from where he was at the end of last season, when he was listed at 225 pounds. This time last year he was still recovering from offseason shoulder surgery when the pandemic shut everything down.
"I feel lean and ready to go," Martinez said.
Receiver Levi Falck said Monday that Martinez is throwing the football harder and smoother than a year ago. The quarterback smiled when a reporter relayed that message, and he said that's been a priority.
But all of it will be for naught if he can't curtail the fumbles and interceptions. Quarterbacks coach Mario Verduzco said there's nothing else he wants to see from Martinez.
"No more frickin' turnovers," Verduzco said Monday after NU's fourth of 15 spring practices. "That's it. Just gotta take care of the damn football."
Giveaways have long limited Martinez, whose flashes of brilliance often preceded ill-timed miscues. The mistakes include 27 career fumbles (15 lost) and 20 interceptions. The tradeoff has been a career completion rate of 64% with 31 passing scores and 22 more on the ground while rolling up 4.7 yards per carry. Nebraska is 11-16 in games Martinez starts.
How does he beat turnover troubles? Verduzco said part of it is letting the defense do its job and not trying too hard to make something happen on every play. The QB said the solution is in part through film study and decision making. He added that he's been "too loose" running the football, especially in compressed spaces.
"I feel good about the interception piece to an extent — I obviously need to clean those up," Martinez said. "But ball security, I really hurt my team when I fumble the ball."
Martinez is entering his fourth season as the Huskers' offensive focal point, and he said "it's definitely open" whether he will take advantage of the extra year of eligibility and return in 2022. His approach is to be the best version of himself now and let the rest work itself out.
Physically, he believes he's on that track after playing "a little too heavy" earlier in his career. He declined to reveal his results from Nebraska's performance testing last month — "Yeah, I'm good, I'm not going to say that," Martinez said with a smile, drawing laughs — but he's fine with it if the school does so.
Meanwhile, he points to the offense "doing some good things that we haven't done before" as his biggest reason for optimism.
The competition behind Martinez this spring is much different from recent years, when backups like Noah Vedral and McCaffrey pushed for the starting role. Now, freshman scholarship QBs Logan Smothers and Heinrich Haarberg are just soaking in the offense while fourth-year walk-on Matt Masker is also looking to establish a foothold in the pecking order.
Martinez last season said the extra competition from McCaffrey helped motivate him as he fought to claim the job. Verduzco on Monday said he "never in a million years" would have thought Martinez needed that.
Hopefully, he said, the quarterback and coaches have learned from their considerable history as they prepare for another season together.
"So here we are now," Verduzco said. "Don't allow that same sort of thing to take place a second time around. Go out and make certain you're focused on competing against yourself and you're getting better every day based on your own personal performance and not anybody else."
Photos: Every season-opening starting Husker quarterback since 2000
With Nebraska in the midst of another quarterback competition, take a look back at photos and statistics from all the passers that started the opening game of the season since 2000.