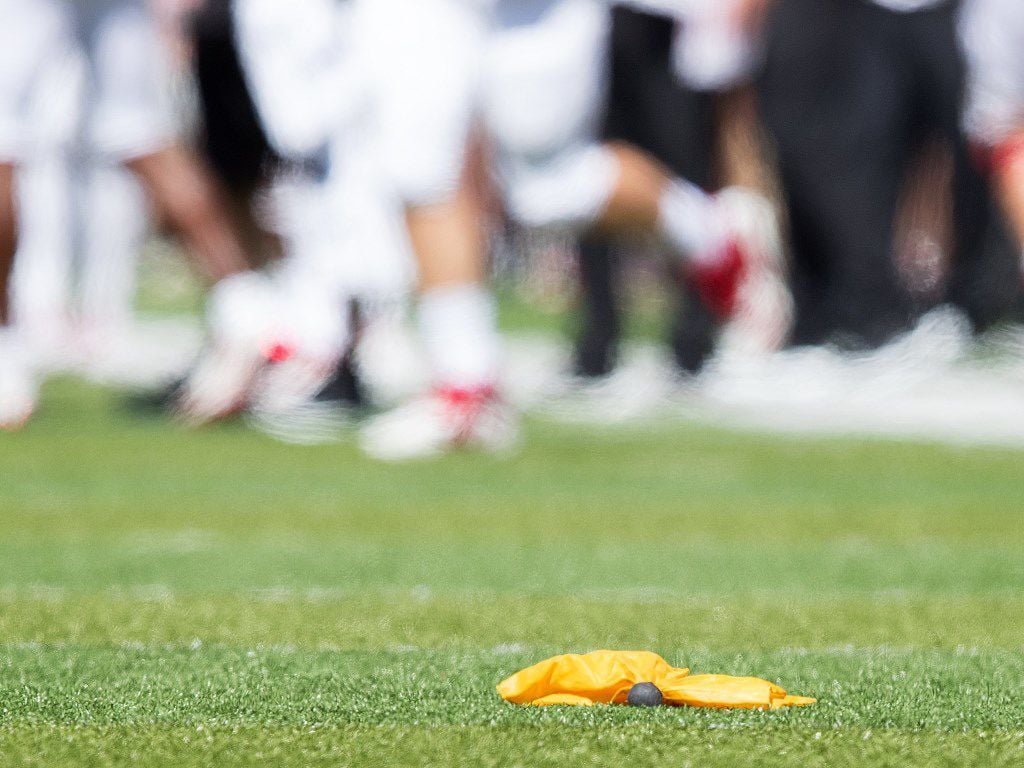 Every time the Nebraska offense committed a penalty last weekend, the same sound echoed through Northwestern's empty stadium.
Beep … beep … beep. The Huskers — like a large vehicle backing up — were going in reverse.
Ryan Field at times sounded like an active construction zone, which is fitting when you consider limiting offensive flags remains a work in progress for Nebraska. Of its nine flags for 55 yards, six went against the offense for 37 yards. All five starting linemen and running back Dedrick Mills were hit with either a holding or false-start call.
"It makes you sick to your stomach because those penalties, No. 1, it's us beating ourselves," offensive coordinator Matt Lubick said. "That's on everybody. … It's very hard, statistically, to overcome that."
The first three drives set a shaky tone in the 21-13 loss. A Boe Wilson false start and hold on right tackle Bryce Benhart on the opening possession turned a second-and-3 into second-and-18. Matt Farniok — playing center for the first time in college — false started to begin the next drive. Brenden Jaimes held on the play after that to push second-and-6 to second-and-13.
On the five total possessions the Husker offense was penalized, NU punted each time. Only once did it recover to produce a first down. On the game's six other drives — not counting when Nebraska started at the Northwestern 3-yard line off Myles Farmer's interception and right before halftime — the Huskers reached at least the Wildcats 25 on each occasion while averaging 10 plays and 58 yards per trip.
"I've said this a bunch, but our margin of error isn't big enough right now to overcome those things," Nebraska coach Scott Frost said. "That was the emphasis all week in our message to the guys, what we emphasized in practice. We still had too many."
Add in four offensive penalties against Ohio State — two holds, a false start and a delay of game — and the Huskers haven't managed a first down in eight of nine possessions after an infraction. None of those drives yielded points.
The flags expose other deficiencies the team is working through — specifically struggles in the red zone and lack of big plays — though players insist the mistakes are fixable. Redshirt freshman Ethan Piper made his first start at left guard and said Northwestern defenders didn't help by shifting and barking out fake calls.
"I just think it takes a lot more focus," Piper said. "We have to make that a focus at practice and rep it out at practice. I think it just ultimately comes down to reps, just practicing that. Hopefully we will correct that and I think we will correct that."
Added receiver Kade Warner: "That's on all of us. That's not just on the line, (it's on) the quarterbacks, the wideouts. We need to get better as a team at that going forward."
The offense overall has been flagged 10 times for 67 yards — well beyond last year's pace of 30 times for 195 yards in 12 games. Nebraska already has 10 combined holds/false starts after ending with 17 in 2019 and 30 in Frost's first season in Lincoln.
"That's a focus thing and that's a discipline thing," Frost said. "Just as an entire football program, we're going to get that fixed."
---
Nebraska at Northwestern