LINCOLN — Two months ago, early in training camp, reporters ambled onto the practice field for 30 minutes to view a workout. Videographers fanned out to get B-roll of players going through drills, and after one of them, NU quarterbacks coach Mario Verduzco called over a media relations rep for a word.
Verduzco, courteous, wanted to make sure no video of a certain drill hit social media. Reporters shrugged. Most hadn't been watching Husker receivers motion to a spot next to quarterback Adrian Martinez on a far grass field.
But that drill was the beginning of what became one of Nebraska's most reliable offensive weapons in 2021. A bit of a throwback to NU's glory days with a modern twist.
The Huskers are running the triple option — with receivers as the pitch back. And it's working in a Big Ten not used to seeing it.
Pat Fitzgerald, one of the league's top defensive minds, had a Northwestern defense baffled by it. On one triple option, Martinez kept the ball for a 25-yard touchdown. On another, receiver Zavier Betts took shortside pitch, ran through a big hole made by two tight ends and a left tackle, and sprinted 83 yards for a score.
"It's been good to us," said offensive coordinator Matt Lubick, master of the understatement.
Said receiver Levi Falck: "We're really confident with it now, and it's fun to see pay off."
And receiver Omar Manning: "I like it, and I think a lot of dudes like it."
The ultimate judge is the man who made a living running it at Nebraska — coach Scott Frost. And even with those two touchdowns, he's a tough grader.
"We're still only about 6 out of 10, I would say," Frost said. "We can be better."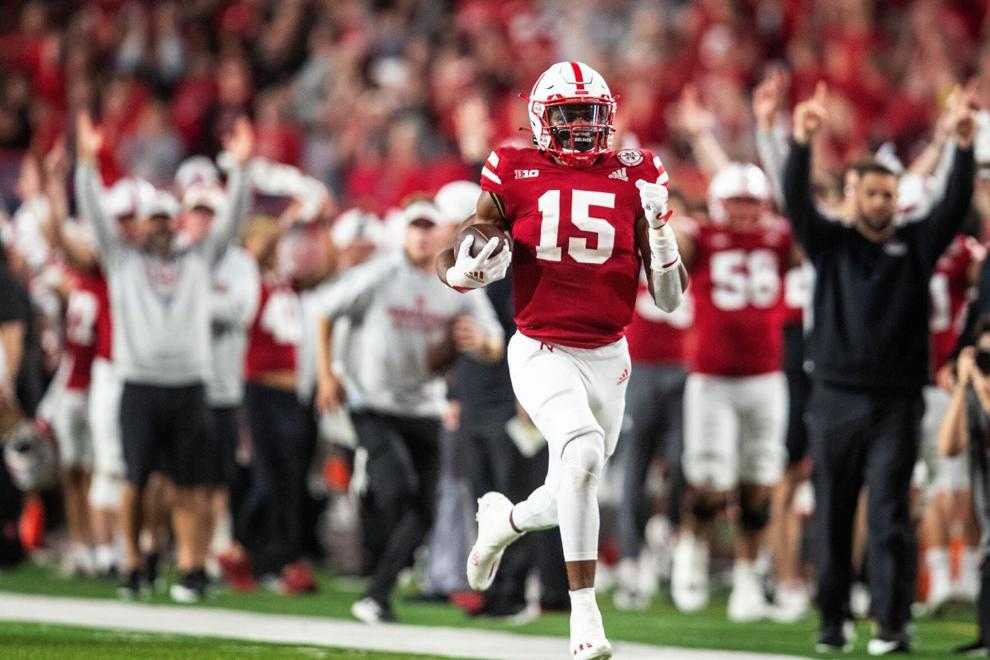 Perfecting the play — in which a running back serves as the dive option and a receiver, motioning into the backfield, becomes the pitch man — takes time.
"Reps and reps and reps and reps," said Martinez, who's had to perfect pitch relationships with numerous skill players of various speeds and sizes.
It takes an assistant — Ryan Held, who played as a walk-on during Nebraska's option heyday — working as an extra pair of eyes in the press box. It takes Frost managing the ball-handling piece with Martinez. Sometimes, Verduzco said, Frost even jumps in the drill for a demonstration.
"I'm playing the dive key or the pitch, and he's coming at you and it's a bit intimidating, you know?" Verduzco said.
Initially, Frost said, Martinez's feel for the play "didn't look good at all." Running back Rahmir Johnson said the ball either landed short or over the pitch man's head. Each ball on the ground comes with a punishment, too.
"Up-downs as a team," Johnson said.
But Martinez, already a skilled runner, showed to be a quick study for NU's offensive coaches, who Lubick said spent the offseason looking for a wrinkle that fit the personnel and forced defenses to defend the full width of the field. They picked the receiver triple option, which Lubick said was practiced often at Oregon, but rarely used.
Oregon excelled at the quick bubble and tunnel screens that could serve the same function. Nebraska's used some of those, too, and Lubick said Martinez is as good as any quarterback he's been around — which includes Marcus Mariota and Justin Herbert — at the quick passing games. Seasoned viewers of the Frost era also know: That package of plays has missed (Purdue 2019) as often as it has hit (Purdue 2020), and it has never paid off with an 83-yard touchdown.
"It gives you some one-on-one guys in space," Lubick said of the option. "Some playmakers in space. It's kind of like a quick passing game, it makes guys defend the field. They've always got to have a pitch guy. They have to defend all of your players."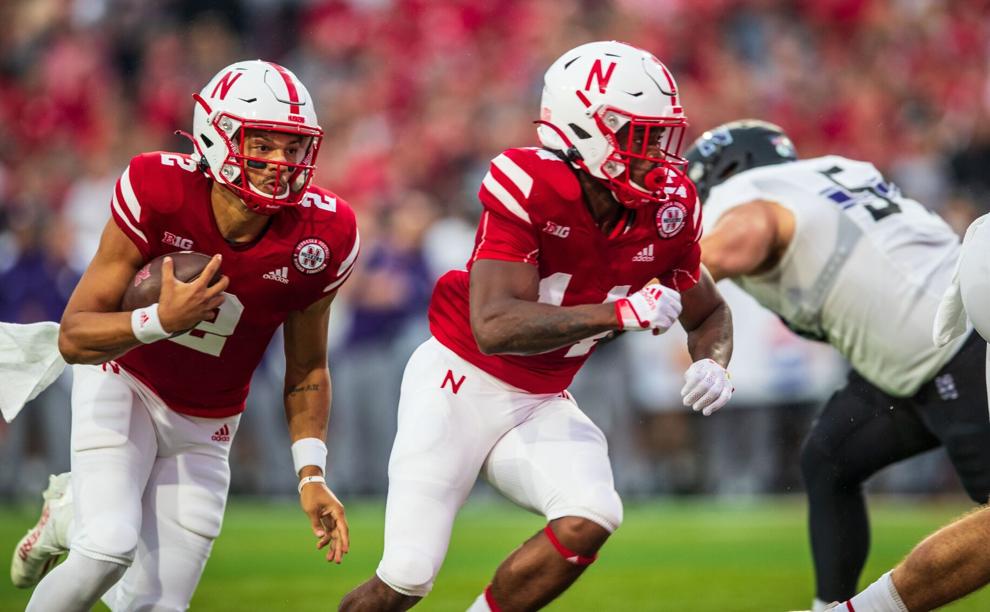 It helps the between-the-tackle runs, too. As the pitch play has become more dangerous, the dive guy has more room to operate should Martinez shove it in his belly.
"The linebackers and those guys have to be aware of (the option) and they can't just pin their ears back, get downhill and create havoc every single play," Lubick said. 
In recent weeks, Lubick said, Nebraska has built on its early success in the Fordham and Buffalo games with new formations and new personnel groupings.
At Michigan State, Falck motioned from the short side of the field to the wide side out of a tight, three-wideout formation. A defensive end stayed home for the fake dive to Johnson while Martinez pressed a defensive back to choose between quarterback and receiver. Martinez pitched to Falck for a 12-yard gain. On Betts' 83-yard run, the Bellevue West grad motioned from the short side of the field, but the option went right back to the boundary, with tight end Travis Vokolek coming across the formation for a kick-out block.
Martinez usually carries out the keep portion of the play a long time. Not with Betts. After faking to Johnson on an outside zone, he pitched almost immediately. And Betts, a race car in red coming out of a turn, zoomed away.
"We thought we knew exactly what they were doing," Fitzgerald said, "and obviously we didn't do a great enough job coaching it and teaching it and adjusting to it in game to be able to take away the triple option to the boundary when they brought the tight end back."
The Huskers are running other forms of the pitch option, too, including a two-man speed version, with some counter steps from the quarterback that get linebackers flowing the wrong way. NU has built pass plays off the option, too.
On one, the receiver runs a swing route on the same route as an option pitch. Another is the more classic step-back option pass that resulted in a 14-yard gain to Vokolek at Oklahoma.
"Things kind of build on top of each other where you can give it different looks with different formations," Lubick said. Nebraska can't stop innovating, either, Frost said. There are "smart people in this league" who will keep adjusting to the scheme.
Can officials? There's a question.
A late touchdown against Buffalo was taken off the board because referees ruled backup Logan Smothers executed an illegal forward pitch. Falck's 12-yard gain at Michigan State was reviewed for being an illegal forward pitch, too.
"I said to one of them that I've never seen a pitch that's even close called for a forward pitch," Frost said. "Hopefully, we don't get that call again."
Touchdowns? Nebraska will take those.
"When something's working you want to let it keep working," Lubick said.