LINCOLN — Mohamed Barry stood next to a dumpster just outside Ohio Stadium and reflected.
"We a different team," Barry said last year. "We know we should beat them. That's a great feeling. Because that's how it should be at Nebraska. We shouldn't say, 'Oh, that's the No. 10 team.' We should beat them in the Horseshoe. We should beat Ohio State."
The bravado of Nebraska was back. The momentum of the season seemed to be swinging the right way, despite the 36-31 loss and 2-7 record.
But that was the No. 10 team in the country, and Nebraska had a shot to win it with a true freshman quarterback and a risk-taking play-caller as coach. Things were trending correctly. And maybe — just maybe — Scott Frost's proclamation to Sports Illustrated before his first game at Nebraska that Year 2 would be the year things took off would become true.
One year and mountains of incorrect prognostications later, Barry approached the postgame podium after a 41-point loss to the same program. He bit his bottom lip. His eyes watered. His stare cold, and furious.
"I will say that they were better, way better than they were last year," Barry said. "It's real disappointing."
There's a graphic in the lower left corner of the Memorial Stadium video board. It's three lines, and the color is split. How much red and how much of the opposing team's color depends on the split of total yards, passing yards or rushing yards.
Last year, the line would've been split down the middle, favoring Ohio State slightly. But Nebraska was closing in on the Big Ten's finest.
On Saturday, by the third quarter, the gray overwhelmed the red. It took up 90 percent of the line to the tune of 500 yards of offense for the Buckeyes and 97 for the Huskers.
Nebraska, again, finds itself far behind.
"Those guys are really good, and we've got to do a better job," Frost said postgame. "All we can do to address that is practice, lift weights, recruit, run (and) get our technique better. That's what we're going to focus on."
But what happened to that team from last year, the one that turned NFL draft pick Dwayne Haskins over three times? What happened to the Husker team at the end of the 2018, the confident one that finished 4-2 and gave NU fans some hope? The one that boasted in the offseason how much bigger, faster, stronger and tougher they were, and how they were ready to take the Big Ten West?
Where was that team against Ohio State on Saturday?
"I really couldn't answer that," captain Matt Farniok said. "Whatever it was, I know we practiced our ass off and we worked hard. Whatever it was, we just weren't clicking as well as we were when we went out there last year."
Part of Saturday was the difference between a program at the height of its powers and a program still trying to find its footing. The teams that lined up across from each other 10 months later were significantly different.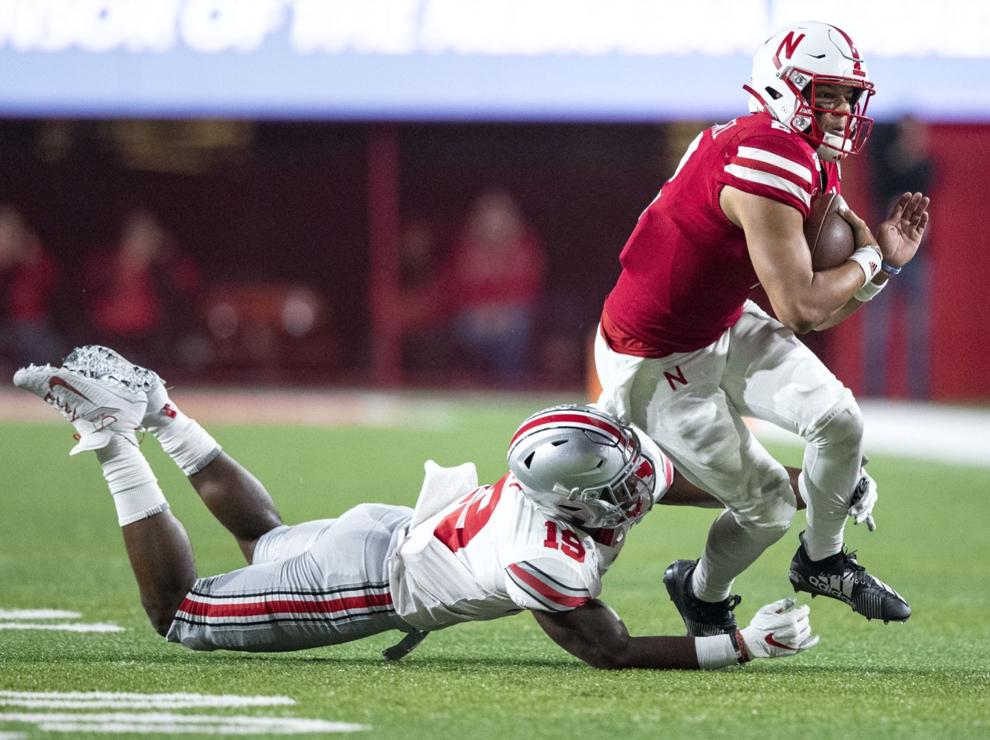 Ohio State replaced 11 starters from that 2018 team. Nebraska replaced 10.
Ohio State had to replace NFL draftees in Haskins, receiver Parris Campbell, receiver Terry McLaurin, defensive tackle Dre'Mont Jones, corner Kendall Sheffield, center Michael Jordan and running back Mike Weber. Nebraska didn't have a player drafted for the first time 56 years, but lost a 1,000-yard receiver in Stanley Morgan and 1,000-yard rusher in Devine Ozigbo.
The Buckeyes reloaded with three former five stars and six former four stars. The overall average position ranking out of high school for the 11 new Buckeyes was 33.5, including The 11 new Buckeyes included the No. 1 quarterback, No. 2 offensive tackle, No. 2 tight end and No. 1 corner in their respective classes.
Three of Nebraska's 10 new starters were four stars. The average star ranking of the newbies was 3.2. And one of the four stars was Cameron Jurgens, who had that ranking as tight end. He's now playing center for the first time in his life. The average position ranking of Nebraska's 10 new guys was 52.7. 
Ohio State can rinse and repeat. Nebraska has to lean on a true freshman receiver for most of its offense with a sophomore running back constantly knicked up and find a way to give a sophomore quarterback time to throw with a tight-end-turned-center and former walk-on at left guard.
Which could be why, instead of the high-functioning offense promised in the fall, Nebraska scored seven points — the fewest since Nov. 5, 2017.
The 62-3 loss at Ohio State.
"It doesn't do us any good to worry, concern, doubt or any of the things you guys are saying, that's not what our team's going to do," Frost said.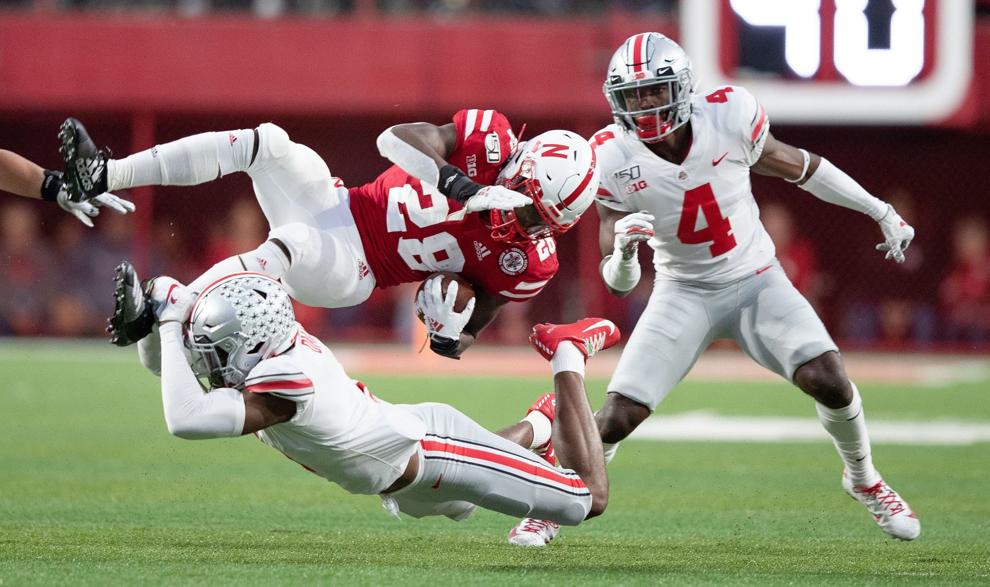 But talent is one thing. Another disappointing showing against a better opponent is another.
North Carolina's four-year recruiting average is 27.5. Nebraska's is 22.5. Mack Brown is in his first season at North Carolina, taking over a program that went 3-9 and 2-9 the past two years.
On Saturday, Brown and the Tar Heels lost to No. 1 Clemson 21-20.
Nebraska etched itself into history with the largest margin of defeat on a "College GameDay" location.
Through 17 games, Bo Pelini had 12 wins. Bill Callahan had 11. Mike Riley 10.
"You're never as far along as you want to be," Frost said. "I'm sure if you ask (Ohio State), they're not as far along as they want to be. Obviously, I wish we were undefeated and have won every game by 100 points, but that's not where we are."
Photos: Nebraska hosts Ohio State