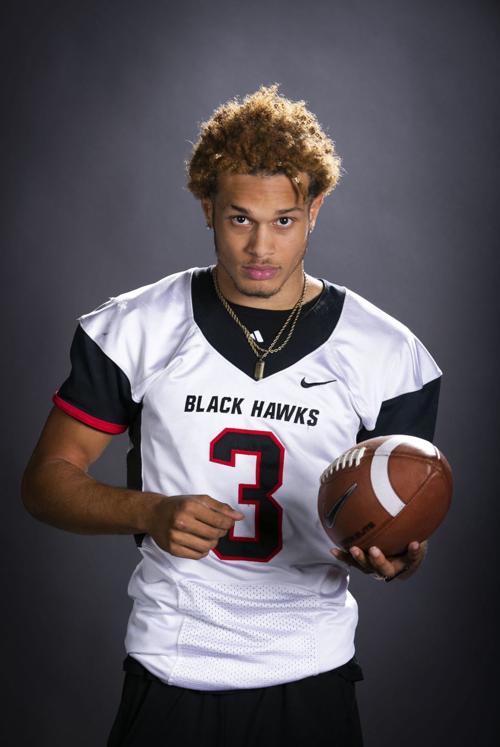 Noa Pola-Gates kept his secret all week. He didn't tell coaches or reporters. Not even three future Nebraska teammates.
The four-star safety had his chances to reveal the news leading up to and during the All-American Bowl in San Antonio earlier this month. He had already signed with the Huskers.
NU offensive line commit Bryce Benhart bearhugged Pola-Gates outside the team hotel and jokingly asked if he needed to stuff him in his bag and take him to Lincoln. Running back Wandale Robinson told him the only way he would forgive the crushing hit he absorbed during the game was if the defensive back joined Nebraska.
Even Ty Robinson, the defensive lineman who knew Pola-Gates from playing at a rival high school in the Phoenix suburbs, wasn't sure where Pola-Gates was headed, though he had his suspicions after a week of being randomly assigned as his roommate.
"It was pretty hard, I'm not gonna lie," Pola-Gates said. "But I had to stick to the plan."
Sign up for World-Herald news alerts
Be the first to know when news happens. Get the latest breaking headlines sent straight to your inbox.
That plan was to fulfill a lifelong dream by picking a hat to announce his college choice on national television. Doing it last weekend from the Polynesian Bowl in Hawaii to honor his Samoan-American heritage made the moment even more special.
For Nebraska, landing Pola-Gates over powerhouse programs like Alabama and USC is a sign of the persuasive power of Scott Frost and visits to Memorial Stadium on game days. It prompts hope for the return of a Polynesian talent pipeline that treated the program so well into the 1990s and early 2000s before drying up.
But Pola-Gates ultimately signed with the Huskers with family in mind. He thought of his cousin, Keana Pola, a NU softball commit. Of Javin Wright, a 2019 defensive back signee from Arizona he considers a best friend. Of the connection he felt with coaches and players that has lingered on since his last visit to Lincoln.
Moving more than 1,200 miles from home and believing he can be a big part of a Nebraska turnaround? It fits his reputation as a hard-hitting safety who attacks doubts and ball carriers with the same violent indignation.
"I just go in trying to represent the name that's on my back the best that I can," Pola-Gates said. "When I go out there, I just play the way I play and don't really think about it. I go into everything fearless and just love being out there. I feel at home on the field."
Family matters
His full name honors his ancestry. And yes, he's seen it misspelled more than a few times.
Noa Talati Manuolefoaga Pola-Gates (Ta-LA-tee Mon-OO-oh-le-foe-AH-gah). A spirit animal that flies over the mountains and protects the village.
It's funny, said his mother, Amy Pola-Gates, because that's how Noa is. When Texas coaches came to watch him run some drills, he called the quarterback and a receiver from his Williams Field high school team to help so they could get recruiting looks, too. When Utah reached out, the safety recommended teammates to the staff.
"I tried to teach my kids to live the island lifestyle," Amy Pola-Gates said. "Family first. Try to keep your circle small but still be welcoming to other people. Noa's always trying to look out for everyone else — that's kind of his feature and naturally who he is. Sometimes to his own detriment."
Noa's father, Mickey Gates, is African-American. His mother's Samoan background boasts a notable athletic history.
One of Amy's cousins is former USC and Pittsburgh Steelers star safety Troy Polamalu. Pola, Noa's cousin, is a standout softball player. Another cousin is current USC safety Isaiah Pola-Mao, whose brother, defensive lineman Matthew Pola-Mao, will fly from Arizona to Nebraska for an official visit this weekend.
Noa Pola-Gates has an older brother and sister who were successful high school athletes, but neither of them can say they had coaches like Alabama's Nick Saban dropping by for in-home visits.
No matter how big Pola-Gates gets, though, he'll continue to fulfill a promise he made to his mother from his earliest days playing football. After a hard collision — like the one with Wandale Robinson in the All-American Bowl — he will signal to her he's OK. Or else.
"That's our deal," Amy Pola-Gates said. "If he's gonna hit like that and he doesn't turn around and tap the top of his helmet, I'll be on the field in a couple minutes."
Greatest hits
Steven Campbell wasn't sure how his secondary would hold up against Cal Bears quarterback commit Spencer Brasch on a Friday night in October. Then the Williams Field coach watched as his safety changed the game on the first possession.
As Brasch took off on a scramble, Pola-Gates closed fast and leveled him. The QB's numbers that night — 8 for 25 passing for 97 yards and nine carries for 19 yards — were well below his standard in the Black Hawks' win.
The 5-foot-11, 180-pound Pola-Gates was versatile in 12 games last fall. He returned kickoffs, carried 15 times for 139 yards and made three catches — all touchdowns — for 200 yards. He logged 57 tackles, five interceptions and seven pass deflections as a safety and corner.
But the ferocious tackling — especially in run support — is where he leaves his biggest mark. Williams Field had to add rules against hitting at practices after Pola-Gates steamrolled one of his best friends on an inside seam route as a junior.
"The physicality that he has is what's elevated him," Campbell said. "He has the coverage skills and he's long, but there's a lot of guys like that. He has that combined with a love to hit and a love to tackle."
Ty Robinson heard the pop of Pola-Gates' collision with Wandale Robinson more than he saw it at the All-American Bowl. He'd heard the sound before. In a game between Higley and Williams Field in October, the lineman recalled a rangy defensive back no one wanted to challenge. Brasch, that QB who took the hit from Pola-Gates, was his teammate.
"He's a headhunter," Ty Robinson said. "When we played each other, he was coming for heads. For how skinny he is, he's really powerful."
Once, an intended punishment from a Pop Warner coach backfired when the child who wasn't listening was forced to play a game on the defensive line. Instead of being stonewalled, Pola-Gates celebrated seven sacks.
Pola-Gates and his mother trace the bruising trait to Matthew Pola-Mao, his cousin who measures 6-2, 295 pounds. The two are 19 days apart in age and often shared a crib as infants when Amy's sister worked nights. Raised like twins throughout a childhood of games and competitions, Noa was always outsized by Matthew. Adapting was the only option.
"Noa plays with complete reckless abandon, and it's because of Matthew," Amy said. "He's not afraid to make big tackles; he's not afraid to go up against the biggest guy on the team."
Officially 'N'
There were so many nice touches. Runzas in the car that picked him up. Fairlife chocolate milk that had the aftertaste of a brownie.
The official visit to Nebraska in October for Frost's first win began as a way to support Pola — known as "KP" by family — who was on her official visit. It quickly turned into something more, as Pola-Gates hit it off with recruits and current Huskers.
"They literally hung out playing video games and laughed all night," Amy Pola-Gates said. "That's his vibe. At all the other places he was invited to parties. He just hung out with guys and talked football and talked crap to each other and had a great time."
Pola, a native of Santa Ana, California, who will likely be an infielder when she arrives in the fall, grew up seeing Pola-Gates a few times every year. But she had never seen him like he was that weekend.
Now the two will live in the same dorm. One of their second cousins, Kendra Mamea, is a volleyball player at nearby York College.
"God, our faith and family is always before anything else," Pola said. "The fact that I have family at Nebraska is something that excites me as well. I didn't have to do much convincing with Noa because the people there made him feel comfortable and at home.
"He said he's never seen fans like that."
Pola-Gates was recruited relatively lightly through his junior season. When Frost made him one of the first 20 players he offered from the Class of 2019 on Jan. 17, 2018, the other offers he held were from Memphis and in-state schools Arizona and Arizona State.
But by the fall, he was working through other official visits to Penn State, ASU, Alabama and USC. Turning down the hometown team and the Trojans — with multiple family ties — wasn't easy. One reason he trimmed the Tide in December, he said, was because they didn't respect his wish to announce in Hawaii after the early signing period.
"They tried to push me to get me to commit early," Pola-Gates said. "But I was holding to commit at the Poly Bowl and they were kind of upset about it. But it's not their recruiting process, it's mine."
Nebraska solidified itself with an in-home visit in December that lasted upward of six hours and included Frost, defensive coordinator Erik Chinander and DBs coach Travis Fisher. Amy Pola-Gates said she mostly remembers Fisher and her father, "an old Samoan grumpy guy," hitting it off and laughing in a corner for an hour.
Noa Pola-Gates only played about a quarter of football at the Polynesian Bowl after hearing his ankle pop while backpedaling during a play. Back in Arizona, he'll undergo tests this week but doesn't believe it to be serious. NU quarterbacks coach Mario Verduzco, who recruits the area, is scheduled to visit him Thursday.
Letting go of his big secret has been a relief. He expects cutting loose on Nebraska's field to feel the same way.
"Sometimes I still don't even realize that I'm college material," Pola-Gates said. "I just love the game so much; I love playing it for fun."