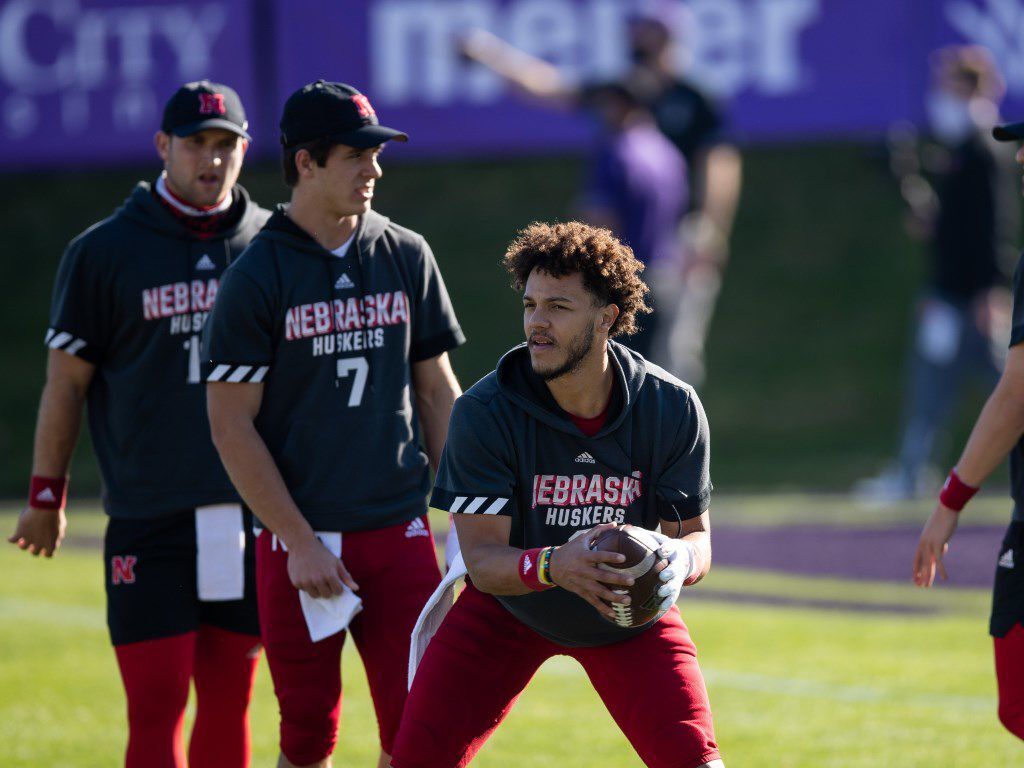 LINCOLN — The starting quarterback job at Nebraska is up for grabs, and that may not be the only position group in flux after an 0-2 start.
Quarterbacks are in the spotlight, though. Three-year starter Adrian Martinez struggled for three quarters against Northwestern, and Scott Frost pulled him in favor of redshirt freshman Luke McCaffrey, who led two Husker drives deep into Wildcat territory. Neither produced points, but McCaffrey was a "spark plug" for an offense whose engine rarely revs.
Now they'll both compete this week to see who takes the field first against Penn State.
"Those are both great human beings and really good football players and we trust them both," Frost said Monday. "We rely on both. They'll both handle the situation well and I hope they both come to compete." 
Martinez leads the team in rushing this season with 187 yards, and he had a team-high 102 on Saturday. But he was just 12 of 27 passing the ball, and he was pulled after a costly third-quarter interception. Martinez was visibly hesitant against what Frost believes may turn out to be the Big Ten's best overall defense.
"There needs to be some decisions that are made a little quicker and more efficiently," Frost said of Martinez. "And then there (were) a few balls that were just errant or out of bounds that needed to be put on the money. But, for the most part, I think it's just processing information quickly, getting the ball out on time where it's supposed to go at a better clip."
At Nebraska, this quick-processing trait is called being a "fast blinker." It's one of NU's priorities on the recruiting trail.
Under new offensive coordinator Matt Lubick, the Huskers tweaked their schemes and read progressions to make a slightly new approach for quarterbacks. Tight ends are getting targeted more. Quick outs are more frequently available. Several times Saturday, a backside slant route became a primary option. Martinez had one of those slant passes dropped and another was batted down. 
He completed just 44.4% of his passes Saturday. That's the second-lowest completion rate in his career for one game, but accuracy struggles aren't new. In seven of Martinez's previous 12 starts, he completed fewer than 60% of his passes. As a true freshman, he was above 60% in seven of his 11 starts.
That precocious first season gave Martinez Heisman Trophy buzz and allowed NU to redshirt McCaffrey, who appeared in four games last season and had big roles in a win over Maryland and losses to Indiana and Iowa. Frost even inserted McCaffrey on the fly into the final drive against Iowa for a play, sparking intrigue about how Martinez, McCaffrey and Noah Vedral might compete for the job in 2020.
Vedral transferred to Rutgers, where he now starts. Martinez and McCaffrey battled in a training camp delayed and modified by the coronavirus pandemic, with Martinez emerging the winner. By the third play of the season opener against Ohio State, Martinez was handing off to McCaffrey as a tailback. At Northwestern, McCaffrey sat for three quarters until Frost tabbed him to finish the game.
McCaffrey made some mistakes. An interception at the Northwestern goal line happened because he threw the ball too low, and on the previous snap he changed the play call in a way that led to tight end Travis Vokolek blocking the wrong person. But McCaffrey did lead drives that racked up 158 yards in the fourth quarter.
"He's just got energy that exudes out him, and I think people rally to that," Frost said, adding that's why he switched quarterbacks.
Frost is also clearly mulling over what to do at receiver, where freshmen Marcus Fleming, Zavier Betts and Alante Brown continue to push under-the-radar starters Kade Warner, Wyatt Liewer and Levi Falck. Fleming and Betts played major roles in the fourth quarter, but have yet to learn the full breadth of the playbook. Frost even noted that some of the receivers enter the game based on the plays called. Because NU desires to run a no-huddle, fast-paced offense, receivers sometimes have to rattle off six to eight plays in a row.
"We're going to be a really good team when all our guys are capable of running the whole thing," Frost said. "Then we won't have to substitute, then we can have the best guys on the field all the time, whoever that is. Just because of some of the factors, those guys, in our opinion, aren't quite ready to digest the whole game plan yet. We're working to get there." 
At stake: The identity of Nebraska's offense, which under Frost is supposed to embrace a fast pace and produce big plays. Through two games, NU has just four passes of 20 yards or more and none of 30 yards or more. Only Northwestern has a pass attack that modest.
"Too many of our explosive plays have come with quarterback runs," Frost said.
McCaffrey, from tailback, has the year's longest run at 47 yards, while Martinez has some scrambles and quarterback draws that have gone over 15 yards.
"We need to create some runs with running backs, we need to create some plays downfield," Frost said. "It's hard to sustain and make 12-play drives go, because one thing can go wrong or a defense can make a play. We've got to create some big plays. We've got the guys in the program now who I think are capable of doing that."
Who conducts the Husker orchestra? That'll be determined by week's end. Neither Martinez nor McCaffrey talked to the media Monday. The one offensive player who did, Warner, said the team has "unwavering belief" in both players.
Martinez is one of the hardest workers on the team, Warner said, and will correct his mistakes. McCaffrey, meanwhile, is "always ready."
"You know Luke," Warner said. "He's ecstatic, he's electric. He knows what he's doing."
Frost may be ready to give McCaffrey the job, if he earns it in practice. The third-year Husker coach — who admitted Monday he puts "too much" pressure on himself to win at his alma mater — also leaned into Nebraska finally playing with the kind of swagger and breakneck pace he oversaw at Central Florida, which had an undefeated season under him. The defense, often beleaguered in previous years, is ready to be paired with that kind of offense.
"Part of the reason we haven't gone 'light speed' around here is we didn't leave the defense on the field that long," Frost said. "I'm really impressed and happy with how they're coming along. That'll free us up to potentially get more aggressive with tempo on offense."
Freedom week at Nebraska could produce some interesting results.