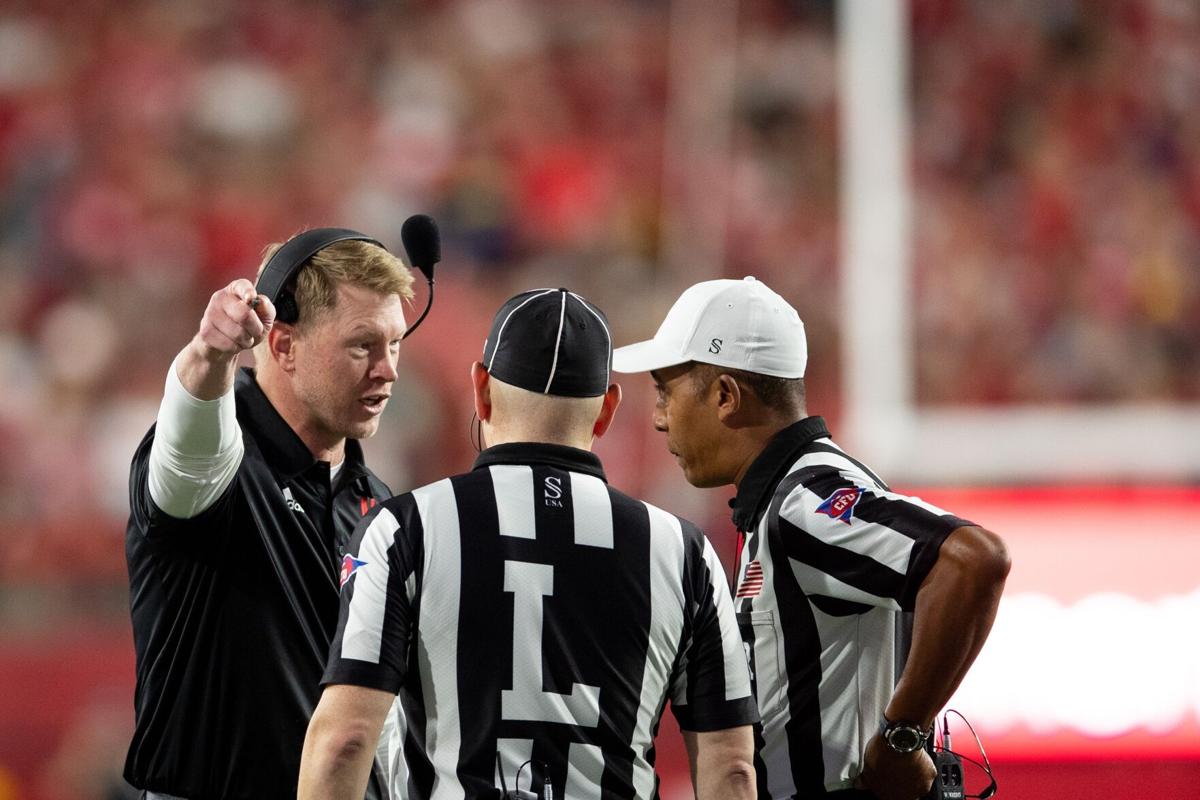 LINCOLN — It was 15 minutes the referees would probably like to forget.
Three times on an 87-yard Michigan field-goal drive, Big Ten officials had to review spots called on the field. All three times, they were wrong.
The first overturned spot benefited Michigan, turning a fourth down into a first down. The last two benefited Nebraska, as overturns on back-to-back plays wiped Michigan touchdowns off the board.
The third and final of those overturned calls brought a loud cheer to Memorial Stadium.
On that play, running back Hassan Haskins leaped into the end zone for an apparent touchdown. As Michigan lined up for the extra point, a furious Scott Frost stood near the field of play arguing with officials. Frost thought the knee of quarterback Cade McNamara was down before Haskins received the handoff.
Replays shown on the stadium's big screen confirmed it.
Officials ruled McNamara was down at the 3. Instead of attempting a fourth-down play, Michigan coach Jim Harbaugh opted for a field goal to take a 6-0 lead.
One play before that overturn, Michigan had another touchdown nullified by the replay booth, which ruled Haskins' elbow was down before he stretched the football over the goal line.
The first replay came on Michigan's side of the 50 on a play that could best be described as chaotic. On third-and-1 at his 43, Haskins was hit behind the line of scrimmage by defensive tackle Damion Daniels — who was being held — before spinning and falling forward 3 yards for a first down.
But officials seemed more focused on whether Michigan had an illegal formation on the play. They decided UM did not but also marked the ball at the 43 for no gain. After Harbaugh complained as loudly as Frost — and even called timeout for the review — the booth overturned the call and gave the Wolverines a first down.
The drive served as a microcosm for a messy, long first half full of flags, booing fans, frustrated coaches and booth reviews — many of which favored Nebraska, including a Martinez incomplete pass that was originally ruled a fumble.
The call that helped Michigan finally put a first-half touchdown on the board appeared to be a questionable defensive pass interference on JoJo Domann, who was ruled to have stopped a receiver from pursuing McNamara's pass into the end zone. That penalty set up Michigan at the NU 3. Haskins scored a touchdown from there.
All told, officials threw nine flags in the first half. Four on Michigan and five on Nebraska, including one for "disconcerting signals." That call officially meant NU tried to mimic the cadence and/or clapping of the quarterback.
At game's end Frost said, multiple times, he wasn't interested in talking about officiating.
---