On a tarmac on the eastern edge of Georgia, Scott Frost asked Kurt Farmer if the pilot could fly any of the airplanes around them.
"Sure can," Farmer replied. "I bet I can teach you to even land one."
The Nebraska football coach laughed at the notion and boarded the twin-engine Cessna Citation V. The idea of Frost setting down planes — and the easy back-and-forth between football coach and pilot — is part of the fun for two professionals with high standards in their respective jobs.
Frost has places to go. And wherever they are, Farmer or his colleagues are usually the ones taking him.
On this Wednesday afternoon in late November, Frost had stopped in Savannah, Georgia, to offer a scholarship in person to a receiver prospect named Winston Wright and was now headed to Gadsden, Alabama.
Farmer soon had the plane in the air heading northwest. While Frost prepared for his visit with pass rusher Jamin Graham — an eventual Husker signee who would say the face-to-face meeting was a factor in his decision — Farmer manned the cockpit for the 63-minute trip.
A few hours later, Farmer logged the only last-second addition to his weeklong travel with Frost when the coach asked to land at a small airport in Greer, South Carolina. Farmer later learned that the reason was Jimmy Fritzsche, a 6-foot-7, 240-pound offensive lineman whom Frost persuaded to make an official visit to Nebraska. The timing proved to be critical: Nearby Clemson offered Fritzsche the next day, but the prospect would wind up choosing the Huskers.
Frost's air travel became legendary in December 2017, when he was pulling double duty as the head coach at both Central Florida and Nebraska. During one particularly long night, he flew across the country to see a star quarterback in California he wanted in Husker red, then made it back to Orlando, Florida, to run another practice for the Peach Bowl. That QB, Adrian Martinez, committed to NU the next day, and Frost's UCF bunch upset SEC power Auburn a few weeks later. Both outcomes were fueled by 5,000 miles and 14 hours of flight time that night.
Air travel, of course, is nothing new for big-time football programs. A low-population state, Nebraska has traditionally been a nationwide recruiter. The ability to fly quickly, and basically anywhere whenever necessary, is of particular importance when attempting to secure high numbers of competitive athletes.
Frost and his staff continue to fly the friendly skies, compiling a consensus top-20 recruiting class for 2019 in large part because of air travel. What is it like to be on a plane with the head Husker as he builds a roster that fans won't see until next fall?
For Farmer and many of his colleagues at Lincoln-based Silverhawk Aviation, the cross-country recruiting trips are an intersection of their passion for flying and football. And the Nebraska coach has been on their runway a lot in the past year.
"When I saw I was going to fly the coaching staff, I was just excited for it," the 27-year-old Farmer said. "It was cool. Not star-struck or anything like that. But for me growing up, it was Scott Frost running everybody over, the option. The fact that I got to fly him and his coaching staff was absolutely amazing."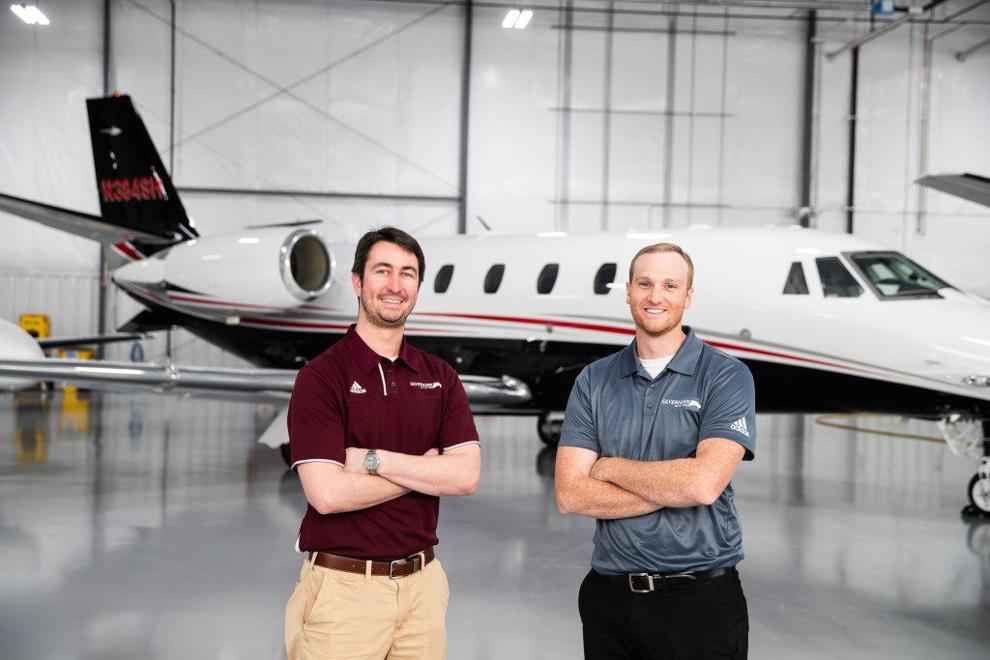 Frost's preferred planes could be mistaken for official Nebraska planes from a distance. Tails painted black with red numbers. Black underbellies and white tops, with wispy red and gray lines across the middle.
Silverhawk Aviation owns roughly 15 aircraft, and nine can usually fill the needs of Nebraska coaches. Seven are Citation Vs or Ultras, which require larger passengers to squeeze a bit as they maneuver through the aisle and slouch in their seats if they're close to 6 feet tall. Step into a speedier Citation Excel — the company has two — and it's easy to see why a former NFL player like Frost asks for the roomier option for multiday stretches during NCAA recruiting contact periods.
Each model accommodates up to nine passengers and is equipped with wireless Internet. Gray leather seats swivel into the aisles. Guests can make special snack requests, though Nebraska coaches go with default options like water and peanuts.
Silverhawk flies a variety of clientele. Lincoln cardiologists to see patients across the state. Families to vacations in the mountains or at the beach. Husker representatives are right near the top when it comes to being low-maintenance, Silverhawk Director of Operations John Geary said.
"The level of appreciation that they show is astonishing," Geary said. "It's cool. They try to purposely remember all the pilots' names. We only have 30 pilots that are doing this. It's still cool to see over the different weeks that they ask about you and they care."
When Farmer told Frost that he was from Columbus, the coach wanted more details. Columbus High, Scotus or Lakeview? (Answer: Columbus High.) The pilot smiled recalling a fist bump he shared with quarterbacks coach Mario Verduzco after one landing, receiving the compliment, "You guys are awesome."
Sign up for Big Red Today news alerts
Get a daily Husker news roundup, recruiting updates and breaking news in your inbox.
Flying privately means enjoying efficiencies that commercial travelers can't. After a 15-minute drive from Memorial Stadium, coaches walk through the front lobby and directly to a waiting plane. A rental car is ready upon landing, with only a signature required.
And while Frost — and maybe an assistant or two — hits the road to see a prospect, the pilots run through their post-flight checks and begin to prepare for the next leg of the journey.
"(Coaches) get there and they might say, 'We'll be here for an hour and a half,' " Farmer said. "We're expecting them to be back in half an hour just in case. We want to make sure they're not waiting on us ever, because this is a big deal for them. They're on a time crunch, and they gotta keep their schedule."
Farmer's week with Frost included 13 hours, 18 minutes of actual flight time and 4,919 total miles across 12 stops. He learned that the food is delicious in Gadsden and DeRidder, Louisiana (where Frost checked in on Husker offensive lineman commit Matthew Anderson).
The only glitch all week was an aborted trip to Chamberlain, South Dakota, that Friday afternoon. With the plane in Lawrence, Kansas, for Frost to see Class of 2020 lineman prospect Turner Corcoran, the coach hoped to visit another 2020 recruit in lineman Nash Hutmacher that afternoon.
Alas, a low cloud ceiling didn't give Farmer enough visibility to legally land in Chamberlain, and diverting 70 miles east to Mitchell wasn't an option for Frost so late in the day.
"It was a time thing for them and a weather thing for us," Farmer said. "It just didn't match up, so we went back to Lincoln from Lawrence."
---
Flying with Frost
This map details every flight Scott Frost took for recruiting from Nov. 25 to Jan. 25. Altogether Frost spent more than 55 hours in the air and covered more than 20,000 miles. Each point represents a destination airport and includes the time of arrival and departure (in central time) plus a notable recruit Frost visited (when that information was available). Sometimes Frost would spend days in a city, visiting prospects at multiple high schools. Other times he'd only be there for a couple hours to meet with a recruit, then hop back on the plane for another flight. The different colored lines represent one trip beginning and ending and Lincoln. Mobile users are encouraged to click here for a more user-friendly version of the map.
---
It wasn't long ago that Verduzco did almost all of his recruiting within driving distance as an assistant at Northern Iowa. He mostly travels commercially now.
But even that pales in comparison with the speed and efficiency Frost achieves with private flights. His trips — creating a Husker version of Air Force One — provide a stable core for a series of complex schedules as NU's coaches scatter across the nation.
Two days after Nebraska ended its season with a Black Friday loss at Iowa, Frost and four assistants boarded the Citation V to visit commit Garrett Nelson in Scottsbluff. Some were on their phones recruiting. Some read the newspaper. Some grabbed a quick nap.
"There's a little bit of work on those flights," Verduzco said. "Most of the stuff is already taken care of."
The group next went to Denver, visiting quarterback recruit Luke McCaffrey before assistants Barrett Ruud and Verduzco disembarked. Jovan Dewitt and Greg Austin went their own ways in Atlanta, leaving Frost to do some solo recruiting in the Southeast. D-line coach Mike Dawson hopped on following a stop in Houston.
Sometimes, things don't go as planned. When coveted running back target Wandale Robinson tweeted out a Dec. 10 picture of himself at his Frankfort, Kentucky, home with Frost and seven assistants, it was supposed to include Verduzco. But the QB coach had taken a risk: Instead of boarding the private plane with the staff, he wanted to first stop in Denver to see McCaffrey again. His commercial flight out of the Rocky Mountains was delayed.
Verduzco said he looks out for his larger colleagues when part of a bigger group on the private plane.
"For Jovan and Daws — and I consider Frosty and Barrett bigger guys because I'm just a little runt — it's just a little bit more difficult," Verduzco said. "I always make sure I take a position on the plane where I'm taking up the least amount of space and let those guys stretch out their legs."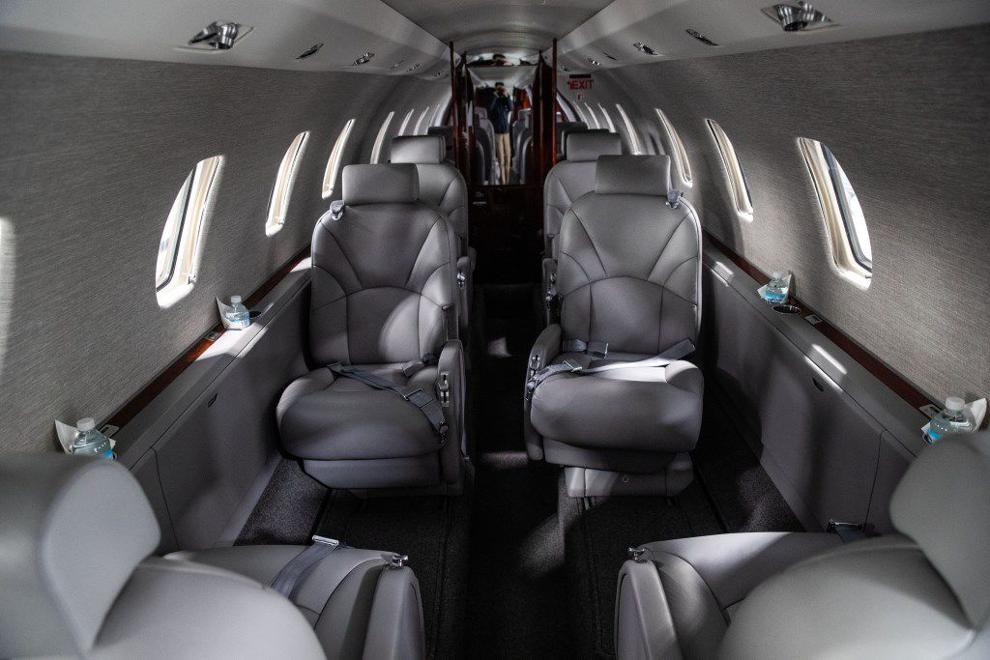 Frost and Verduzco's trip to Fresno, California, to see Martinez on Dec. 12, 2017, was unusual for coaches and pilots. By rule, pilots are limited to working no more than 14 hours in a 24-hour period before resting for 10 hours. So the coaches had to watch the clock in Fresno if they wanted to be back in Florida for morning practice.
The coaches made it back to the plane with 15 minutes to spare. When they stopped to refuel in Lincoln, Silverhawk made an unusual accommodation by swapping out the crew before continuing on.
Indeed, most recent Husker football flying stories include the company formerly based in Seward. Geary, who has been with Silverhawk for four years, flew Bo Pelini and Mike Riley. He was in the cockpit of a donor plane that Nebraska quietly ordered to Washington state at the last minute in October 2017 — and he was among the first to see who NU's new athletic director was when Bill Moos emerged into the cabin.
Silverhawk also flew Frost and some assistants to Nebraska when the coaching hire became public Dec. 2, 2017. At one point during that trip, the plane-tracking website FlightAware.com showed the destination as Beatrice — prompting some fans and members of the press to head that direction — before diverting to Lincoln.
Geary, a California native who has lived in Nebraska for seven years, said such a late switch would have to be planned in advance.
He joked that he is still learning how big of a deal the Huskers are in Nebraska and why such a maneuver might be necessary for Frost to avoid hordes of press members.
"Everyone's talking about that," Geary said. "I'm like, 'Who would do such a thing, just to psyche out some people trying to get a photo?' "
Nebraska contracts primarily with Silverhawk, with one exception being when the athletic department needs to charter a plane for an entire sports team. It occasionally has flown coaches for recruiting in men's and women's basketball, as well as volleyball.
The company is involved in most NU travel even if coaches are using aircraft and pilots on loan from boosters. A new program called Husker Air Fleet initiated by Nebraska allows donors to help the athletic department offset costs of private flying through the use of assets like jet-card hours or their own personal planes. Donors can receive 100 percent tax deductibility on contributions or earn priority points for various benefits.
In those instances — usually on shorter trips — Silverhawk still verifies all the paperwork and assures that flight standards are met.
Geary said the general hourly rate for use of one of his company's planes is between $2,500 and $3,500, but Nebraska receives a discount. Trip costs can vary depending on factors like what an airport charges for landing fees, towing fees and fuel.
So those 13-plus hours Farmer spent in one week flying Frost to places like Georgia, Alabama, South Carolina and Louisiana ran about $32,500 on the low end and could have been as much as $45,500 — depending on the planes used — before the discount.
Yes, it's expensive, but it's also what it takes for the football program to play at the level fans expect and to fill a 90,000-seat stadium — which in turn helps generate the revenue to pay for it. All flying costs are covered by private donations or the NU athletic department, which is self-supportive and receives no state, university or student funds.
Since the recruiting contact period resumed Jan. 11, Frost has flown to Birmingham and Gulf Shores in Alabama, along with St. Louis and Denver. He made a  five-hour trip Monday to visit 2019 linebacker prospect Dylan Jordan in Pittsburg, Kansas, and spent more time last week in cities like Dallas, Oklahoma City and Las Vegas.
"It really is random," Geary said. "If you leave on a Friday, you have no idea what you're doing on a Monday. And even if you're told what you're doing on Monday on Saturday, that might change by Monday morning. It's an adventure."
The dry sense of humor Frost flashes in interviews shows up on the road, too. Geary laughed about the time a rental-car worker had Frost sign a form upon landing, then asked if he was related to the football coach.
"Yeah," Frost grinned, "I'm pretty closely related."
Farmer has joked with Frost that he would be happy to take some of his money on the golf course. The pilot was an infielder with the Nebraska baseball team during the transition from coach Mike Anderson and the Big 12 to Darin Erstad and the Big Ten, finishing his career in 2012.
Now Farmer can say he's been around some big-time football people too. If only all of his passengers were as easy to please as Frost, who carries just a duffel bag with him on many multiday recruiting trips.
"He says, 'As long as I have a fresh pair of underwear and socks, I'm good to go,' " Farmer said. "Makes our lives easier."