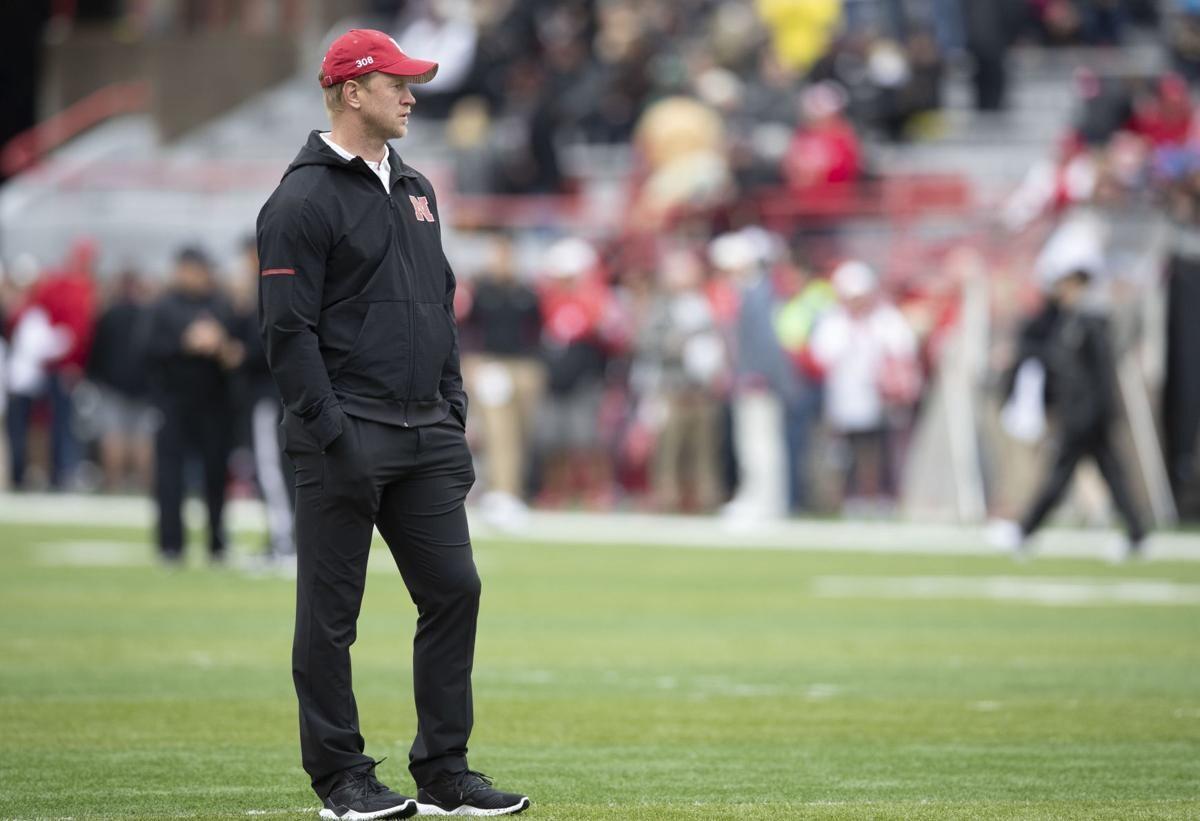 LINCOLN — Nebraska football coach Scott Frost fought for Big Ten football to return. Now that the rest of the league's presidents and chancellors agreed to do so, a long to-do for NU — and every other league program — awaits.
First up for Frost: getting his team in pads. It won't happen until at least Wednesday, when the conference is supposed to deliver all of its antigen tests to teams. Talking on the Husker Sports Network, Frost wasn't sure why teams had to wait until they got all the tests before starting padded practices — the Huskers already have 11-on-11 practices with as much contact as a nonpadded practice will allow — but NU is working with the hand it has been dealt. Even if Frost questions some of the decisions that have been made, he said it's "pointless" to question them.
"We're in good shape," Frost said. "I think our guys know their schemes well. It's going to be a matter of getting our guys in football shape and used to contact again."
Nebraska will "fast track" its usual camp prep, Frost said, to accommodate when NU finally gets pads on. Frost said he's unsure just how big the fall roster might be. Right now, the number is just over 150 — one of the biggest rosters in the nation — but concerns over COVID-19 positive tests and contact tracing may force the Huskers to trim the roster a bit.
"A lot of these rules seem to not benefit us at all," Frost said. "A larger roster is a Nebraska tradition and it's been an important part of being around here. We have a lot of rules — Title IX and others — that help ensure kids the opportunity to do what they love to do and compete, and it'd be a real shame to tell a number of guys that they can't be a part of the team for the fall, but we're waiting to hear a final answer on some of those things."
Frost is still waiting for answers on all the travel logistics, as well. The absence of fans, Frost hinted, may make some travel accommodations a little easier. Frost credited his operations team — led by chief of staff Gerrod Lambrecht — for navigating through various health and safety protocols over the past six months.
"They've put themselves at risk a little bit when we faced with a lot more uncertainty about what we were dealing with," Frost said. "I can't say enough about those guys and how valuable they've been."
So often in the past two months, Frost said, coaches couldn't give players clear answers about whether football might return in the fall or whether it would be pushed until next spring. NU didn't have any players opt out — one, freshman linebacker Keyshawn Greene, transferred to Florida Atlantic — but Frost noticed a drop in concentration from players while the season remained in postponement phase.
"It was hard to keep everyone pinned down and focused when they didn't know what they were working for," Frost said. "We certainly haven't had anybody opt out or say that they were going to go to the (NFL) draft early. Announcing football certainly helps. We have the vast majority of our team out there trying to get better."
More notes from Frost's chat on the radio:
» Scott's dad, Larry, died on Sept. 16 — the same day the Big Ten announced a return to football. Scott Frost called it a "tough" and "interesting" day. Larry Frost was a former Husker running back and a longtime coach. With his wife, Carol — one of the best athletes in the state's history — he coached sons Scott and Steve at Wood River. Scott was one of the top prep quarterbacks in state history.
"I couldn't imagine going through this without any faith," Frost said.
» Frost said he hadn't given much thought yet to captains for the 2020 season, but offseason workouts — many of which were optional — helped develop player leaders.
» The NCAA has decided that coaches can't recruit on or off campus until Jan. 1. Student-athletes can't visit with coaches in person, either. Frost isn't a fan of that decision, either.
"It's hard to recruit out of state when kids never have the opportunity to come see campus and come see our facilities," Frost said. "It's challenging for everybody; I think it's probably even more challenging for teams that are recruiting from longer distances. We're going to do the best we can with that. I think we've done a good job so far. But it certainly doesn't help us to not be able to bring kids to Lincoln."
Nebraska, like other schools, is doing its recruiting over FaceTime and Zoom calls.
» The stringent testing protocols, Frost said, have Nebraska "worried a little bit" because of the number of players who can be COVID-positive. Frost said the reopening of the Husker training table will help, he said, because diet helps bolster an immune system.
---
The 2020 Nebraska football schedule