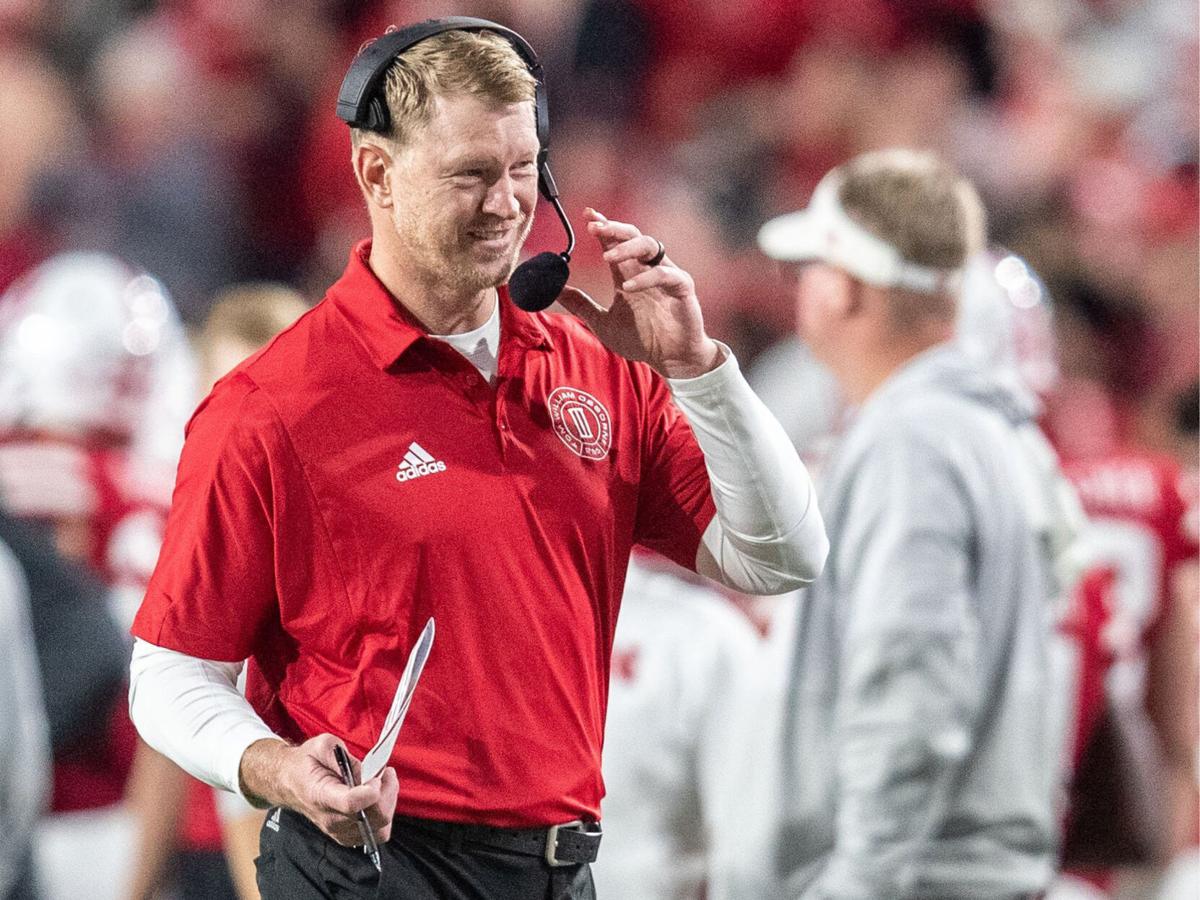 LINCOLN — Look what just arrived.
A package postmarked Orlando, Florida, and dated January 2018. Scott Frost opened it up and eight touchdowns fell out.
A coach, tired of self-inflicted defeats, stepping up and taking control of the situation. A major growth moment.
A Nebraska football season, for one night, filled with hope, fun and possibilities.
Nebraska 56, Northwestern 7. Oh, what a night.
Look what's on the way: A big game, the biggest in Frost's four years. Meesh-i-gan, with its name, helmets, ranking and legacy coach looking to right his ship.
This will be the most fun week in this little corner of the football world since Nebraska joined the Big Ten fraternity 10 years ago.
Next week, and the weeks after that, will tell us what this all meant.
But it sure looked like an arrival — of the Nebraska offense, the efficiency, the pace, the confidence and the coach that was promised when the native son came home.
Maybe those in the locker room. But honestly, after the way last week ended, again with maddening heartbreak, how could they have seen this coming?
It came quickly, with flashes of light, before the festive crowd was all in their seats.
Three plays, 75 yards. A 70-yard lightning-bolt pass play from Adrian Martinez that Samori Touré came back to catch. Two plays later, 7-0.
Next possession. Six plays, 78 yards. A 64-yard run by freshman Jaquez Yant was the headline. A second Martinez touchdown run, 14-0.
Next possession. Eleven plays, 64 yards. This one was more of a grind, until Martinez went right on a keeper and burst 25 yards for 21-0.
Bam. Bam. Bam. Before they could punt, before they could false start. Before anyone could seemingly breath.
On and on it went. Heads were spinning, from 10th Street to Rush Street in Chicago. This was Northwestern, button-down Pat Fitzgerald football. This doesn't happen to that program.
But sure enough, in the sixth game of the fourth season of Frost's Nebraska, it was happening before our eyes.
The scoreboard even blinked as it showed the damage: 427 rushing yards, 230 passing, 657 total. No, not vintage Northwestern. But it was still Fitz.
It was efficient. It was explosive. It was tantalizing.
Nebraska went wide. Zavier Betts went on an 83-yard streak down the sideline. Nebraska went up the gut. The receivers were like a diner, open all night.
So here it was, right? Finally.
The vaunted and heralded Scott Frost offense, direct from UCF land. Must have taken a wrong turn in Tampa four years ago.
We don't know. We'll have to wait and see. But oh, if this is it, hello 2021 season.
Give Frost the credit. He opened the package by unlocking the offense.
He started it last week by jumping in the middle of his offensive line issues. An offense can't run without it.
Frost turned up the heat on the big boys, then jumbled the room. Freshman Teddy Prochazka started at left tackle. Nouredin Nouili, the transfer from Colorado State who sat out last season, was at left guard.
Judging from the holes that kept opening, and the room to run, they won't be leaving the lineup anytime soon.
Four years. Two moves. And inserting Yant into the equation after seemingly none of the backs crowding the room would take over the position.
Football is a fragile game. An offensive line is like a Jenga puzzle. Sometimes you just gotta keep mixing and matching, and lighting a fire, before it will work.
And by Jove, Frost found a way to solve his special teams problem. Don't punt. Only one Nebraska punt all night and of course it went 84 yards off William Przystup's foot.
I haven't even gotten to the penalties yet, and it's almost not worth mentioning, except we highlight it when it's bad seemingly every week.
Two penalties, both offensive line false starts. Well, you know.
They were harmless, because by then back-up Logan Smothers was in the game, with 7:46 left in the third quarter and the Huskers up 49-7.
When's the last time that happened? Or a third-team quarterback, Matt Masker, got snaps in a Big Ten game?
This was the most points Nebraska has scored in a Big Ten game, the most since a 2008 trip to Kansas State, back in the old life.
It felt big. It felt amazing. It felt like an arrival, but again, we won't know that until the weeks ahead.
Here's what we know. Before Saturday night, Nebraska had a special defense, a quarterback playing terrific football and offensive line and special teams issues getting in the way.
By evening's end, the special defense was joined by an offense overflowing with answers, options and touchdowns.
And they looked mighty good together.
The result was the best game of Frost's four years at Nebraska. Until the next one.
---