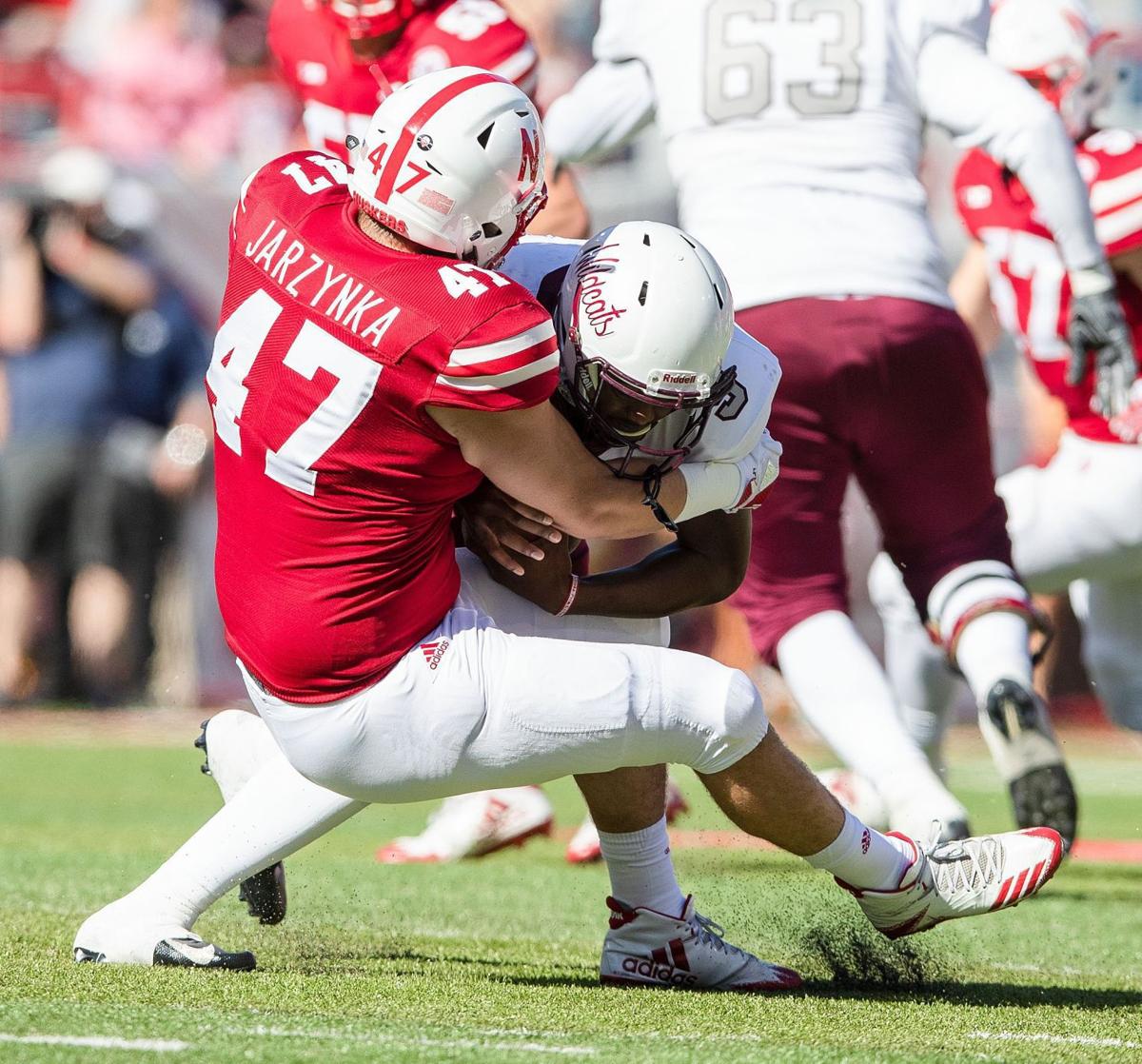 LINCOLN — So this is why Mother Nature rained on Scott Frost's parade.
And this is why, back on Sept. 1, there were a maddening seven straight hours of water and lightning that hung over Memorial Stadium, canceling the Akron game and throwing the first month of Frost's first season into a tailspin.
It was all there, on that beautiful smile on Matt Jarzynka's face, a smile that went from here to Loup City.
The chain of events happened so Nebraska could schedule Bethune-Cookman, an overmatched opponent from Daytona Beach, Florida, during its scheduled bye week.
And the Huskers could get up 38-3 at the half, and Frost could play the entire state of Nebraska in the second half.
Sign up for Big Red Today news alerts
Get a daily Husker news roundup, recruiting updates and breaking news in your inbox.
And a big kid — a Nebraska kid — named Jarzynka could fly off the bench and get into a game for the first time in five years.
And that walk-on defensive lineman from Loup City could make a move and beat his man and lock in on the quarterback, Jabari Dunham.
And so with around 10:30 left in the game, Jarzynka could sack the quarterback for a 6-yard loss. And No. 47 could jump up and celebrate, and a small cheer could go up from the Loup City section of Memorial Stadium, and a number of Husker fans would check their programs for No. 47.
They wouldn't find him. Jarzynka is so far down on the depth chart he didn't make the program.
But on Saturday, No. 47 was No. 1 in your hearts, Nebraska.
No, we wondered why the rains came that night, and why arrangements hadn't been made and Akron took off for the airport, and a game couldn't be made up.
But now we know, it was all so a Nebraska kid could have "the greatest experience of my life," and we would be there to share it.
It happened so Jarzynka could get the call in the Nebraska locker room to hurry up and get to the postgame interview room.
And the pride of Loup City could stand there, against a wall, facing a dozen or so reporters and TV cameras. His face beamed behind a bushy beard and beneath a black hat that read "Jarzynka Farms."
Thank you, Akron, for booking it to the airport.
If not, we might have had to play that game back on Sept. 1, and we would have missed out on an old story we used to know so very well.
We might not have been here to hear Jarzynka tell us that he has followed Nebraska football since he could walk. And that he used to work on the farm with his dad on football Saturdays and listen to the games. And how a Nebraska farm kid dreamed of putting himself in that radio, on that team, in that game.
"I finally got the opportunity to do that today," Jarzynka said. "I made the most of it."
My goodness, if not for the mother nature of all storms eight weeks ago, we wouldn't have known that Jarzynka toiled in obscurity for five years, through two coaching changes and scout teams.
Or that he had a chance to walk away last summer, when it was time for the senior to get serious about a career and take an internship with Gavilon, a commodity management firm based in Omaha. And how Frost and the coaches let him miss summer workouts to follow that part of his dream.
"This is exactly why I came back," Jarzynka said. "Why I stuck it out as long as I did."
There's no question this wouldn't have happened without that wild and crazy storm. If Nebraska plays Akron, the Huskers might play well. But the score's not like this. The game doesn't go this way.
Frost doesn't empty his bench the way he did on Saturday.
That's what made this day such a treat. This was the Old Normal.
Back in the day, the dominant Nebraska day, every other game played out like this. Huskers get up big. Backups get playing time. Backups to the backups get in.
And the 78,000 strong (back then) stayed till the end of those blowout wins so they could see who was coming up next or see the small-town Nebraska kid leap onto the big stage and get his licks in.
This wonderful, beautiful fall day on Saturday was exactly like that. A portrait of a Husker Throwback.
Frost said he would bring back a lot of what made Nebraska great, but he probably had no idea he would be able to do this in his first year.
These kinds of days, when a Noah Vedral or Wyatt Mazour could flash out and show his stuff, aren't around much anymore. Nebraska, of course, dropped. But the quality of nonconference opponents has gone up. Those games can be dogfights.
So it was terrific to have one again. The timing couldn't have been better, several games into the first season when the lightbulb is coming on for Frost's first team. And for a coach trying to jump-start the walk-on program, Saturday was called Marketing 101.
"You got to be willing to do what other people aren't willing to do," Jarzynka said, when asked what advice he would give Nebraska kids. "It's not always going to be the popular thing, but you need to be thinking ahead long-term what's going to be the best thing for me. Just getting in the weight room in the morning, making the right decisions in general."
Nobody's under any illusions that the Bethune-Cookman game meant anything to Nebraska's season. The beauty of it was, for some, it meant everything.
"There's tons of kids out in Nebraska who just dream to do this," Jarzynka said. "Just the opportunity to step out onto the field. I was lucky and I really appreciate it."
Somewhere, Mother Nature just winked.
Photos: Nebraska takes on Bethune-Cookman
Nebraska looks for win number two on the season.