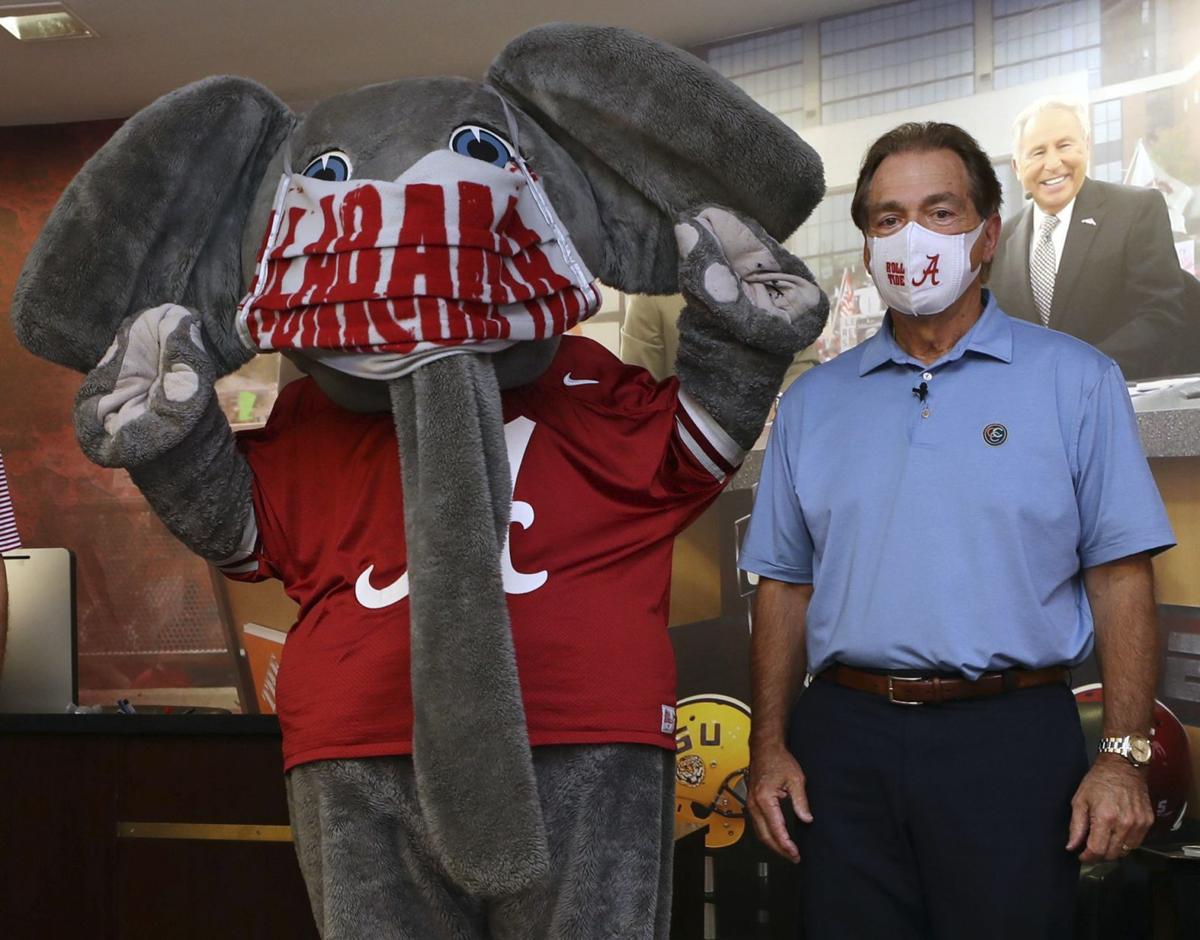 First downs and second guesses on a game week:
» Maybe Nick Saban should be the COVID-19 vaccine.
You want to know how college football will make it through this pandemic? Put the Alabama coach and his team in charge of health and safety.
Saban tested positive for the coronavirus last Wednesday. But then he must have had the virus run some gassers and threatened to pull its scholarship.
Three days later, and three negative COVID-19 tests later, Saban was on the Alabama sideline watching his Tide roll over No. 3 Georgia.
Consider the symbolism there: Saban beats down COVID-19 and his team looks stronger than ever.
Actually, Saban was plain lucky. There's a lot I don't understand about COVID-19, including how a person who has no symptoms gets a positive test, but that was Saban.
Saban said he felt fine. But his fortune extended to being able to take five COVID-19 tests — one each for three days and two additional "out of an abundance of caution" — in the 72 hours leading up to the Saturday night game.
His final test, taken on Saturday morning, was flown to an SEC-approved lab in Mobile, Alabama, to beat the clock.
College football coaches are just like you and me. Except when they're not.
My daughter tested positive for COVID-19 in July, and we had to use a connection with a doctor to get her one test. She was quarantined for two weeks, as was our entire family.
COVID-19 information and testing are ever-evolving, and more tests are available now. But taking five tests in three days and getting immediate results back is not something available to the average Joe. Or Nick.
Purdue coach Jeff Brohm was not as fortunate as Saban. Brohm was feeling run down and sick and tested positive. He's out for this Saturday's opener with Iowa.
Florida coach Dan Mullen has COVID-19, along with 21 of his players. This, after Mullen said he wanted to have 90,000 fans at the LSU game.
The lesson here: Never taunt COVID-19.
The other lesson: College football coaches and players are different from you and me. And that's how many like it.
NU coach Scott Frost said on Monday that he and his staff and football team are tested every day. That's to ensure they are able to be on the field every Saturday.
That's not available to everyone. And this is not a complaint, merely an observation.
Coaches like Saban and Frost are in charge of more than football. Their programs mean a lot financially to their respective states.
Many, many Nebraskans and Alabamans want their teams to stay healthy and take all the tests they need to do so.
Football teams have medical teams, from the trainer to the dietician and all around, looking after them every day.
During summer we were told by many — including the Big Ten presidents — that college football was too dangerous to play this fall. But the vigilant protocols and medical attention given each team is a reason it will happen.
» During Monday's Zoom press conference, Frost said he didn't anticipate any Huskers being out with COVID-19 for the Ohio State game. And then he added this:
"We've already had enough on our team, with people either testing positive or having antibodies. We're at a place where we're a little less at risk."
Does that mean we're going to be made aware of positive cases on the team? NU has made it clear it will not make positive tests public.
The public should be made aware of positive cases on the team. Not by identifying them. The individuals have a right to privacy there.
But because you're not naming individuals, there's no way the opponent is going to know who is out. This is not an injury. We're in a pandemic. And this is a public institution. Nebraskans have a right to know if players are positive and that they are getting the appropriate care.
» Frost on his team's state of health: "We've been at this quite a while, but I don't think our guys are afraid of this virus. They're in an age group where it doesn't affect them. We have to make sure they're doing things the right way.
"The testing is less onerous than I thought it would be. They're doing a great job making it easy and quick. We feel safe because we're getting tested every day."
Wait, a college football coach using the word "onerous?" I had to look it up. I hate when he does that.
» In my Sunday column, I wrote that if Adrian Martinez won the starting quarterback job, that was a good thing. A reader pointed out to me that that was a slap at Luke McCaffrey.
Not at all. Allow me to clarify.
By all accounts from Nebraska practice, McCaffrey has been playing lights out. Same for Martinez, who had his ups and downs last season while fighting injuries.
The point was, if Martinez won the job, it meant he must be at the top of his game to beat out McCaffrey.
Can't wait to find out on Saturday.
» I'm not sure why we need college football rankings until Halloween, but I'd put Ohio State in at No. 3 behind Clemson and Alabama. The Buckeyes, on paper, are a top-five team. And while Georgia may get another shot at the Tide in December, the Bulldogs' second-half performance on Saturday knocks them out of that top three.
Bet you a Diet Coke those are your four playoff teams come December.
» One more and I'm outta here: Depending on how the games go this week, I might rank Kade Warner's mustache in the top 10.
The Husker Camp Countdown of Nebraska's most important players
Our Husker Camp Countdown highlights the 50 most important players on the Nebraska football team.