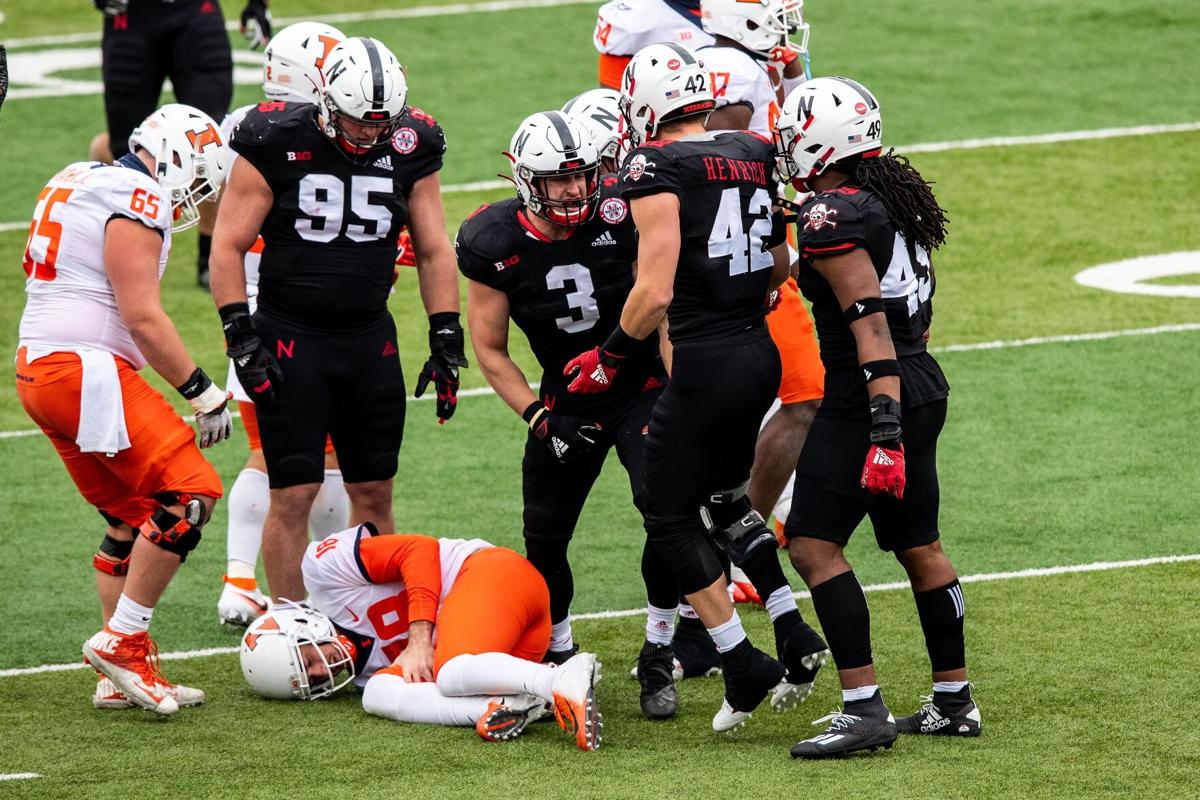 Just another boring week for Nebraska football (and it's still Thursday). I touched on the bad news earlier this week.
Now, let's look at the good.
It appears Scott Frost is going to get some stability in his program. An anchor. Maybe two.
Ever since Frost's first game was washed out by Mother Nature, the Nebraska coach has been playing catch-up. He fills one hole and another leak appears.
One step forward, one back.
Have you ever built a house? It can be a long, arduous process. You want it done yesterday. But there are constant delays. The builder says the weather isn't right. Or the electrician is busy that week. Other workers are doing other houses and aren't available until next month. It's always something.
Frost's rebuilding of NU football reminds of that. Fix one thing and another comes up. Another delay.
Like this week. Four veterans on the defense announce they are returning. A bruising running back from USC, a former four-star, is on the way. But the offense's MVP is out the door.
How are you supposed to get ahead?
It has to start with some stability. And to paraphrase Harrison Ford in "The Fugitive," Frost may have found a big piece.
That's the defense. With linebackers JoJo Domann and Will Honas and defensive backs Cam Taylor-Britt, Deontai Williams and Marquel Dismuke returning for next season, it's a big deal.
Look, Nebraska didn't have a great defense last fall. But it was good. Good enough to win games in the Big Ten with a little — ahem — help from the other side.
In fact, the Blackshirts ranked seventh (upper half) in a league known for good defense. It was major progress for Erik Chinander, whose group has improved all three years.
Now, the defense didn't have to face Oklahoma or Wisconsin last year. Or Buffalo, which averaged 43.4 points. All three are on Nebraska's 2021 slate.
But if the defense can hold its own again in 2021 — or be improved — it will be a major help for Frost.
Right now, Frost needs something he can count on, to be there week in and week out. Having a veteran defense means more time can be spent on solving the issues on offense and special teams.
The returning defensive guys are also a throwback to the days when Nebraska football players all had beards and qualified for AARP by the time they saw the field as fifth-year seniors. That type of seasoning can only help. And it might produce the best leadership of the Frost era.
Sure, the returning vets may mean some young players will have to wait their turn. But that's a good thing. It's more time for development. That's what winning programs do.
NU is waiting on one more decision, from defensive lineman Ben Stille. If he comes back, that's a serious anchor.
That could be Markese Stepp, the 6-foot, 235-pound running back who arrived this week from USC. Stepp, who is not a grad transfer, must get an NCAA waiver to be eligible. But in this year of COVID-19, it could happen.
Stepp is a bruising big back who never got enough carries as USC went to the Air Raid offense. But he fits the bill of the Big Ten back.
And here's why he could be another big piece of the puzzle.
Frost's offense has underachieved and lacked identity recently. That's a result of inconsistency but also an inability to secure playmakers and keep them around.
It's meant a lack of risk-reward plays, like downhill passing, as Sam McKewon, Evan Bland, Dirk Chatelain and myself discussed on the latest "Pick Six" podcast.
I've stressed that quarterbacks and receivers were the major players in Frost's scheme. That those are the things that make it go.
But wait a minute. Could it be that the running back position is the key piece of the puzzle?
Frost has asked his quarterbacks to become the running threat. When Dedrick Mills missed most of 2020 with an injury, receiver Wan'Dale Robinson was pressed into running back duty.
With so many Band-Aids put on leaks, other leaks came up.
Go back to Frost's first year, 2018. Senior running back Devine Ozigbo rushed 155 times for 1,082 yards, good for 7.0 yards per carry and 12 touchdowns.
That year, NU ranked second in the Big Ten in total offense with 456 yards and 30.0 points per game.
It's one thing to have versatile parts. It's another for everyone to be in their proper role. With a reliable back churning out yards, Frost's offense seemed to be more effective.
And I think we saw what a quarterback run game along with that big back can do in the 2020 finale at Rutgers.
Now, about those fumbles. It's always something, isn't it? But maybe a couple of things happened this week to move Frost's rebuilding schedule along.
Call it one step back, two Stepps forward.
Sorry about that. I'm a sports writer. That's my job.
---
Nebraska football's 2020 senior class