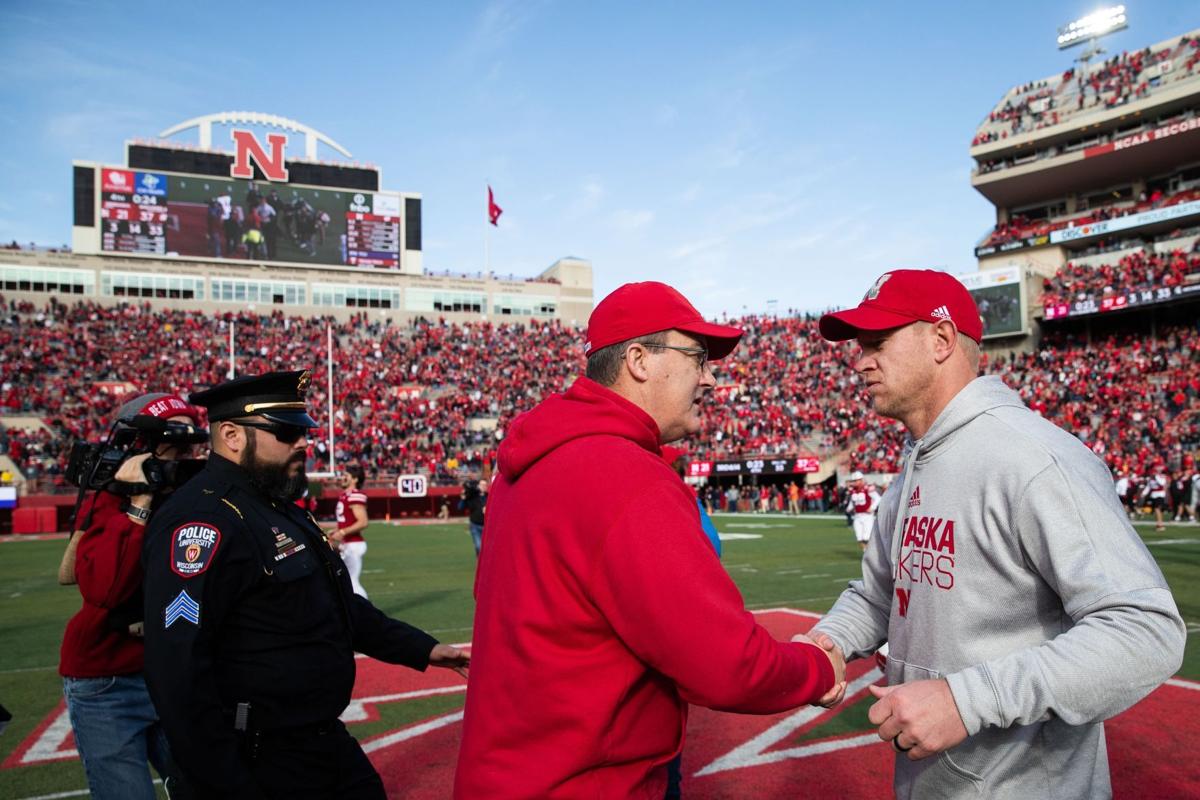 This was predictable. But who knew it would happen so soon?
Does it have to happen this week?
The Wisconsin-Nebraska football game has been canceled. Gone forever. Did it have to happen?
That's the Big Ten's fault. The league had a schedule with bye weeks built in, then canceled the fall season.
By the time the poobahs decided they needed to play, it was too late to install the emergency bye weeks.
I can blame the Big Ten for a lot of things. And have.
But here, I can't blame Wisconsin for not wanting to play this game.
Go ahead, conspiracy theories are welcome. The Badgers were without a brilliant coach and down to their fourth-string quarterback.
Those of you chalking up a Husker win, allow me to introduce you to Matt Turman and the 1994 Nebraska team.
History aside, the Huskers wouldn't have had a better setup to beat Wisconsin than a Badger team without star coach and hot quarterback.
But come on, do you really think Wisconsin would duck Nebraska?
I know Barry Alvarez, the Wisconsin athletic director and former coach (and former Husker linebacker). He never backs down from a fight. He loves trips to Lincoln, where a limo is usually waiting to take him on the Bob Devaney tour of the old town.
Paul Chryst looks like an insurance guy and coaches like an assassin. Two years ago in Madison, cameras caught him yelling "bleeping bleepers" as the Badgers rubbed it into Nebraska. He said something similar about Miami's "Turnover Chain" after walloping the Hurricanes.
Chryst doesn't strike me as a coach who cares what "string" quarterback he's got.
Wisconsin finds Nebraska amusing, not dangerous. Until the Huskers prove otherwise.
Which won't happen this year.
It's too bad. I thought Nebraska held its own physically against the Badgers last year in Lincoln and was looking forward to seeing an improved Husker edition this year.
And a signature win over Wisconsin would be one of the few takeaways that could add weight to this strange, shortened season.
But the Badgers aren't coming. Can you blame them?
Alvarez made it clear Wednesday that this was Wisconsin's choice. It was made in a conversation between Alvarez and Wisconsin Chancellor Rebecca Blank.
OK, blame the Big Ten again here for setting a positivity rate threshold of 7.5%.
Cue the theory that the Big Ten presidents didn't want to play football and set a high bar so there would be cancellations.
With 12 people testing positive — six players and six staff members, including Chryst — Wisconsin is on the edge of 7.5% with not everybody tested yet.
My read on this is, the Badgers didn't want to wait on more results and decided to pull the plug now.
Do I think they could have played? Yes.
Purdue went on without coach Jeff Brohm and star receiver Rondale Moore last week and beat Iowa.
In the SEC, Florida had two games postponed after 26 players and coach Dan Mullen tested positive.
Meanwhile, Vanderbilt missed games because it could not meet the SEC standard of having a minimum 53 scholarship players available.
Wisconsin (so far) has six players positive and more than 53 scholarship players available.
So, I think the Badgers could have played. But should they?
If the school is uncomfortable with it, no.
Wisconsin had the 12 positive tests since last Saturday. Officials feared an outbreak. How many more would they have?
This isn't about infecting Nebraska on Saturday. With all players and staff being tested every day and on game day, nobody with a positive test would see the field.
But football is about preparation. The Badgers could practice without Chryst and the six players. But the school wants to "get a handle" on what it's dealing with on the team.
They hit pause Wednesday. Most any coach would tell you, you can't miss practices and expect to play a game.
And if you want to get a handle on COVID-19, you shut down the operation and get a handle on it.
I wonder how Nebraska might react facing a similar situation, with six players out, down to its third-team quarterback and Scott Frost out for the week.
Also, while trying to figure out if it has an outbreak.
I might be wrong, but I think Nebraska would try to play.
COVID-19 has been a relentless force, but it has elicited different approaches.
Some people are cautious and sticklers to the rules. Some, like the Dodgers' Justin Turner on Tuesday night, aren't going to keep the virus from them living their lives.
It might be a reason why we are still fighting the virus in this country.
There were different views within the borders of the Big Ten. Nebraska was one that wanted to play football. Wisconsin's Blank was quoted as saying she needed better testing and more information about the heart condition myocarditis before she could vote for a season.
My stance all along has been that those who wanted to play football should try to play, and those who would rather not could opt out.
This week, Wisconsin is opting out, in the name of doing what it thinks is best and safest for its players and coaches.
You can't blame them. Just as you couldn't blame NU for trying to schedule a nonconference game for Saturday.
Yes, Kevin Warren, it's time for the Big Ten to show some flexibility.
The league could have done it in early August, kept its original schedule — and bye weeks — alive while searching for faster testing models.
It's football season in a COVID year. There were going to be positive tests and interruptions.
---
The 2020 Nebraska football schedule