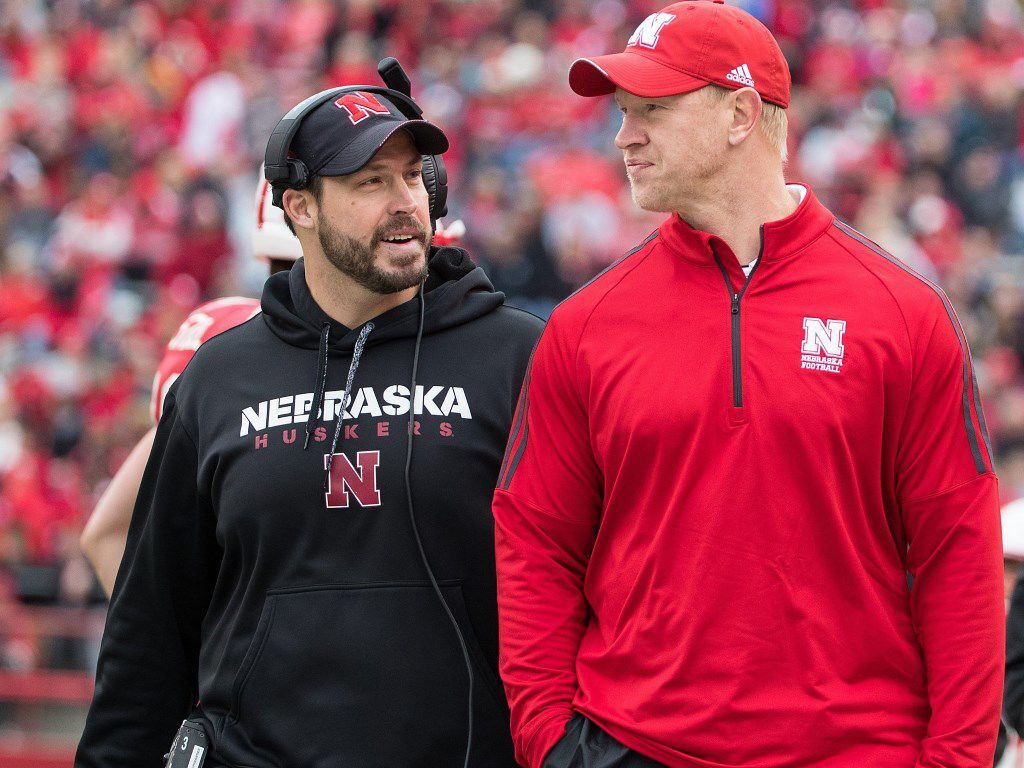 First downs and second guesses:
We're under two weeks until football, and I know some Husker fans already have their first criticism of Erik Chinander on speed dial.
Fans have always needed a target. But before you hit that button, let me ask:
How do you think Alabama fans feel today about having the 65th-ranked defense in the nation?
How do LSU fans feel about their genius Bo Pelini?
The Tide allowed 48 points to Ole Miss on Saturday — thank goodness they scored 59 — and have given up 45 points three times in the last eight games. LSU, meanwhile, allowed 45 points to a Missouri team that had previously averaged 15 per game.
This just in: Nick Saban and Bo Pelini have considerably more talent and speed on the field, and are more accomplished as defensive coaches. What chance does a guy like Chinander have?
The point here isn't necessarily comparisons, but to offer perspective and a simple question.
What's the standard these days for good defense?
Turn on a college game every Saturday and you see offenses marching up and down the field with the greatest of ease. Bing, bing, bing, touchdown.
The offenses are too good, the skill level too ridiculous, and the schemes designed to get the ball in open space are too efficient. And, yes, open field tackling has become an ancient art.
The game is so far tilted to video game football that everyone is on board. Everyone. The SEC has four of the top 10 passing offenses in the country.
It's getting to the point where whoever has the ball last, or makes the fewest defensive miscues, gets the W.
Which brings us back to Chinander.
The Nebraska defensive coordinator has a young defense under construction. But he also doesn't have to face a lot of high-scoring circuses in the Big Ten.
He's also in a league that forces defensive coaches to be versatile. Wisconsin and Iowa play offense one way, Purdue and Minnesota another. Ohio State does it all.
What's a coordinator to do? Hope his boss, Scott Frost, gets the offense out of the shop.
Frost is part of the new wave in college football. He would love to score in the 30s and 40s every week, score every time he touched the ball, dominate the game with quarterbacks and receivers and backs catching and running for miles in open space.
What does Frost want from his defense? That's something that will evolve, I believe, as Frost figures out what he needs to get to where he wants to go.
In the current version of college football, the best defense is more offense. Sorry, Jason Peter and Grant Wistrom. Just ask Coach Saban.
How can Chinander help? My head hasn't stopped spinning since last Saturday, but here's a few things this untrained eye will look for this season:
1. Third downs. Nebraska's defense ranked 10th in the Big Ten in stopping third down last season, allowing 69 conversions in 172 tries (40%). If you can't always stop the other team from scoring, at least cut down the times they have the ball.
2. Defensive line and run defense. NU must at least neutralize the offensive lines of Big Ten teams and not allow them to dominate the clock. Get them off the field. The Huskers were better last year. Wisconsin and Iowa did not beat up NU physically, as in past years.
3. Turnovers. Nebraska needs to create more of these. NU got 21 turnovers last year, but also turned it over 21 times. Either get more or lose fewer. I know Chinander wants more.
4. Kick coverage. Nebraska ranked last in the league last season, netting 36.3 yards per kick. That's not helping any defense.
Chinander's young defense should grow this year but he won't lose his critics. Meanwhile, Frost's offense averaged 28.0 points last year. That seems low, doesn't it?
» Good news, UNO hockey fans. There will be a season. And college pucks seems like a safer bet than most sports in these COVID-19 times.
Mike Kemp, UNO's senior associate A.D., says the NCHC is looking at a late November starting date. The league will probably play a conference schedule only, and it's not known yet how many games.
But Kemp, chair of the NCAA's Division I Hockey Committee, says the national tourney and Frozen Four will likely be pushed back to April.
Will there be positive cases and postponements? Maybe. But college hockey seems uniquely qualified to handle it, with players all wearing face shields on the ice (though Kemp warns they will be around students in class).
And there is the protective glass that separates the players from the fans.
There will be UNO fans at games, if UNO has its way. Kemp says the NCHC has not decided if it will have a league-wide rule on fans or let the schools decide based on local cases.
"If it's an individual decision, we'll do everything we can to have fans," Kemp said. "We feel comfortable that our protocols are in place that we can safely do this."
Because UNO plays games on both Friday and Saturday night, there's a possibility that some season ticket holders would go on one night and others on the other.
The late-November start seems perfect for college hockey. I've contended that it would benefit UNO to play December through March, especially in a market heavily dominated by college football.
This year might cause a lot of sports to reexamine their schedules and I wonder if college hockey could be one of them.
"Back in 2000, I brought that to the American Hockey Coaches Association several times," Kemp said.
"I had this philosophy that it would be a good idea to start in November and move the national tournament deeper into April and play through the "mud season" in March and April when it's not easy to do things outside. It never did catch much support. This situation may cause some people to rethink that."
» Have to say I wouldn't mind if there were more conference games and fewer nonconference football games. I haven't missed those dreadful pay-out games. And Nebraska probably isn't sad it missed Cincinnati this year.
» Black Friday is back and that's a good thing. Minnesota was supposed to be Nebraska's opponent this year but it's Iowa again and that will make the season feel a little more normal.
» Another way that COVID has changed our lives is the reliance on Zoom. And that's not a good thing.
I'm speaking, of course, on behalf of all the students who won't get snow days because Zoom allows the school to come to them.
Then there's my daughter, the freshman in college, who might be a little too smart. She admitted not going to class because she could stay in her room and attend remotely. That would have saved her old man, who simply slept in class.
Will we all eventually just do everything from home? Is personal contact and experience on the way out?
I'll get back to you next week, after my Zoom conferences with Fred Hoiberg and Greg McDermott.
» One more and I'm outta here: Sports talk and lunch make a wonderful combination. Join me at the Omaha Press Club on Oct. 27 (11:30 a.m.). We should have a football game to chew on.
Omaha World-Herald: Big Red
Don't miss a moment of Nebraska athletics.