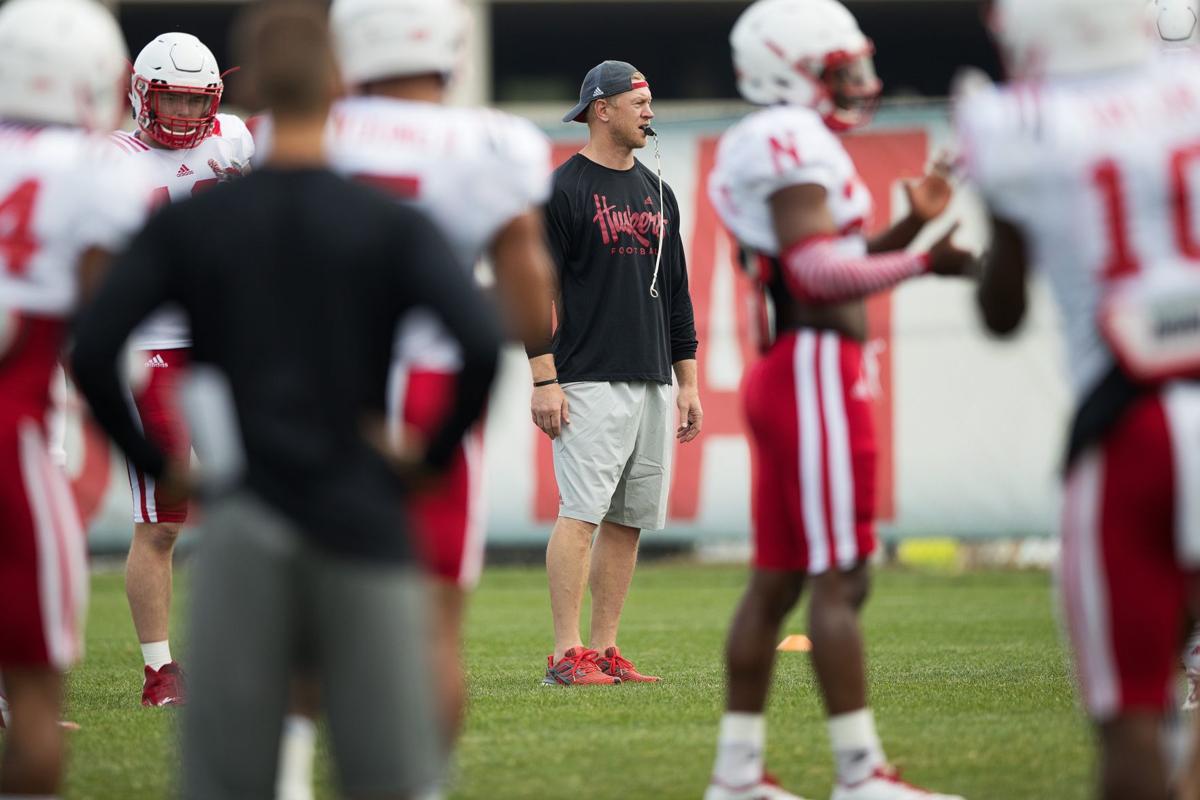 I see happy red people. I see a dark-gray November sky, a football field touched by Frost, jackets and stocking caps in the stands. I can't quite make out the scoreboard. But I see eyes full of hope, smiles shaped with satisfaction.
I see the 2018 college football season. The Crystal Football has been polished up, looking fresh and new. It swears this time it's not lying.
I have a number in mind for the Nebraska season. But sticking with my theme, the number this first season of Scott Frost is secondary to the big picture, the important and giant first steps toward the future.
Let's get to the fearless predictions, this time with a little less fear:
Sign up for Big Red Today news alerts
Get a daily Husker news roundup, recruiting updates and breaking news in your inbox.
» Prediction: Frost's first season will be an unequivocal success.
There are a lot of misconceptions out there about Nebraska fans and expectations. Fox analyst Joel Klatt, the former Colorado quarterback, hit on one recently on a national radio show.
Klatt said he thought Frost had the most pressure on him of any of the first-year coaches. The reason: Husker fans expect nine-win seasons, bare minimum, and this season doesn't shape up as one.
It's not that simple. Bo Pelini had nine-win seasons, and they had holes in them. With Husker fans, it usually comes back to winning, sure. But at this point in history, for Husker fans, it's not about a number.
It's about good football. Fundamentally sound, well-coached, makes-sense, hard-playing, act-like-you-care Nebraska football. Just like Tom Osborne used to make.
The minute details of talent and conquering Wisconsin and the Big Ten Eastern Bloc are for later. First things first. Hit somebody. All night long. All season long.
I think that happens this year. Goodness, it won't be perfect. There will be mistakes and guys running the wrong direction and maybe a fumble or interception or two. Losses. Disappointment. Sure. You bet.
It says here that the first Frost Huskers will get better by the week, as the weather turns. They'll be in shape, and it will show. Given good health, the offense and that tempo will be a load to handle by November. They'll finish strong.
They'll make a bowl and win it. They'll look like a football team and program with the lightbulb on and moving in an upward trend into the offseason.
That's my definition of success this year. You want a number? I'm getting there. Patience.
» Prediction: I don't know who will start the season, but Adrian Martinez will emerge as the starting quarterback by the Northwestern game on Oct. 13.
» Prediction: Michigan holds off a late NU drive and wins 27-21. Husker coaches and players are mad. This could have been a win.
» Prediction: Wisconsin's monster line and Jonathan Taylor expose the Blackshirts' run defense. NU's offense has success, but can't get the ball in the fourth quarter. Frost says the Huskers have a long way to go to match Wisconsin's physicality. Badgers 31, Huskers 28.
» Prediction: Nebraska will score three touchdowns on punt returns and block a punt.
» Prediction: Stanley Morgan leads the Big Ten with 14 touchdown receptions. Tight end Jack Stoll will finish second on the team with six.
» Prediction: Northwestern is a solid, well-coached Big Ten team. The 'Cats will hang around and will take the game if you mess around. For some reason, Nebraska plays well at Ryan Field — and scores a bunch. NU will make it 4-0 in games at Northwestern, 35-21.
» Prediction: The Huskers force Ohio State to punt. No, really. For the first time in three meetings, the Buckeyes have to punt against Nebraska. This one's competitive, too. Ohio State wins by 17, but this one is seen as progress. And the beginning of a late push.
» Prediction: Nebraska takes down Sparty. Best home crowd of the year. Michigan State is darned good, but Nebraska's offense, fueled by Martinez and the "three" backs, takes it to the Spartans. You say Frost will win one he isn't favored to? Chalk it up.
» Prediction: Black Friday at Iowa will be crazy cold and crazy close. Kirk Ferentz loves playing — and beating — the Huskers, and he'll have his team and crowd riled up in Game One vs. Frost. The Hawkeyes have had the upper hand, but the last two Nebraska efforts were extremely poor. They'll get the full Frosty this time. I'll give Iowa the edge here, for home field, and because I can't pick 9-3.
» Prediction: Yeah, I'm going with 8-4. The Huskers win all seven home games, pick up their biennial "W" in Chicago. Here's my reasoning: Last year, they could have won three or four more games with some coaching, game planning and play-calling, and some serious effort. They get that this year.
The Michigan State and Iowa games could be flipped, but it's 8-4. That's my story and I'm sticking to it.
» Prediction: The Citrus Bowl desperately wants Frost to come back to Orlando, but the Big Ten slots Ohio State there and puts NU in the Outback, against Auburn.
» Prediction: Penn State wins the East. Yes, Joe Moorhead and Saquon Barkley are gone. But college football is a quarterback's game. Trace McSorley is the best in the Big Ten. The Nittany Lions have Ohio State, Michigan State and Wisconsin at home. They are ... East champs.
» Prediction: Penn State wins the Big Ten, over Wisconsin. This will be intense. But again, quarterback play gives the edge to PSU.
» Prediction: Jim Harbaugh beats Michigan State or Ohio State. I'm not crazy enough to pick which. I like betting on not-quite-long shots that the law of averages say must come in at some point. That's Harbaugh. He hasn't been terrible. Defense and quarterback. He gets a rival win this year.
» Prediction: We just saw the beginning of the end for Urban Meyer at Ohio State. Sure, he'll still win and still recruit at high levels. But winning the East is already tough enough. And the Zach Smith story isn't going away. This is something Meyer is going to wear for a while. And even though Buckeye fans will likely give Meyer a standing "O" when he comes back, watch the mood change the first time he doesn't deliver big. Meyer just put the school through the wringer. He walked away from a dynasty at Florida; it could happen again.
» Prediction: Tua Tagovailoa wins the Heisman. This is a crazy pick. The Alabama sophomore was the off-the-bench hero of the national title game, but he hasn't even been named starting quarterback by coach Nick Saban. Can I just say the Alabama quarterback will win it? The Tide will be so good that it may not matter. No, this is a smart pick. I'm going with Tua. He's that special. No Alabama quarterback has ever won the Heisman. Not even Joe Willie Namath.
» Prediction: One of the Wisconsin "Red Robin" linemen will win the Outland. Yeah, I know, going out on a limb there.
» Prediction: Alabama, Washington, Penn State and Clemson make the CFP. Clemson over U-Dub, the Tide over Penn State and the Tigers win the title over 'Bama. Yes, this is ridiculously stale and predictable. I sometimes like to throw in a long shot, just to shake things up. I also like being right.
Nebraska football's 25 most common opponents
Who are the Huskers' biggest gridiron rivals? Check out a photo collection featuring Nebraska's 25 most-faced opponents, and be sure to follow Husker History on Twitter for more tidbits about NU's storied football history.