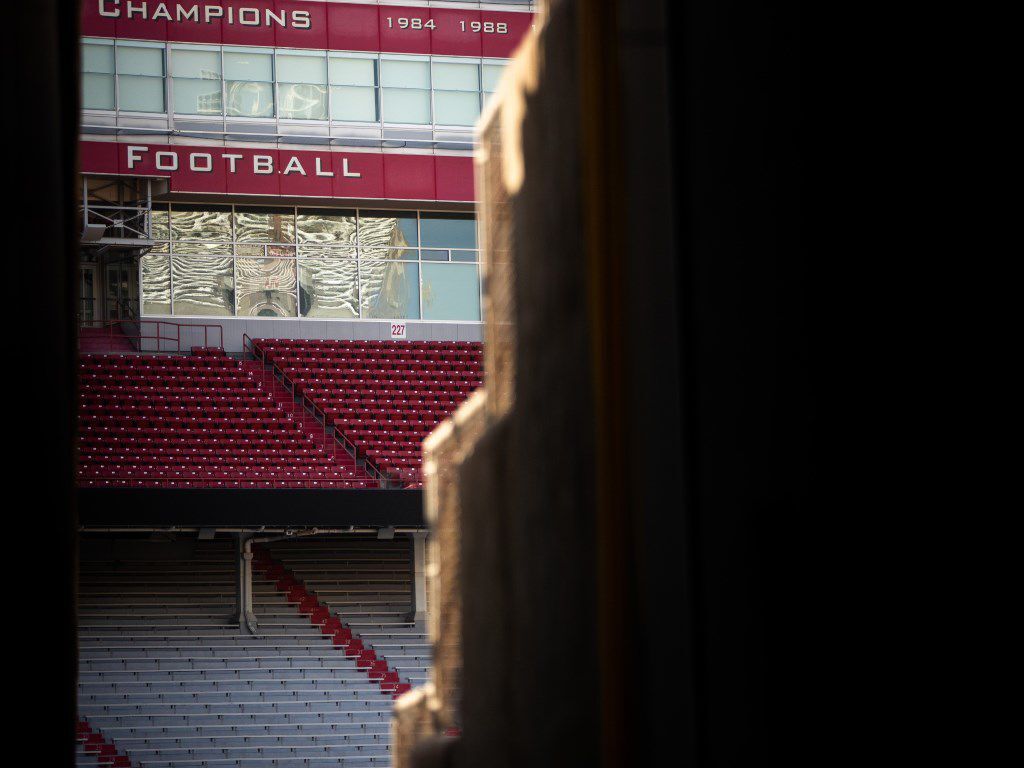 It's well known I have brilliant ideas, and my latest was another doozy.
Here's my pitch: A photo of Scott Frost wearing a mask for the cover of the 2020 Nebraska football media guide.
Breaking news: Keith Mann, the veteran sports information director at NU, informs me the media guide will be online only this season.
It seems Mann and his staff had one ready to go to the printer, but they lacked a football season. By the time Kevin Warren and the Big Ten presidents figured it out, it was too late to have a printed edition ready.
Hey, this is tradition. The coaches and leagues may come and go in Lincoln, but Mann said his office has an NU football media guide for every year going back to 1950.
Everywhere you look, this will be a college football season like no other.
There will be four home games in Memorial Stadium this fall. An empty Memorial Stadium.
The Big Ten mandated it, along with strict testing measures for players so games could be played. You figure this was a way for the Big Ten poobahs to say they weren't happy with playing football, so they're going to do it their way.
It doesn't matter that the SEC and Big 12 have had a limited crowd for games. The Big Ten has spoken, unless the Nebraska football parents want to dial up their attorney.
If there were fans allowed, who would get in? I'd be in favor of making students a priority and giving them prime seats. Keep the future donors of NU interested.
More than likely, tickets would go to the current donors and highest bidders. And in these financially strapped times at NU, it would be hard to argue against that.
That won't stop the red people from driving to Lincoln and taking in games at their favorite Husker establishment, surrounded by their favorite people. In fact, the city of Lincoln has a plan to allow bars to expand out into the streets.
Husker game street parties? Sure, why not? If you can't go to a game, it's the next best thing. Unless that's in your garage.
Don't laugh. You haven't lived until you've watched football in a garage tricked out with the latest technology and snacks.
Having watched many sporting events without fans, it's fine. You focus on the game. When a golfer doesn't have anything to keep his ball from the deep rough, you smile.
That said, I've never seen a game live with no fans. Well, unless you count some of the Kansas-Kansas State football games in the 1980s.
This will be strange. But not as much as some of the interviews.
The other day, I interviewed Nebraska coaches and players on a Zoom call. This apparently is my new life.
When I arrived here in 1991, I stood with three other local scribes and watched Nebraska football practice. Don't worry, Coach, I didn't understand anything I was seeing.
When practice was over, Tom Osborne would walk over and say, "You guys need anything?" Then he would answer thoughtful questions for 20 minutes then go jog for 30. Every. Single. Day.
In recent years, the media covering Nebraska football on a daily basis multiplied to between 30 and 35.
We got the coach and players at a Monday noon press conference. Then assistants and more players Tuesday and Wednesday and finally the head man again Thursday.
This would prove exhausting, especially for the poor assistants who would answer questions for 20 to 25 minutes, entertaining the waves of media that would bounce from coach to coach.
The winner, of course, was the reader. The Nebraska football fan who got their daily report, update on player progress, quotes, all that. Red meat for the masses.
This year we're all on a diet. We'll have two Zoom calls with NU players and assistants this week — defense was Tuesday and offense is Thursday. It will likely be that way through fall camp.
During the season, who knows? But it's likely postgame press conferences will be done via Zoom.
The Zoom sessions will be packed. The press box? Not so much.
Capacity for the press box on game day could be limited to 25%, including stat crew and so forth. Hope that includes the Valentino's lady.
We will survive. That's our mantra for 2020. It's college football and we will devour it any way we can.
What do all these things have in common? The Nebraska connection.
The fans at the games. The media who provide the information and stories. The media guide you pore over like a Saturday bible.
Pardon my paranoia, but the pandemic has changed so much in our lives. And I wonder if it will change that Nebraska football connection, too.
Will we get to hold another media guide in our hands? Or will it be a victim to athletic department budget cuts?
What will the future of media access and interviews be? I know fans say they don't care about this. But they crave the stories and information.
Will there be as much in the future?
I wonder, too, about Memorial Stadium. When and if this pandemic subsides, we don't know. But whatever lies ahead, might sporting events include fewer spectators so they're not crammed in close together?
Might the really cool sports venues of the future be built smaller but offer a better fan experience?
Here's something else to chew on: Morning Consult, a global data intelligence company, released eye-opening information this week.
The data studied Generation Z, those born between 1997 and 2012. It said members of Generation Z were less likely to identify as sports fans, half as likely as millennials to watch live sports regularly and twice as likely to never watch.
What that could mean is there's a generation — perhaps those kids in your house locked onto their phones — that may not take the baton of being the next sports consumers.
If so, that will impact the money from future TV contracts and attendance at all sorts of games. Including college football.
Including Nebraska football.
This year might be a one-time blip on the sports screen but the pandemic is going to change how we do things, too. And maybe how we do sports.
Nebraskans are going to love their team. They're going to be hungry to attend a game the next time the gates open. The insatiable appetite for Husker football will not subside.
But it's also a fool's errand to take that special connection for granted and not think it's going to need extra work in the future.
Me? I'm going to miss that media guide. Especially the cover.
---
The 2020 Nebraska football schedule