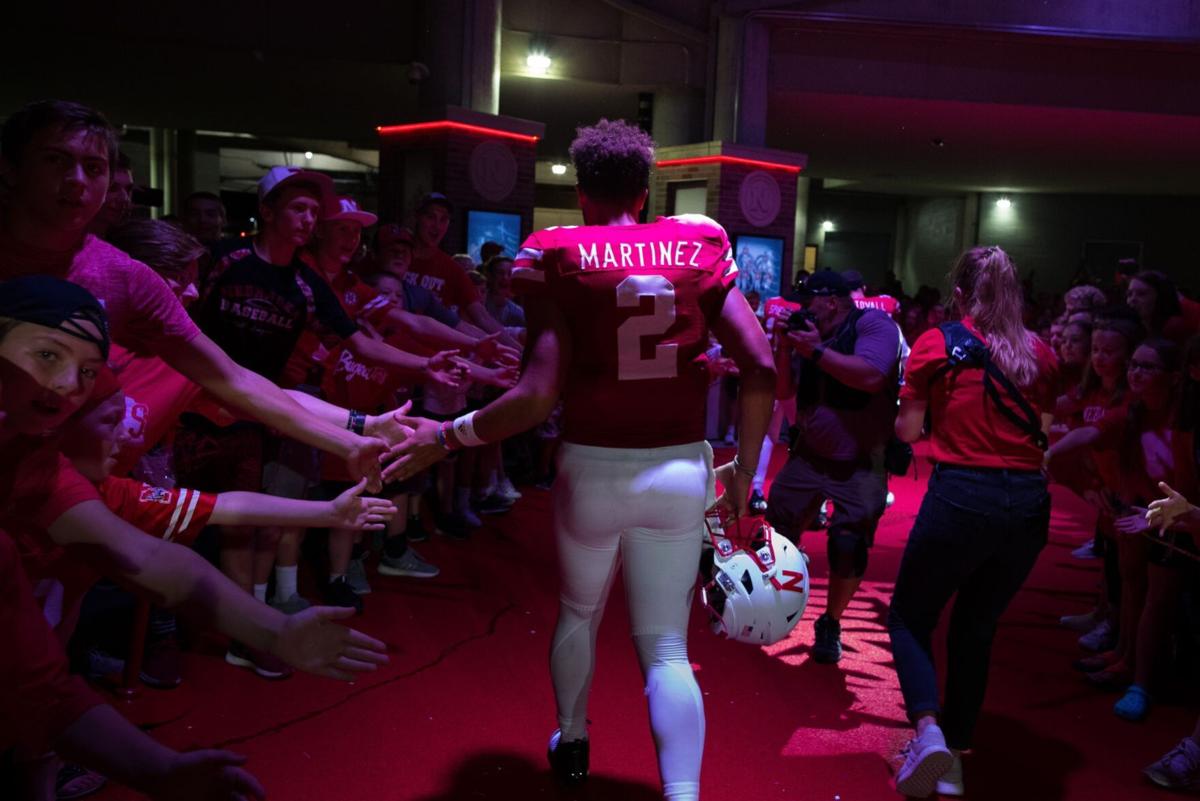 As anticipation builds to a unique edition of Nebraska football, there's one chapter that has my eye.
The Adrian Martinez Story. I can't wait to write it. I can't wait to read it.
Football players make history. Scribes record it. But each young man brings a story to the table, some bigger than others, some more interesting than the rest.
Some are so compelling that even the scribes sit back and watch, because they write themselves.
Martinez is one such character. In some ways, it feels like he's already had a career. And he's only halfway done.
He's a junior quarterback now. Junior? In three months, after this shortened season, he'll be a senior.
Where did the time go? Where did all those dreams, all that potential go?
They are still there. Martinez is very much still here.
A college football career can be a long, winding journey. Martinez has seen his share of turns. Twists, literal twists, too.
He's gone from prodigy to hero to question mark. From preseason Heisman Trophy candidate to mystery man. From people's choice to fans' doghouse.
Martinez arrived in Lincoln two years ago with a built-in legend. He was so coveted that coach Scott Frost flew round trip cross country, Florida to California and back, overnight to secure his commitment.
Martinez was the guy Frost had to have. We would soon see why.
In his first game, the 2018 opener against Colorado, Martinez had 304 total yards — passing for 187 yards and rushing for 117. All three were school records in a freshman's debut.
One Colorado writer remarked that Martinez "already looked like he was ready to win a Heisman." Indeed, the only thing that could stop him was a CU linebacker twisting his knee at the bottom of the pile.
An injury in his first game. Martinez would return in a few weeks and pick right back up, with 400 yards of offense in three of the next four games.
NU would lose three of those games, but Martinez was the talk of the Big Ten. As in, "How are we going to deal with this for the next three years?"
Martinez' playmaking led a furious comeback in the finale at Iowa. Another loss. But Martinez represented the future. For Husker fans, he represented hope.
Before the 2019 campaign, his hype train got the Tom Osborne seal of approval. The legend said Martinez probably had the best skillset of any NU quarterback Osborne had seen.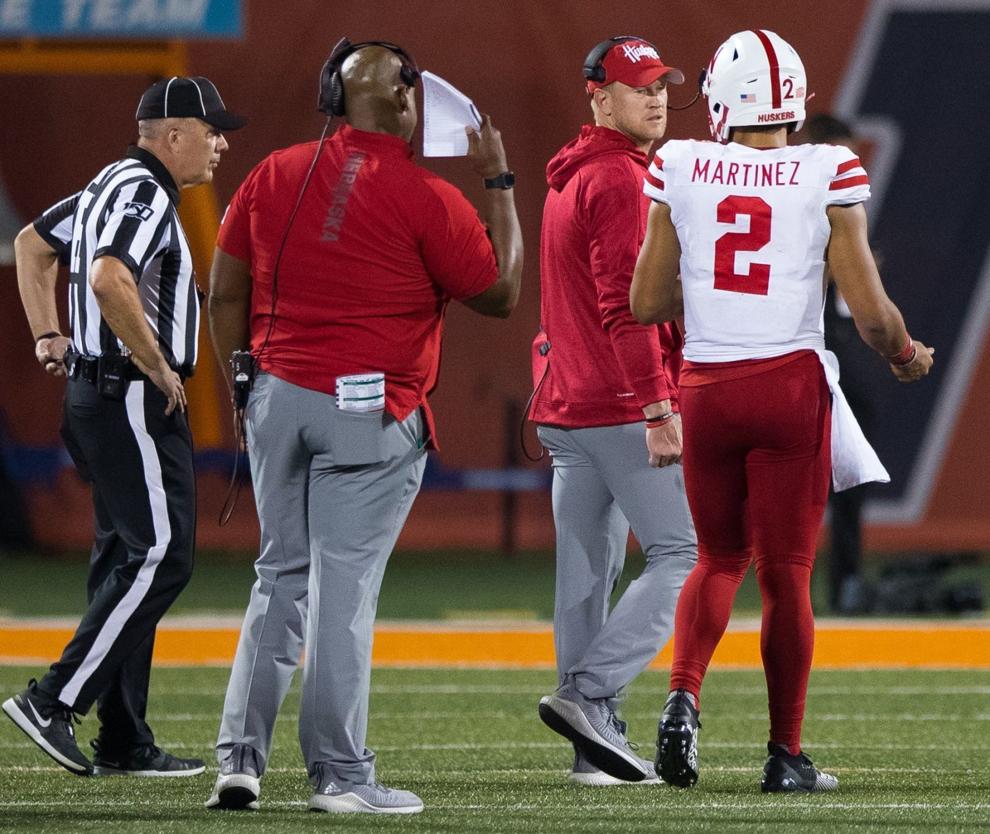 That's when the story turned into a mystery.
Martinez reportedly was injured in the preseason. Frost doesn't talk about injuries. But he said enough after the second game at Colorado.
In the rematch in Boulder, Martinez stepped up again, throwing and rushing for more than 350 yards and four touchdowns. But when the game went to overtime, Frost went conservative.
When asked later, Frost said he didn't want to risk a turnover.
Holding back with Martinez out there? Well, he did throw an interception and gave up two fumbles that day.
The plot twists were just beginning.
The sophomore campaign was choppy. Several big yardage games, over 300 and 400 yards. A knee injury against Northwestern that forced him to miss two other games.
But there were mental lapses, costly interceptions against Ohio State and Purdue that were shocking to see after the mind-blowing plays we witnessed only a year ago. Something wasn't right.
If it wasn't clear then, it was by the season finale when Nebraska recovered an Iowa fumble with just more than two minutes to go. Plenty of time to drive for a game-winning field goal.
But Frost didn't call one pass play. It was an indictment of either his lack of trust in his receivers or his quarterback.
Truth be told, it was a little of both.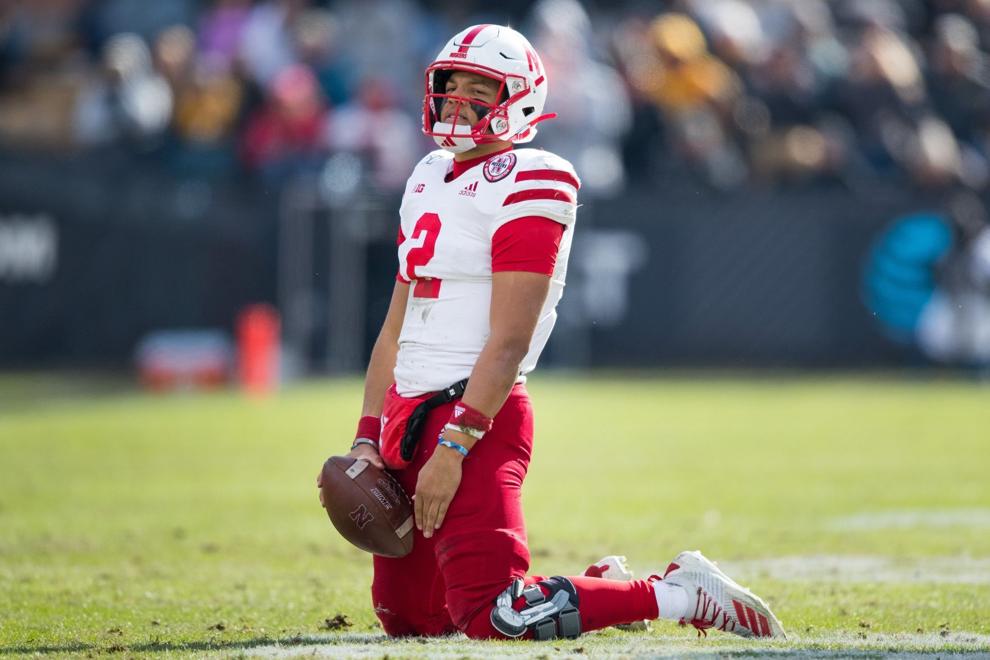 By the time freshman quarterback Luke McCaffrey had bounded off the bench to throw a late touchdown pass against Iowa, Husker fans were quickly shifting their focus onto a new hero.
Adrian Martinez. Whatever happened to him, anyway?
He had offseason surgery, but Frost would not disclose the nature of it. There would be a quarterback competition in the spring.
Then, suddenly, there was no spring football.
Now, we have an eight-game Big Ten season that begins Oct. 24. And we have a two-horse race at quarterback.
Welcome to Nebraska, Adrian. It's happened to the best of them.
Now it feels like Martinez's career is starting anew. He's got two years to fulfill all that promise. With no promises.
His coach can talk to him about that. Frost crammed his own long journey into two seasons.
Frost was written off. But write off Martinez at your own risk.
He still has those exceptional skills and talents. The large frame has been sculpted under Zach Duval's watch. He's still that dangerous runner. Still possesses that arm that makes all the throws.
And now he's got some scars, mental scars, to go with two years of valuable experience.
But what's he going to do with those scars? Will they help? Or get in the way?
How does the story go, Adrian?
Here's the thing to remember: All the great stories were not written alone. There was help. Sometimes, a lot of it.
Martinez needs a reliable supporting cast. A consistent and effective offensive line to give him time. A running game as a helpful sidekick.
Most notably, receivers who get open and make plays, with a move or a juke or trustworthy hands. Tight ends, too. Tight ends, especially.
They are the lifeblood of Frost's scheme, the people who throw and the people who catch and score. Many touchdowns.
Help has arrived. That part of the roster has been replenished with size, speed and playmaking. Also, new offensive coordinator Matt Lubick is expected to clean up the routes and spark playmaking.
It's a team sport, of course, so Martinez will need better defense and special teams to provide field position and room to operate. Or, to prevent putting him in a bind.
The thing about being Superman is that Superman shouldn't have to feel like he has to do it all himself. And Martinez could have been guilty of that on some of those forced interceptions.
Frost said Martinez was probably guilty of putting his preparation on cruise control last offseason. And since there was little competition his freshman year, that was probably a natural trap.
That's not the case anymore.
Martinez will have the benefit of McCaffrey breathing down his neck. The redshirt freshman plays like a live firecracker, making plays with no fear, but he hasn't been out there long.
McCaffrey's emergence is an intriguing X-factor for Nebraska this season.
He gives Frost another starting quarterback. Nebraska has two lead singers. It's a huge bonus, but not just with depth.
Both quarterbacks were recruited to run Frost's offense. Both have immense talent. They should elevate each other and, in turn, the team.
Martinez says he welcomes that chance to elevate. Good answer. There are two ways to take that kind of challenge, two ways for this story to go.
And now, unless Martinez plans to take advantage of the extra year of eligibility offered this fall by the NCAA, he has two months this fall and next season to write the ending.
With good health and more able bodies around him, the future awaits like blank pages, waiting to be filled with heroics and dramatic victories.
I've got a good pen if you need one, Adrian.