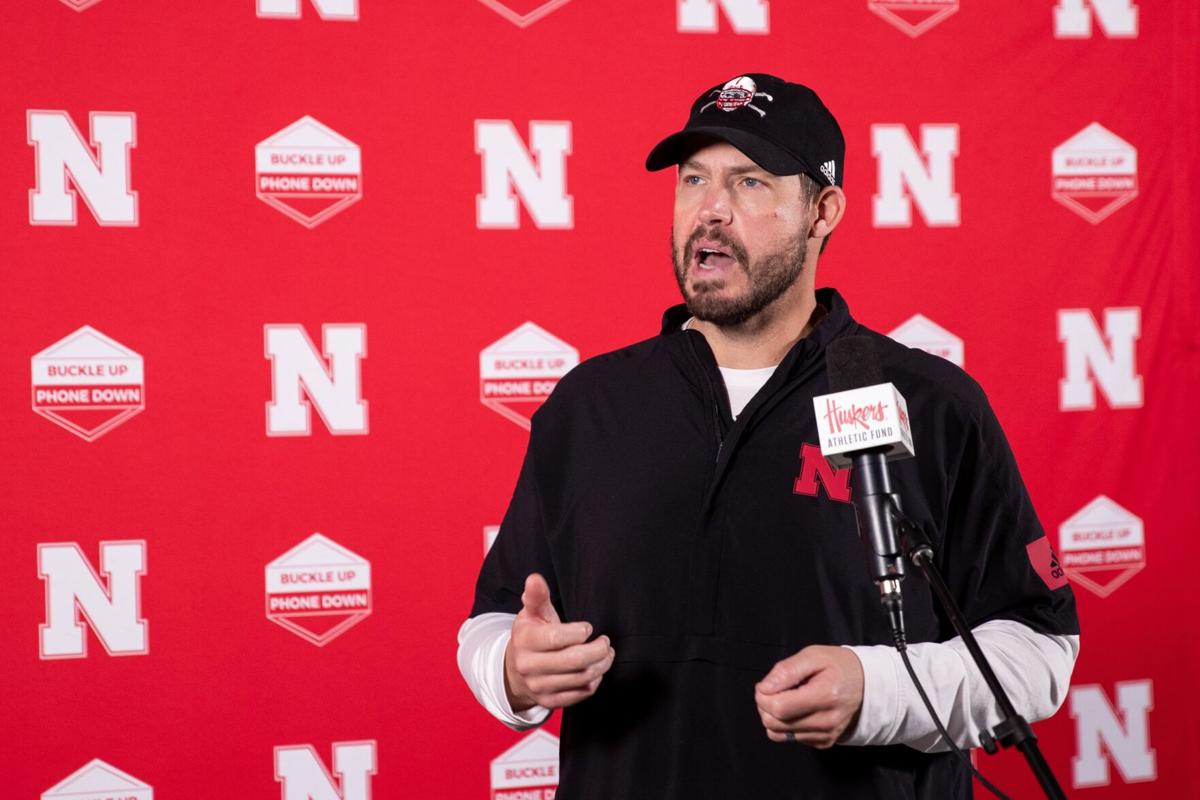 First downs and second guesses:
This vet has seen a lot of press boxes, made a lot of late deadlines, ate a lot of late-night press box food. But last Saturday night was a first.
I was introduced to "disconcerting signals."
"I've never seen that before," Nebraska defensive coordinator Erik Chinander said.
Chinander said the staff has asked the Big Ten office for a ruling on what was called on NU linebacker Luke Reimer in the Michigan game. The Big Ten crew said Reimer was intentionally trying to confuse the offense's signals.
The question: Is clapping by a defender allowed? Because it seems to happen in a lot of games.
"I think their (Michigan) sideline talked them into a few things," Chinander said.
"When you look at what happened, they lined up in an unbalanced formation. Our guy was an off-the-ball defender. He was looking out at his other linebacker, trying to tell him to get back to the box.
"Our player (Reimer) clapped to try to get his attention to come over and they thought he was trying to simulate the snap count.
"I can't control what the referees do. They have to do what they see fit."
Chinander said the defense is taught to clap to communicate — unless the quarterback has started the snap count. Yelling isn't always an option.
"You got 90,000 people in the stadium," Chinander said. "Yelling isn't going to do a whole lot.
"You have to do something to get someone's attention. Usually if someone is an off-the-ball defender and starts clapping, that's a definite no-no. But if you're off-the-ball and they haven't started the snap count yet, I wasn't aware that (Michigan) franchised the clap.
"I would think it's the universal sign to try to get someone's attention."
This would seem to be a giant gray area. There's a lot of gamesmanship that goes on in football. Trying to throw your opponent off, make him blink.
Remember last year at Iowa? Scott Frost accused Iowa of something similar after a loss. Kirk Ferentz called him out for being a whiner.
Maybe this is why Jim Harbaugh works the officials more than a basketball coach. But that's why you ask the Big Ten to get an explanation on the record.
"If the Big Ten comes back and says you cannot do that, then we'll change up how we communicate," Chinander said.
Maybe it's time to come up with a silent signal. Nebraska does play Michigan next year.
On if he believes Frost is the right man to lead Nebraska forward: "I do. I'm proud of Scott. Scott's working really hard, and I've seen Scott grow and mature. The reality is none of us are finished products. If we get everybody operating from their position of strength, we're going to be pretty good. I'm not sure administratively we always were helpful in that area, and that's my job."
On being focused on relevancy: "It's a broad term. Let's stop worrying about when are we going to win the West, or when are we going to win the Big Ten.
"When are we going to be a football team that other people watch on film and go, 'Uh, those guys play hard.' I'm going to tell you I'm really proud of how hard our kids are playing."
On how a culture of doing things the right way starts with the A.D.: "A place like this, if you're not careful, you can get comfortable and lethargic and entitled. That's not what this place was built on."
Asked if that's what happened to Nebraska the past 20 years, Alberts said, "Yes. We're not entitled to success here just because we've done something in the '90s. This is a what-have-you-done-for-me-lately business."
» Alberts is the most involved that a Nebraska athletic director has been in football since, well, Bob Devaney was both A.D. and coach.
Bill Byrne and Tom Osborne did not speak much. Steve Pederson was in his office. Osborne hired Bo Pelini but wanted to treat him like Devaney had treated Osborne: He didn't want to meddle.
The fact is, Pelini could have used a mentor. And Alberts sees that in Frost.
Will it make things better? Communication with the A.D. can't hurt, especially when that A.D. knows football. And the coach and A.D. should be pulling in the same direction.
Whatever happens the last five games, Alberts' involvement in the program might be the biggest development of the season.
» Long way to go, but here's the College Football Playoff debate I'm interested in: Cincinnati vs. Oklahoma.
The Bearcats are already getting slighted by critics for their upcoming light schedule in the AAC. What if UC was already playing in the Big 12 — where the Sooners play this season? Will that help UC in the future? Or does OU get in because of its blue blood status?
» Former Creighton star Marcus Zegarowski is in the Brooklyn Nets' training camp. And his brother, Michael Carter-Williams, told USA Today that he expects Zegarowski to play in the G League but get opportunities to shine with the Nets.
"His journey is going to be a little different," said Carter-Williams, who plays for the Orlando Magic. "I think he'll spend some time in the G League. But man, he works so hard.
"They gotta tell him to leave the gym every day. It is just who he has been since he has been younger. I really believe he is going to do great things in this league. He is just going to take a different road, but I'm happy for him. He is really talented and he'll get his time to show what he can do."
» One more and I'm outta here: The esteemed $5 Bits of Broken Chair Trophy remains a favorite.
It's got a cool history, based on social media, and it raises money for good causes in both Minnesota (Minnesota Masonic Children's Hospital) and Nebraska's Team Jack Foundation.
This year has already set a record with over $17,000 in donations, including $10,000 from Nebraskans for Team Jack.
---