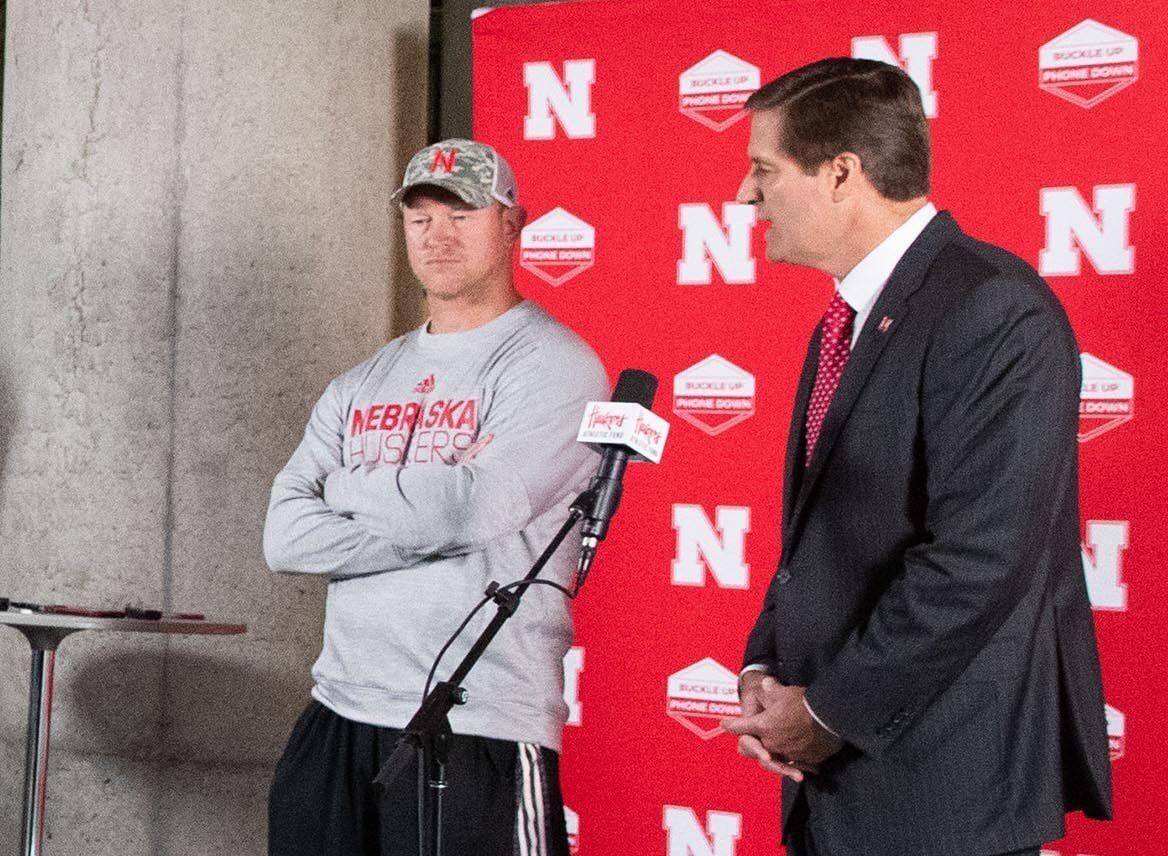 Maybe the violation is being under NCAA investigation while losing.
Improper use of a special teams analyst? Yes, we know. We've seen Nebraska's special teams.
Unauthorized strength and conditioning workouts during the pandemic? I suppose the NCAA could investigate the allegation. But really? Does the NCAA want to delve into that chaotic and emotional time — when schools didn't know when or who would play — and pull out ticky-tack violations?
A lot of folks are going to say nothing to see here. And I'm not sure they're wrong.
But allow me to explain why this is worth paying attention.
For one, this story adds to the burden of proof on a coaching staff already under the microscope in the 2021 season.
Ten days before the big opener of a big season, Nebraska's athletic director is staging a press conference with the coach after practice to acknowledge an NCAA investigation.
There's a scene in "Top Gun" where the commander tells Maverick, "You need to be doing it better and cleaner than the other guy."
After three losing seasons, that's Scott Frost.
The nature of the allegations is not necessarily the issue. With more talent and depth in place, the narrative of this season is cleaning up mistakes.
You may consider these allegations similar to a false start or holding.
NU might be cleared by the NCAA. In which case, this becomes simply a bad look for Frost.
But here's a coach who needs to start providing good looks for his school. And quick.
Can you really be sure that Frost has things cleaned up around the program? We'll know more beginning Aug. 28 at Illinois.
Frost not only needs a win, he needs a win that looks good. Efficient. One that looks like the coach has control of the situation.
Certainly, the ultimate control of Nebraska football rests with Trev Alberts.
That was the overriding statement taken from a postpractice press conference with Alberts and Frost on Wednesday that was staged for image's sake.
Alberts summoning his coach to appear in front of the cameras, then pointing to Frost where he should stand, spoke volumes.
There's a new sheriff in town. And he's in charge of Nebraska football.
The short presser struck the right tone. Alberts and Frost were quickly out in front of the cameras and provided a united front.
There was no reason to wait or let this simmer. Under Alberts' predecessor, Bill Moos, a statement might have taken hours. And there's no telling if Moos would have been in Lincoln to do it.
Back then, Frost had high school friend Gerrod Lambrecht as his chief of staff. Lambrecht is gone. The football chief of staff is Alberts.
He's in charge and is going to keep a close eye on the proceedings.
Like Frost, Alberts wore the uniform and played on that field. Alberts is a highly decorated Husker. He came within a wayward field goal of winning a national championship. Imagine Alberts' legacy had that happened.
Alberts didn't hire Frost, but he wants him to succeed. He wants Nebraska to succeed. Ultimately, Alberts sees his job is to defend and protect the Nebraska brand.
And in the month he's been on the job, Alberts has touched on these themes: don't hold onto the '90s, don't make excuses and attention to detail is everything. He's set a clear tone.
Oh, and Nebraska will do things with a singular voice.
Which leads us back to the Oklahoma debacle.
I'm not sure why Brett McMurphy included that in his NCAA investigation story. But since he did, I'll address it.
I'm a staunch lover and historian of all things Big Eight and the Nebraska-Oklahoma series. I get emotional about it. When news came out last spring of Nebraska trying to get out of this year's game, I got fired up.
But I'm less fired up these days.
For one thing, let's not forget that Oklahoma pulled out of the Nebraska series first. Back in 1994.
That was when the Big 12 was being formed. Nebraska, and the new Big 12 office, wanted the NU-OU series to continue annually.
The Sooners did not. Remember in 1994, Nebraska was kicking tail and taking names. OU was struggling under Howard Schnellenberger.
The Sooners said at the time they had a full plate in the South Division with Texas, Texas A&M, etc. They didn't "need" to play Nebraska. But it was obvious why they cut the series.
The reason is what happened a month ago, when Oklahoma and Texas left for the SEC. Nebraska and OU both decided there are bigger issues ahead than loyalty to an old conference — or their series.
Meanwhile, when the story about Nebraska wanting out of the series came out, Oklahoma officials were outraged. And they already had one foot in the SEC.
So the Sooners lose any moral high ground.
Of greater importance to Nebraska is Frost and Moos both saying "Don't look at me" concerning who wanted out of the OU series.
Alberts was hired to put an end to such silliness — and make sure Nebraska football is buttoned up. On the field and off.
Does that mean Frost is on the hot seat? You would have to ask Alberts. But this is a big season for the coach to show he can clean things up.
A week before the opener, he's off to a slow start.
---