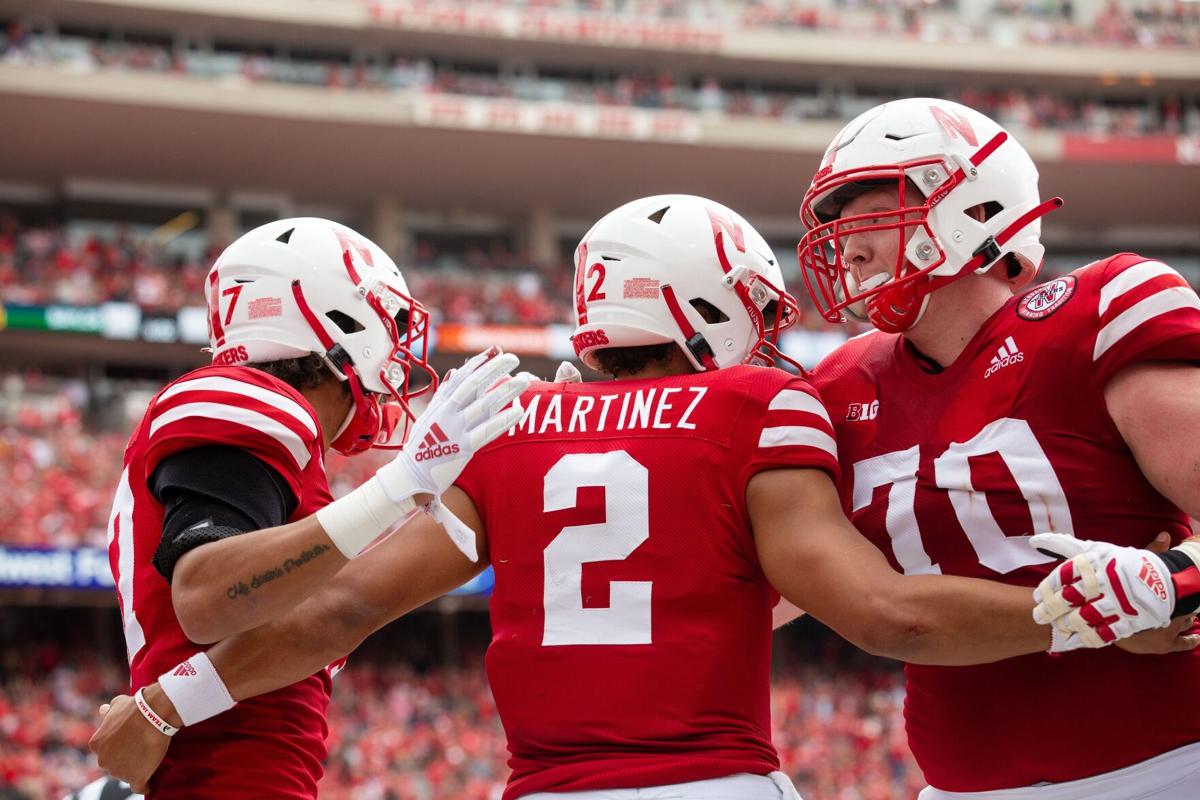 LINCOLN — Scott Frost, scheduling genius.
What would Nebraska and Husker Nation have been doing Saturday with a day off?
Not watching seven running backs carry the ball, with a leading man emerging with 101 yards.
Not seeing quarterback Adrian Martinez bounce off the mat with a 254-yard passing day and three total touchdowns.
Not taking in the discovery of chemistry between Martinez and transfer receiver Samori Touré, who had eight catches for 133 yards.
Not enjoying a stress-free fourth quarter in which fans could sit back and watch backup quarterback Logan Smothers in rare mop-up duty.
And certainly not celebrating their return to Memorial Stadium with a huge roar as the team walked off with a 52-7 over Fordham.
"Gosh, that felt good," Frost said.
This was a better schedule adjustment than trying to move the — ahem — Sept. 18 Oklahoma game into the trash bin.
The purpose was to avoid putting the team and its fragile psyche in an early hole. Maybe they should have gotten rid of the Illinois game.
The easier alternative was moving a Nov. 13 nonconference game (with Southeast Louisiana) to Sept. 4. NU found a willing opponent in Fordham.
Rather than beat up their team for another week without a game and watch the upcoming opponents on TV with anxiety, Husker fans got a double bonus.
An earlier return to their passion and place of passion. And a result that proved to be perfect tonic for a Bret Bielema-sized hangover.
It's one game. One win. Are there five more out there?
Oklahoma beat Tulane by five at home. Wisconsin scored 10 and lost at home. Iowa rolled Indiana. Michigan scored 47.
Meanwhile, did you catch Sparty's act Friday night at Northwestern? Michigan State looks for real.
The Buffalo Bulls are on deck, coming to Lincoln off a 69-point performance and win over Wagner.
Maybe Buffalo will be able to seize the moment that Fordham couldn't handle.
That was early in the second quarter, when the plucky Rams tied Nebraska 7-7 and lined up for a field goal to tie the game 10-10.
On the first day back, 85,000 Nebraskans were on edge.
But the kick was blocked. Later, NU intercepted Tim DeMorat for a second and third time.
And Martinez and the offense cranked up a downhill running game. Even better: Frost stuck with it this week.
There's no reason to read too much into this win, though I won't disparage an undermanned Fordham team and their one-man block of granite, linebacker Ryan Greenhagen.
But scheduling this game was about confidence and momentum. Either building on a win at Illinois or finding an opponent that would help change the negative vibe that was sure to follow an opening-week loss.
Not to mention switching the subject from the complexities of the four- or five-man defensive scheme.
Nebraska's not back and Nebraska's not done. We've got 10 games left to sort that out.
For this team to have any chance, it needs confidence. It needs to stop making mistakes that get in the way.
On Saturday, NU saw what can happen when it limits its penalties and giveaways.
And when it finds something that works on offense and sticks with it.
And identifies playmakers who make plays. What a concept.
Will they build on this? We'll find out soon enough.
That's not what Saturday was about, or whether you trust these Huskers or coaches to improve and deliver. Many still don't.
This was about a game that Nebraska, all of Nebraska, needed desperately.
It was about walking into that stadium for the first time in two years. Making sure it was still there.
The Tunnel Walk. The balloons. The lines for the food and bathroom. Your Memorial Stadium neighbors in your section.
For a famished fanbase, it was food for the soul.
Only one meal, yes. But what a feast. A 52-7 win. More things looking right than wrong. Hope, if you want it. If not, a day at the ballpark.
And for those who forgot what it was like to stand and cheer and feel the sun on your face as the final seconds tick off with your team way up, yeah, a bonus.
Not the goal, but the game.
Take Saturday for what it was worth: some fun, some normalcy, some touchdowns.
If there was one wish I had for the fans, it would have been being able to see the pack of Fordham officials and fans in the press box before the game.
They gasped as they saw the stadium. They took photos of the large framed photos of Bob Devaney, Johnny Rodgers and Huskers legends on the wall.
They gawked and giggled as they met the actual Rodgers in the lunchroom.
We tend to beat up this old program and passion of ours pretty good. That has become its own pastime.
But thanks to the Fordham crew for reminding us how special Nebraska football is, what a gift we have.
That's what Saturday meant to me. It was good to be back, to see the fans back. And there are six of these still on the schedule.
---